Happy Saturday. Let's check in on the media this past week.
Impeachment watch: Fox News reported that a Chinese company listed President Joe Biden's home address in 2019 when it wired $250,000 to Hunter Biden. But that wasn't enough to get the media to abandon their "no evidence" stance, as reporters rushed to assert yet again that the president had no involvement in his son's illicit business dealings. Here's CNN:
The wires allegedly were addressed to Hunter Biden when his father was not in office and do not prove that Joe Biden received any of the money. CNN previously reported Hunter Biden used the Wilmington address on his driver's license and the home was the site of a family intervention over his drug addiction in 2019.
The rest of the media were similarly dismissive:
CBS News: "House Republicans claim to have bank wires from Beijing going to Joe Biden's Delaware address. Hunter Biden's attorney explained why":
President Biden has long maintained he had no involvement in his adult son's business dealings. And Tuesday, Hunter Biden attorney Abbe Lowell told CBS News that the announcement from congressional Republicans was just the latest example of a finding of purported wrongdoing "that evaporates in thin air the moment facts come out."
ABC News: "Comer says he will issue subpoenas 'today' for Hunter Biden, James Biden bank records":
Earlier this week, Comer discussed on Fox News why he wanted to subpoena Hunter Biden and James Biden's records. He said they want to "follow the money" he says the two Bidens and other family members received from shell companies. There is no evidence, to date, that any of the money is linked to President Biden himself. …

The committee said the two wires showed Hunter Biden received more than $250,000 in the summer of 2019. The panel did not release the bank wires in their announcement.

It has been reported that Hunter Biden often used his father's address and previously lived at the Wilmington home.
New York Times: "House Republicans Eye Bribery and Abuse of Power Charges Against Biden":
The first hearing in the impeachment inquiry comes as Republicans are grasping for evidence tying President Biden to his son's foreign business dealings. …

Hunter Biden's legal team said there was nothing nefarious in the transaction. The payment described by Mr. Comer was from a business partner for legitimate purposes, and Hunter Biden listed his father's address because that was his primary residence at the time, his lawyer said.
It isn't clear what, if anything, would get the press to take an interest in the Bidens at this point:
CNN's Sara Murray downplays the news of a $250K wire transfer to Hunter Biden at Joe Biden's address, "But, of course, they fall short of meeting that mark in terms of actual proof... they're not putting forward any evidence that Joe Biden received any of this money." pic.twitter.com/QcJgyjerYS

— Alex Christy (@alexchristy17) September 27, 2023
Especially considering the zeal with which they've considered these types of allegations in the past:
What if Trump has been a Russian asset since 1987? @JonathanChait reports. https://t.co/IQknIwGoV3

— New York Magazine (@NYMag) July 9, 2018
Spin doctors: That wasn't the only bad news about potential presidential corruption. ABC News reported this week that a federal probe of Biden's alleged mishandling of classified documents has ballooned, with investigators digging deep into his time as vice president:
Federal prosecutors and FBI agents from special counsel Robert Hur's office have been interviewing witnesses for nearly nine months, targeting an expansive constellation of former aides—from high-level advisers to executive assistants and at least one White House attorney. Several sources estimated that as many as 100 witnesses have already been interviewed, with interviews conducted as recently as last week and some witnesses asked to return for follow-up interviews.
That must come as a surprise to those in the press who originally said the investigation into Biden was small potatoes compared with the allegations of former president Donald Trump's improper handling of classified documents:
Trump's '1,850 boxes!!!" attack on Biden is bunk. Those boxes are…papers from his Senate career, which he donated to U. of Delaware, which is entirely normal, because senators, unlike presidents, own their records and can do with them what they please:https://t.co/DVhGAdx4wn

— Daniel Dale (@ddale8) June 9, 2023
PBS: "Biden faces more scrutiny over classified documents, GOP demands cuts to raise debt limit":
For the second straight week, President Biden is facing scrutiny over his handling of classified documents from his days as vice president and Republicans were quick to pounce after more papers were found.
CNN: "There are clear distinctions between Trump and Biden's two cases":
Republicans seized on revelations that several classified documents from Joe Biden's time as vice president were found in his former private office to create cover for former President Donald Trump's hoarding of secret records. …

The new controversy so far appears to be on a smaller scale than the more than 100 classified documents—some bearing the highest designations of government secrecy—taken from Trump's resort at Mar-a-Lago after a court-approved search by FBI agents.
The revelations will make it hard for the media to resume framing the investigation into the current president as an insensitive intrusion into Biden's family life, as CNN did.
CNN: "How Biden's Wilmington residence went from a family home to subject of investigation":
His decades as a senator, including stints as chairman of the Senate Foreign Relations Committee, all featured weekend train rides home from Washington. The tradition continued as vice president. A secure facility was built inside his lakefront property so Biden could handle classified material securely.

The gable-roofed Biden home, situated among large estates in the wealthiest area of Delaware, is far from easily accessible. It can't be seen from the road. And, while Biden was vice president and again as president, the premises have been tightly controlled by Secret Service.
Biden age counter: Rather than investigate whether Americans are right to be concerned about an 80-year-old president running for reelection in light of his mobility issues and confusing verbal gaffes, the media are laughing it off:
If you can't beat it, laugh about it! @IsaacDovere talks @kasie through his new reporting detailing how President Biden is using sarcasm and jokes to address his age. pic.twitter.com/P6rwnsrCuI

— CNN Early Start with Kasie Hunt (@EarlyStart) September 27, 2023
HuffPost: "Joe Biden Fires Back At Doubts Over His Age With Jokes About His Age":
The president cracked wise about concerns that he's too old for a second term after biographer sowed doubt about his future.
CNN: "Biden takes his sarcastic side public to defuse age concerns and sharpen attacks on GOP":
Biden's joke-telling is a way to keep him from coming off like a stodgy soon-to-be-81-year-old with a "stiffened gait," as some White House aides put it.

It's also a way of defusing some of the attacks about his age, which advisers felt he was feeding into by being so transparently sensitive about the topic.

And it's a way of going after Republicans without going fully into the mean-spiritedness that Biden prefers to avoid, trying to portray them as not just extreme and dangerous—which remains his main theme—but absurd.
It's the latest in a months-long media bit about how silly the president is:
Washington Post: "On his age, Biden now trying to show he's in on the joke":
The 80-year-old president once bristled at questions about his age. Now he delivers the quips himself.
Bad dog: Biden's dog Commander had an 11th reported biting incident, according to Secret Service records.  The media have largely treated the presence of an animal that routinely attacks staff at the White House as a standard occupational hazard, as CNN reported after the latest attack:
White House officials said in July that the Bidens were working through new training and leashing protocols for the family pet following the incidents.

Asked by CNN whether the new training had taken place or if any further action would be sought, Elizabeth Alexander, communications director for the first lady, said in a statement that "the First Family continues to work on ways to help Commander handle the often unpredictable nature of the White House grounds."
What's racist: Trump using six-month increments, Lincoln Project loudmouth Steve Schmidt told noted racist and MSNBC host Joy Reid:
.@SteveSchmidtSES on Trump saying he needs 'six months to a year" to reform the federal govt: 'This is a racist code whistle to every white supremacist in the country because it's how long it took Adolf Hitler to take Weimar Germany to a complete and total dictatorship." pic.twitter.com/PGQPzH5eT8

— Tom Elliott (@tomselliott) September 26, 2023
Fear index: The FCC announced this week that it would explore reviving "net neutrality," Obama-era rules that govern how Americans can access the internet, which Trump scrapped.
You may remember the media's cataclysmic reaction to the end of net neutrality in 2017. CNN's homepage said it all: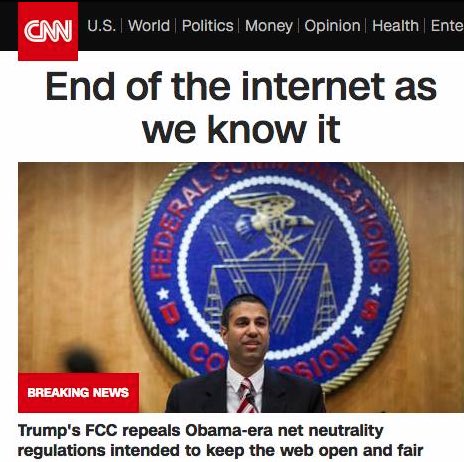 CNN was hardly the only one sounding alarm bells:
The Verge: "Net neutrality is dead. It's time to fear Mickey Mouse":
It's a red letter day for the media industry. Disney just took control of 21st Century Fox's media empire, and the Federal Communications Commission voted to repeal net neutrality regulations that prevent internet providers from discriminatory behavior. These two industry-shaking events will set media companies on a dramatic collision course with ISPs. It is the conflict that threatens the internet.
New York Times: "The Internet Is Dying. Repealing Net Neutrality Hastens That Death":
Nope, that freewheeling internet has been dying a slow death—and a vote next month by the Federal Communications Commission to undo net neutrality would be the final pillow in its face.
The Nation: "If Trump's FCC Repeals Net Neutrality, Elites Will Rule the Internet—and the Future":
Net-neutrality protections assure that the essential democratic discourse on the World Wide Web cannot be bartered off to the highest bidders of a billionaire class that dominates the political debate on so many other media platforms.
Of course, none of that happened. In fact, the internet got faster and more accessible after the end of net neutrality. Perhaps that's why the media sound a little more measured this go-around:
Now the FCC is preparing to reinstate net neutrality as the law of the land. The agency argues that restoring the rule will improve consumers' experience with internet providers—including by enabling it to better track broadband service outages and network reliability.
The proposed rules would return fixed and mobile broadband service to its status as an essential telecommunications service under Title II of the Communications Act. It would also prohibit internet service providers from blocking or throttling lawful Internet traffic and from selling "fast lanes" that prioritize some traffic over others in exchange for payment.
Stay safe out there, and see you next week.
Published under: ABC News , Classified Documents , CNN , Corruption , Dogs , Hunter Biden , Hypocrisy , Impeachment , Joe Biden , Joy Reid , Media , Media Bias , Net Neutrality , New York Times , Washington Post