George Washington University on Tuesday suspended a student group that projected pro-Hamas and anti-Semitic images onto the school's library. Just one day later, the group's leader defied the suspension, spearheading a campus protest that targeted the school president's home.
Lance Lokas, a junior at the university who as of February served as president of its Students for Justice in Palestine chapter, wielded a megaphone as he led scores of anti-Israel protesters on a Wednesday afternoon march through campus, the Washington Free Beacon witnessed while on the scene. Protest attendees—including students who have been photographed at past Students for Justice in Palestine demonstrations—congregated on campus to chant, "We will honor all our martyrs" before rallying outside of university president Ellen Granberg's home in Foggy Bottom.
📍George Washington University in Washington, DC

Hundreds of Pro-Palestinian GWU students take part in unauthorized march through the streets of DC. In response to GWU suspending the anti-semitic Students for Justice in Palestine Group. pic.twitter.com/iCoezH6sBO

— Jessica Costescu (@JessicaCostescu) November 15, 2023
The Lokas-led march came one day after the school suspended Lokas's group over an unauthorized, anti-Semitic demonstration that it led late last month. Lokas and other Students for Justice in Palestine members during that demonstration projected pro-Hamas images, including "Glory to our martyrs," onto the school library. The university's suspension bars Lokas's group from using school facilities and organizing campus activities for 90 days, a directive that Lokas and other Students for Justice in Palestine members openly defied during their Wednesday march.
The group's disregard for the suspension will test George Washington University's resolve as the school begins to crack down on anti-Semitic demonstrations that violated its rules. It's unclear if the school will go as far as to expel Lokas and other members of the group—George Washington University is yet to weigh in on the Wednesday march and did not return a request for comment. At least one U.S. college, the Massachusetts Institute of Technology, has declined to follow through with the suspension of unauthorized anti-Israel protesters, acknowledging in a statement that some of those students could face "visa issues" should they be suspended.
One day before the Wednesday march, Lokas's group in an Instagram post vowed to continue the "movement for liberation" through a newly-formed "Student Coalition for Palestine," which it said consists of "student organizations mobilizing and struggling towards an end to the violent Zionist system of settler colonialism, ethnic cleansing, and imperialism." While the group promoted the protest targeting Granberg's home, it claimed in its post it was "not involved or co-sponsoring this action."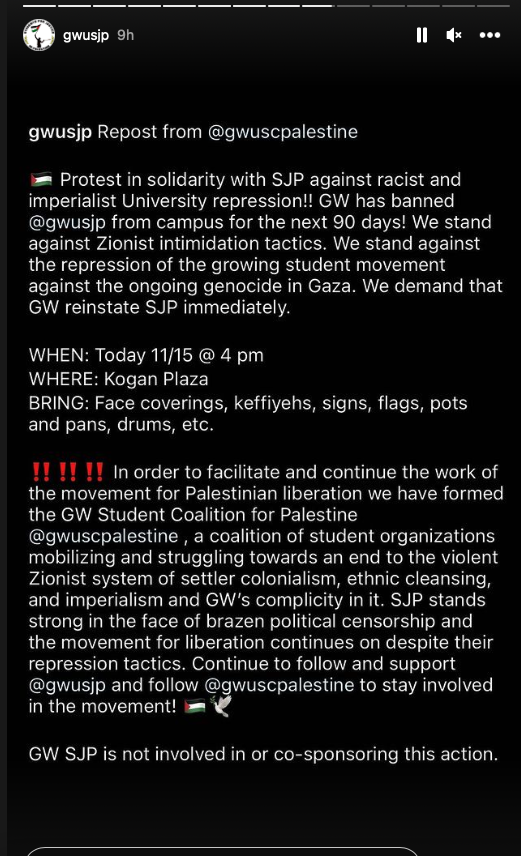 Lokas's role as a leader of the march contradicts that claim. The demonstration started on George Washington University's campus, where student activists who are associated with Students for Justice in Palestine led speeches accusing Israel of "genocide." Lokas then led the group on a march to Granberg's home, using a megaphone to chant slogans such as, "GW you will see, Palestine will be free."
"We will honor all our martyrs." pic.twitter.com/9TQDi9zlfr

— Jessica Costescu (@JessicaCostescu) November 15, 2023
Lokas, who did not return a request for comment, is no stranger to anti-Semitic activism. The George Washington University junior during a May "Nakba Day" rally gave a speech that called for violent "resistance" against Israelis and glorified Palestinian terrorist "martyrs" for making "the ultimate sacrifice," the Free Beacon reported.
"The more the Zionists try to extinguish the fire of resistance, the brighter it will grow," Lokas said. "To condemn the Palestinian resistance is to demand that the Palestinian people submit passively to the daily violence of colonialism. It is a call to lie down and accept death."