A high school in Bill and Hillary Clinton's hometown is fighting to move a school event from a golf course where the Clintons spent Bill Clinton's 65th birthday and where he was a member as of at least 2014.
Students at Horace Greeley High School in Chappaqua, N.Y., want their prom moved from Trump National Golf Club, which is owned by Republican presidential candidate Donald Trump. The group of students said that it was "disgusted" by Trump's "racist" comments on Mexican immigrants and started "developing a case against giving business to Trump," according to the New York Times.
Unmentioned in Alan Rappeport's story, however, is the fact that when people play golf with Bill Clinton, he takes them to play at Trump National Golf Club.
"I play at the Trump course [in Westchester]," Clinton told Golf Digest in 2012 when asked whether he belongs to any golf clubs. "When people come to play with me, that's where I take them. I have a membership there."
Clinton gets the celebrity treatment at the course. He "practically [has his] own wing in the locker room at Trump National Golf Club," according to Westchester Magazine, which also notes that both Clinton's handicap and his tee times are a "state secret" at the club.
Clinton has a locker in an exclusive row of lockers shared by the likes of former Yankee manager Joe Torre, former New York City Mayor Rudy Giuliani, and Trump himself, who is a fantastic golfer with a single-digit handicap that you wouldn't believe.
The Clintons' home is located about six miles from Trump's golf course. The golf membership "includes access for the family to all amenities at Trump National Golf Club," which may explain why Clinton's whole family has played there.
As a 65th birthday present, Hillary and Chelsea Clinton, who also brought along husband Marc Mezvinsky, joined Bill for a round.
"This year on my 65th birthday … Hillary and Chelsea and Marc took me to the golf course, to Trump," Clinton said in the Golf Digest interview.
Due to the low skill level of the foursome, Donald Trump cleared time on the course so that they wouldn't slow down the pace of play for other members.
"Chelsea hadn't played since she took lessons when she was at Sidwell, and Marc never plays," he explained. "The Trump people were great: They organized all their tee times so we wouldn't delay anybody. We schlepped around nine holes together."
Clinton's use of the nearby Chappaqua course is not just for convenience.
When he is out of town, he gravitates toward Trump courses as well. In 2012, he stayed in one of the suites at Trump's private Mar-a-Lago Golf Club in Palm Beach, Fla.
Trump is proud of the fact that Clinton belongs to his club. A picture of Clinton, former Yankee manager Joe Torre, and Trump is featured on the course website.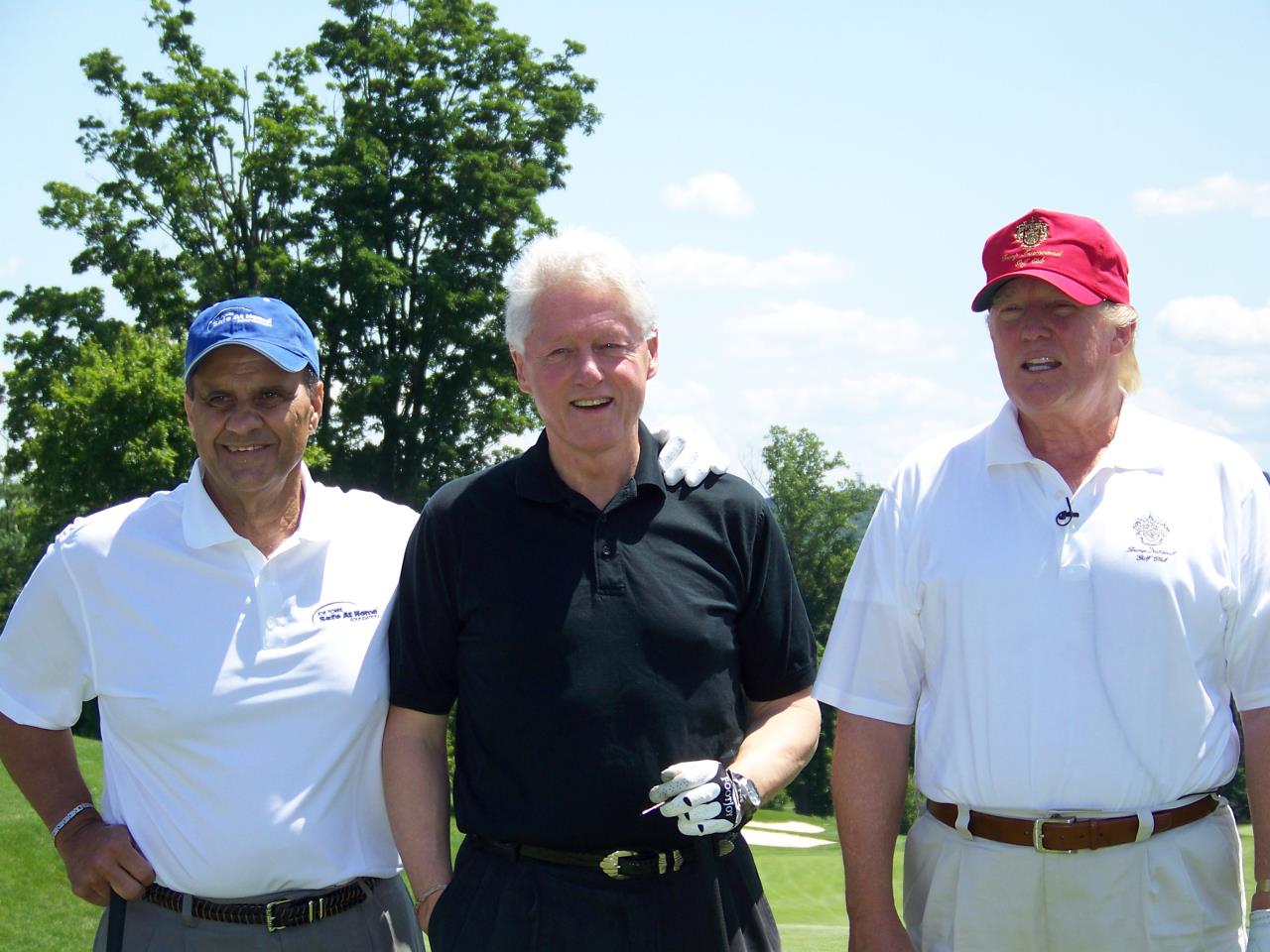 Though the group of students and parents is optimistic about its campaign to move the school event, stating that the "wallet is the best ballot," it is unlikely to faze Trump.
When NASCAR decided to part ways with a Trump-owned venue, Trump said he would keep the "very substantial deposit" for the events and "rent the ballroom to somebody else." When ESPN decided to move a golf outing from a Trump-owned course, he said he would make more money by keeping the course open.
The club would not share the current status of the Clintons' club membership to the Washington Free Beacon. Hillary Clinton's campaign did not respond to an inquiry into their club membership.