"Obama makes rest of us look bad with his effortless kitesurfing"
– The Washington Post, Early Lead, February 7, 6:32 PM 
A glowing report in the Washington Post claiming former President Barack Obama is "pretty much a natural on a kiteboard" is filled with factual errors, according to a Washington Free Beacon fact check.
"Obama makes rest of us look bad with his effortless kitesurfing," the headline for a piece by Kelyn Soong reads. Soong "works in the sports department" at the Washington Post and writes about tennis and running.
Soong wrote that Obama "seems to be living it up these days" after being spotted walking on the beach and being choked by his "billionaire vacation buddy" Richard Branson in the British Virgin Islands.
"Turns out that was just the beginning of Obama's post-presidency adventures," Soong wrote, explaining that Branson challenged Obama to see who could stay on a kiteboard or foilboard the longest.
"It's well documented that Obama is pretty good at basketball, but the video proved that the 55-year-old former leader of the free world is pretty much a natural on a kiteboard, as well," Soong wrote.
The Facts
These claims are false. As the video reveals Obama fell multiple times off the kiteboard despite "perfect conditions" and practicing for "two days solid" before the challenge.
Neither is Obama a star basketball player. Soong's evidence comes from Obama's former body man Reggie Love, who played basketball at Duke, and vouched for Obama's basketball skills.
"He'll knock down open shots; he's got a good midrange," Love told the Washington Post's D.C. Sports Blog last year.
However, Love also admitted Obama is "not the most explosive guy, not the fastest guy," and he "lacks in physical capabilities."
Video evidence reveals Obama does not "knock down open shots." ABC News reported in 2013 that, when playing against children, Obama was "ice cold" after going just 2 for 22 from the floor. The former president had to be shown how to make a layup by a 10 year old.
"He couldn't make one. I had to help him out," the child said.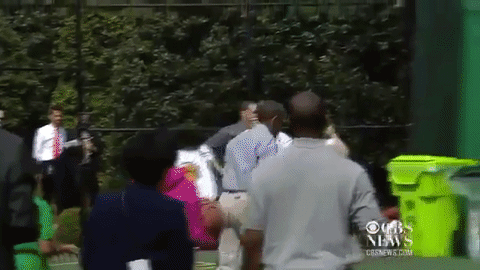 Soong argues Obama is a two-sport athlete adding his poor kiteboarding to his lacking basketball skills.
The article claimed Obama was an avid surfer in Hawaii before he became president, and it was one of the "many things he loved," which he had to give up for eight years while serving as president.
"Without the physical restrictions that come with being president, Obama looked like he went—in Branson's words—'back to being a child again,'" Soong wrote. "And in the process, Obama showed he's not just a one-sport athlete."
Evidence suggests that not only is Obama not "just a one-sport athlete," but he might not be much of an athlete at all.
Obama is so bad at bowling that he once compared himself to "the Special Olympics."
His abysmal score after bowling zero strikes while on the campaign trail in Allentown, Pa., in 2008 prompted the New York Times to ask, "Is it even possible for a grown man to bowl a 37?"
Obama is also a "sh---y golfer," according to Michael Jordan, despite having played more than 300 rounds of golf as president.
Many have noted Obama's poor technique when teeing off. The Telegraph reported that Obama's swing was "no match for George W. Bush." Obama's swing was "nervy," and he "finishes with limp shoulders."
"Bush by contrast has a sturdy, almost fluid swing that would not sit uncomfortably with most club professionals," the Telegraph wrote.
The 43rd president also is better at throwing a baseball than Obama, as is this 92-year-old veteran.
Obama has long struggled to throw a baseball like a normal person as previous Free Beacon analyses have shown. Obama did not impress Little Leaguers in 2014 due to his poor throwing form.
Obama's knowledge of the sport is also lacking, even though he claims to be an avid baseball fan. Obama could not name a single White Sox player and called Comiskey Park "Kaminsky Field." He also thinks teams "advance the ball" in baseball. Despite claiming to be a diehard Sox fan, he said he was rooting for the Cubs to win the World Series, leading to doubts that he ever cared about baseball at all.
The Pinocchio Test
The Washington Post claims Obama is "pretty good at basketball" and "makes [the] rest of us look bad with his effortless kitesurfing." But there is little evidence either claim is true.
A substantial amount of video footage exists disproving their claim that Obama is "not just a one-sport athlete." Moreover, the record shows Obama is not even a one-sport athlete as he has proven to be terrible at basketball, baseball, bowling, and now kitesurfing.
It's one thing to write about Obama's life after the White House, but the Washington Post goes too far in declaring Obama to be athletic. Not only does the Post make this outrageous claim, they also seek to demean their own readers by saying the American people "look bad" because of Obama's athletic ability. We award Four Pinocchios.