There are few things professional journalists enjoy more than writing about other professional journalists. Until recently, New York Times teen culture correspondent Taylor Lorenz was the most popular subject of these journo-on-journo profiles. Seriously, the media's obsession with Lorenz was out of control.
Alas, that is no longer the case. The professional journalism community has decided that Abby Phillip, senior political correspondent for CNN and host of Inside Politics Sunday with Abby Phillip, is an even hotter commodity than Lorenz. In the days following the November 2020 election, for example, Phillip was the subject of multiple media profiles that lauded her fearless onscreen punditry.
To this day, Phillip continues to be interviewed by her fellow journalists for reverential profiles and magazine cover stories. Because her story—that of a Harvard grad who found success as a CNN pundit—is one of the most inspirational stories of American journalism during the COVID-19 pandemic, we have reviewed and ranked the best Abby Phillip profiles for your immediate consideration. Enjoy!
1. W Magazine (January 2021)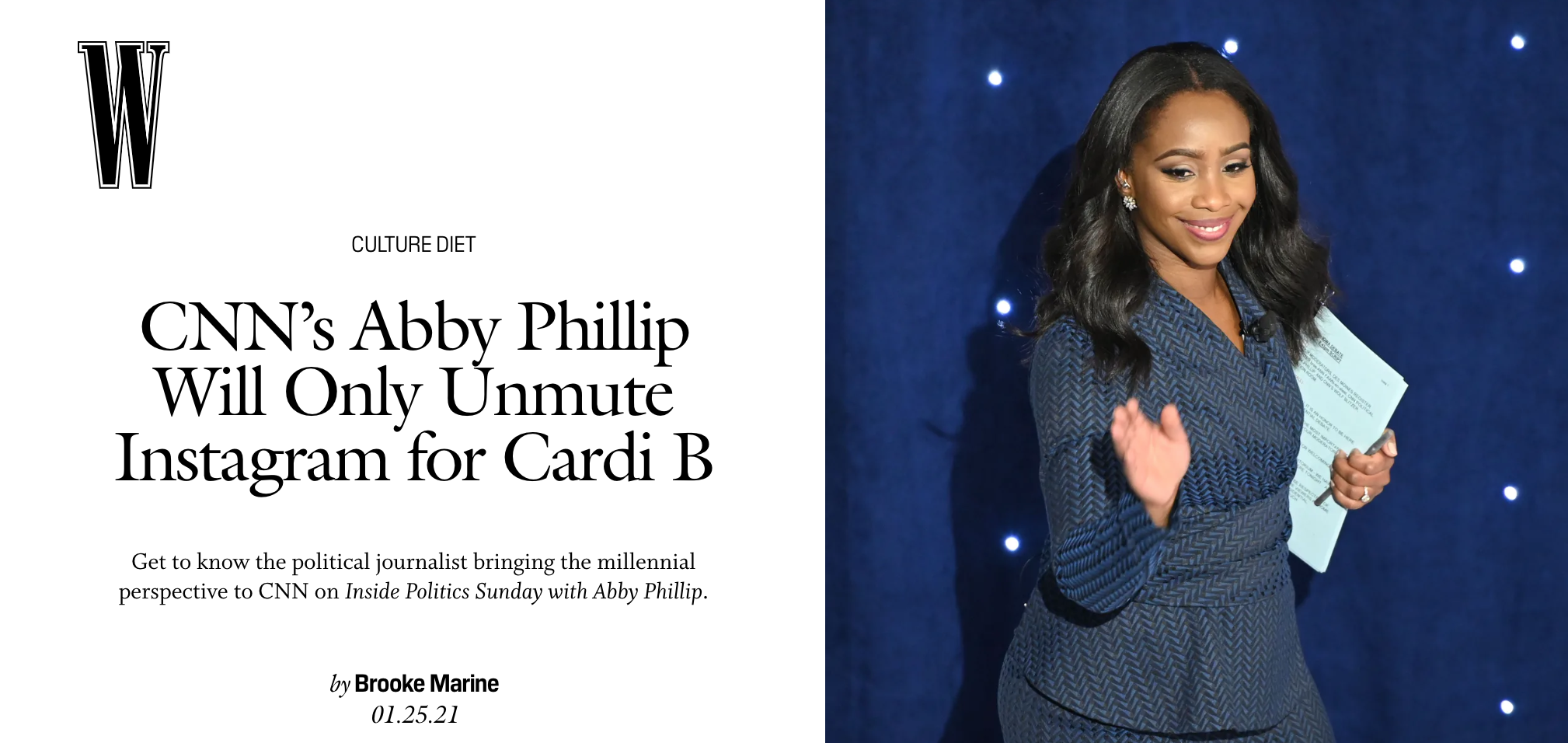 Highlights:
"I remember when Drake first came out, I was a Degrassi fan so it was just weird to think the guy from Degrassi was suddenly trying to be a rapper. And here we are 10 years later! It just goes to show, anything is possible!"
2. Refinery29 (November 2020)
Highlights:
Bullock says that the trick to Phillip's election-night look was using setting spray over a liquid foundation and a soft shimmery blush so that it would stay put for hours. "It's like the magical fairy dust that brings everything together," she says. Bullock also mixed multiple flesh-toned lip pencils to give her client's lips more dimension. "Then, I blot lipstick to the center of her lips and top it off with a gloss," she explains.
3. The Cut (March 2021)
Highlights:
AMI Paris jacket paired with Fendi bodysuit and Jimmy Choo heels.
4. Modern Luxury (March 2021)
Highlights:
"If journalists are often defined by their eras, I wonder if Phillip thinks about the tumultuous period we're experiencing and her place at its epicenter. 'I think about it all the time,' she says."
5. New York Times (November 2020) 
Highlights:
It was, in fact, Ms. Bash's on-air comments about the history being made by Vice President-elect Harris that teed Ms. Phillip up to make her comments about the voting power of Black women. As Ms. Phillip spoke, said Ms. Bash, "I was recognizing that something special was happening."
6. InStyle (November 2020)
Highlights:
On top of her wealth of political knowledge and the unforgettable moment when she said, "In carrying Joe Biden to the Democratic nomination through the primary, Black women did that," somehow, not a single hair was ever out of place, her makeup was pristine, and her skin appeared to be as smooth as a good silk bonnet for four days straight.
7. Washingtonian (February 2021) 
Highlights:
In addition to her name recognition, it led to face recognition—literally: Almost two weeks after the election, InStyle.com ran a story on her skin-care routine. You could also Google "Abby Phillip" and read about her love of red dresses with puff sleeves or her favorite afternoon treat (it's fruit snacks).
8. Teen Vogue (February 2020)
Highlights:
I decided a long time ago to abstain from coffee in exchange for sleep on early flights. But I am dangerously close to my limit for how long I can go without morning caffeine, so I rush to Panera for a breakfast sandwich and a large coffee. Some days I eat breakfast, and other days I don't. But on days like this, when I have three campaign events in tight succession, it's really critical to eat whenever possible.
9. Harper's Bazaar (November 2020)
Highlights:
A Harvard graduate formerly of ABC and The Washington Post, Phillip was widely praised for her astute commentary, cool composure, and, yes, unfaltering glow, emerging from the election a star in her own right.
10. Elle (November 2020) 
Highlights:
"Right now, I'm very into micro needling for skin rejuvenation with not that much down time."
Sorry, Taylor.