A super PAC aligned with Senate minority leader Chuck Schumer (D., N.Y.) pushed a fake email claiming the Iowa Farm Bureau had rescinded its endorsement of Sen. Joni Ernst (R., Iowa).
In a now-deleted tweet, Senate Majority PAC communications director Rachel Irwin said the Farm Bureau "is pulling its endorsement of Joni Ernst, telling its members not to vote for her."
The Sunday tweet cited a supposed Farm Bureau email—which an anonymous account first shared as a "rumor"—saying Ernst would "no longer receive the extensive backing of Farm Bureau and its partners."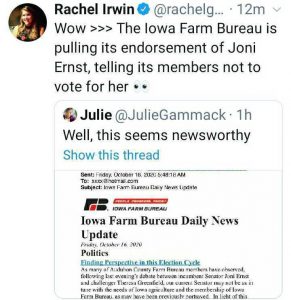 Farm Bureau leaders debunked the email in a statement Sunday—after a number of prominent media figures, including former Obama strategist and CNN commentator David Axelrod, had already spread the forgery.
"The email is fake, and any news reports that speak to its validity are false," the statement reads. "Iowa farmers know Senator Joni Ernst understands agriculture and works tirelessly to increase the economic opportunities for Iowa farmers and rural America. She continues to have our full support."
While Ernst's opponent, former real estate executive Theresa Greenfield, routinely touts her background as a "scrappy farm kid," the Democrat has failed to wrangle the support of Iowa agricultural groups away from Ernst.
In addition to the Farm Bureau, the Iowa Corn Growers Association and Iowa Cattlemen's Association are also backing the senator.
Ernst campaign manager Sam Pritchard accused Greenfield's supporters of disseminating misinformation.
"Greenfield and her liberal allies are pushing false information to confuse voters," Pritchard said in a statement. "Any further tactics aimed at deliberately misleading voters should be reported to the Iowa Secretary of State."
Schumer's Senate Majority PAC has flooded the Hawkeye State with outside money, spending more than $28.6 million to boost Greenfield's campaign, according to the Center for Responsive Politics.
Greenfield faced a March ethics complaint alleging that she illegally coordinated with the group.
She'd previously pledged to end "coordination" between campaigns and outside groups.
Senate Majority PAC did not return a request for comment. The group faced criticism in November after attacking Ernst for failing to serve "the needs of domestic violence victims." It did acknowledge that Ernst herself is a victim of domestic violence.
"I do not need to be mansplained by Chuck Schumer," Ernst told Iowa reporters at the time. "I am a survivor."