Senate Majority Leader Chuck Schumer (D.) last week joined teachers' union boss Randi Weingarten and a squad of New York Democrats on a taxpayer-funded getaway to Puerto Rico. True to form, the Democrats violated the island's strict indoor mask mandate by dancing and mingling like teenagers as if hundreds of Americans aren't dying from COVID-19 on President Joe Biden's watch. (Fact check: They are.)
Like all New York public schools, Puerto Rico still requires the use of masks indoors, regardless of vaccination status. That didn't stop the Democrats from ignoring science and putting lives at risk with their reckless behavior.
The Democrats were on the island for the the five-day SOMOS conference, where New York lawmakers and Latino activists gather to lobby each other and have fun. Perhaps ironically, this year's conference theme was "The Recovery." The conference website includes a reminder that Puerto Rico requires masks "in all indoor spaces, regardless of vaccination status," as well as for unvaccinated individuals "between the ages of 2 and 11."
Schumer was spotted dancing the meringue very awkwardly in a crowd of unmasked revelers. Photos from the conference show that practically all attendees—apart from journalists and event staff—were not wearing masks. The majority leader was joined by outgoing New York City mayor Bill de Blasio, who recently suggested that children should wear masks in schools and in public until the "Covid era" is over.
New York governor Kathy Hochul and state attorney general Tish James were also spotted at the conference without masks, as were most of the state's other Democratic leaders. State senate president Andrea Stewart-Cousins was spotted on video violating the mask mandate. Carl Heastie, speaker of the New York state assembly, posted a photo of himself, along with New York City councilman Kevin Riley, state senator Jamaal Bailey, and congressman Greg Meeks, posing without masks.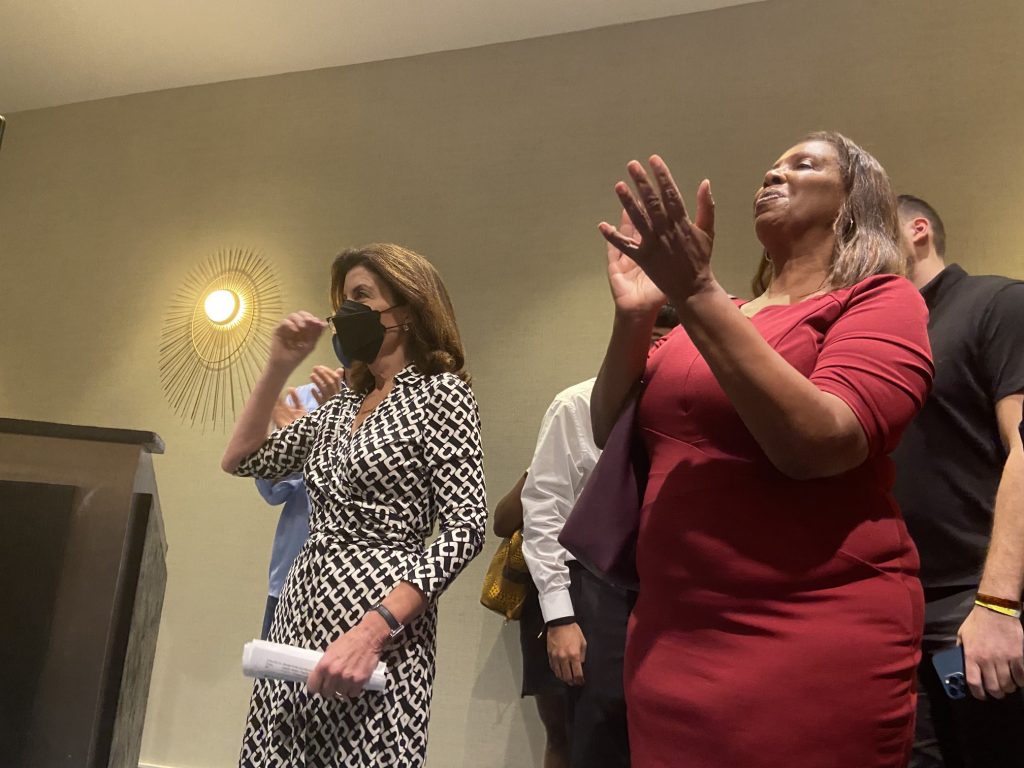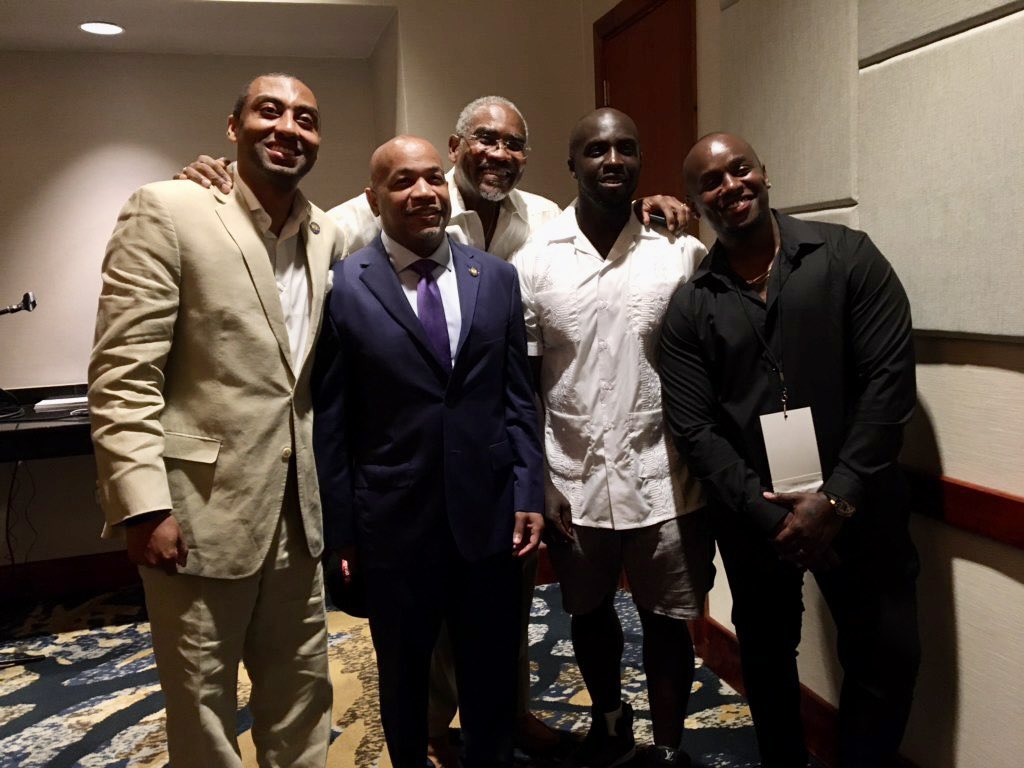 Rep. Hakeem Jeffries, Rep. Carolyn Maloney, and Rep. Tom Suozzi, a potential gubernatorial candidate, were also spotted at the conference. The lawmakers weren't wearing masks, and weren't practicing social distancing as recommended by the Centers for Disease Control.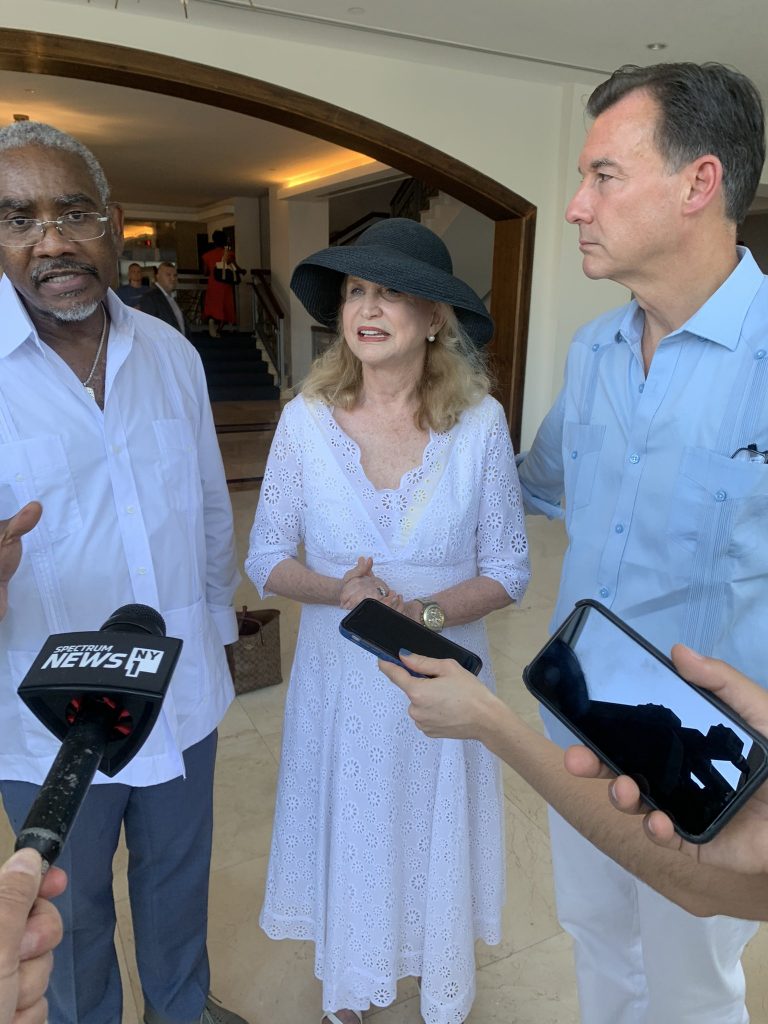 Weingarten, meanwhile, took part in a crowded panel discussion with other teachers' union leaders, none of whom were wearing masks or practicing social distancing. As president of the American Federation of Teachers, Weingarten has been at the forefront of the effort to keep public schools closed and children in masks. Weingarten apologized after being called out on social media for violating the mask mandate.
"We took them off as people were having a hard time hearing us," Weingarten said, implicitly acknowledging that forcing children to wear masks in schools was detrimental to their ability to learn. Weingarten only recently suggested that schools could stop requiring children to wear masks outdoors during recess.
Rep. Sean Patrick Maloney (D., N.Y.), who over the summer defied the State Department's travel restrictions to attend a maskless wedding in France, was not spotted.
Published under: Bill de Blasio , Chuck Schumer , Democratic Party , Gregory Meeks , Kathy Hochul , Letitia James , Mask Mandate , Masks , New York , Puerto Rico , Randi Weingarten