In the days following Hamas's slaughter of innocent Israelis, a George Washington University professor under federal investigation for the mistreatment of Jewish students shared posts on her private Instagram account that describe Hamas terrorists as "martyrs" and endorse their "armed resistance."
The professor, Lara Sheehi, uploaded dozens of such posts in the days since Hamas's terrorist rampage in Israel, screenshots obtained by the Washington Free Beacon show. In one of those posts, Sheehi praised a statement critical of "anyone condemning the Palestinians' armed resistance" and argued that the attacks were merely Hamas's response to "Israel's genocidal intent." In another, Sheehi expressed support for George Washington University's chapter of Students for Justice in Palestine. The group had described Hamas terrorists as "martyrs," a message Sheehi boosted. Sheehi also argued that Israelis were "NOT being killed for being Jewish" and blasted "Western media and politicians" for reporting that Hamas raped Israeli women.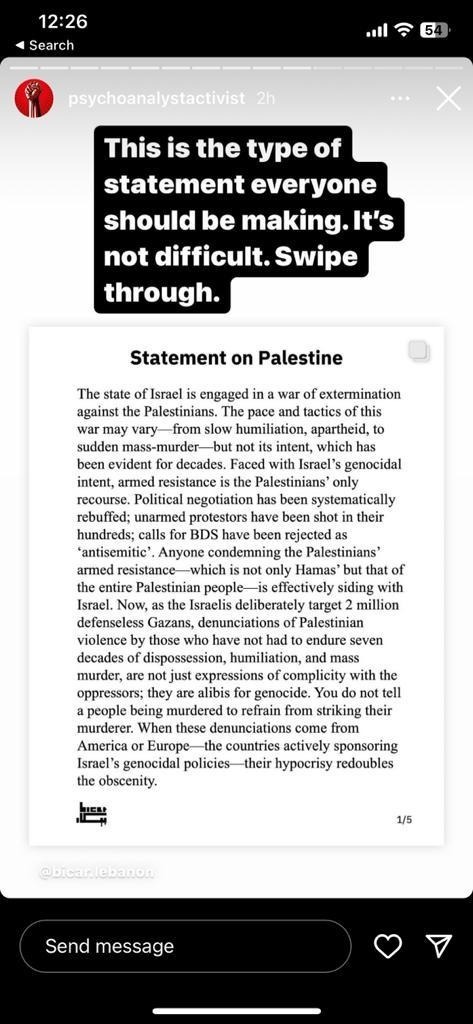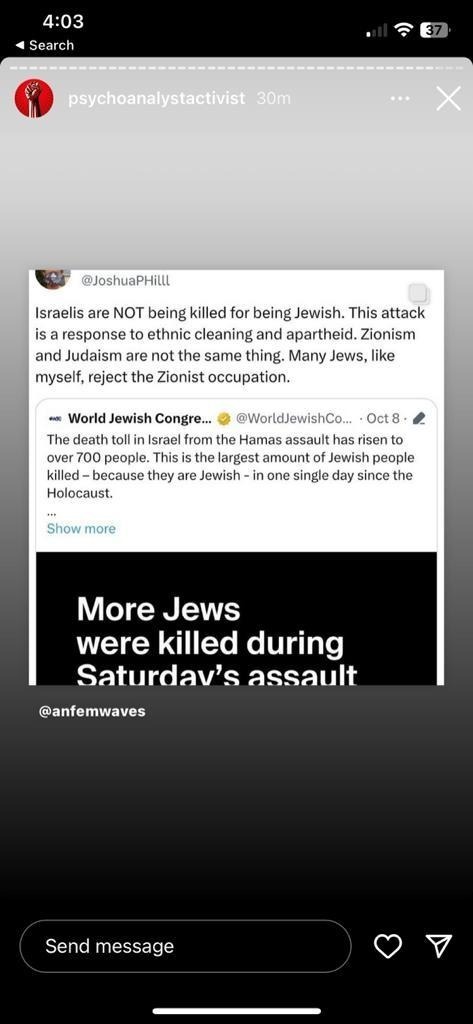 "How dare you slander the names of our martyrs as terrorists," one Sheehi post said. "I sleep well every night knowing I'm not some little bitch who supports apartheid," read another.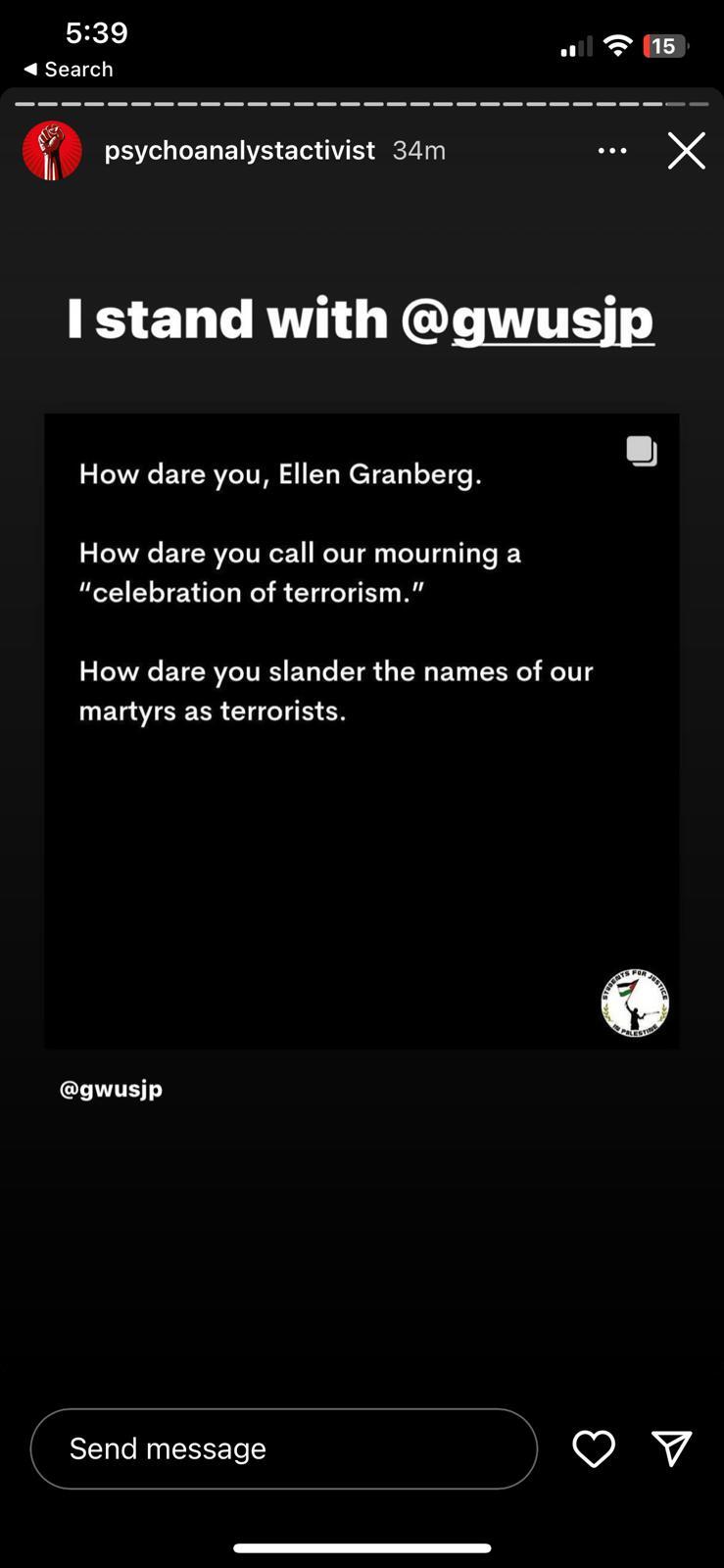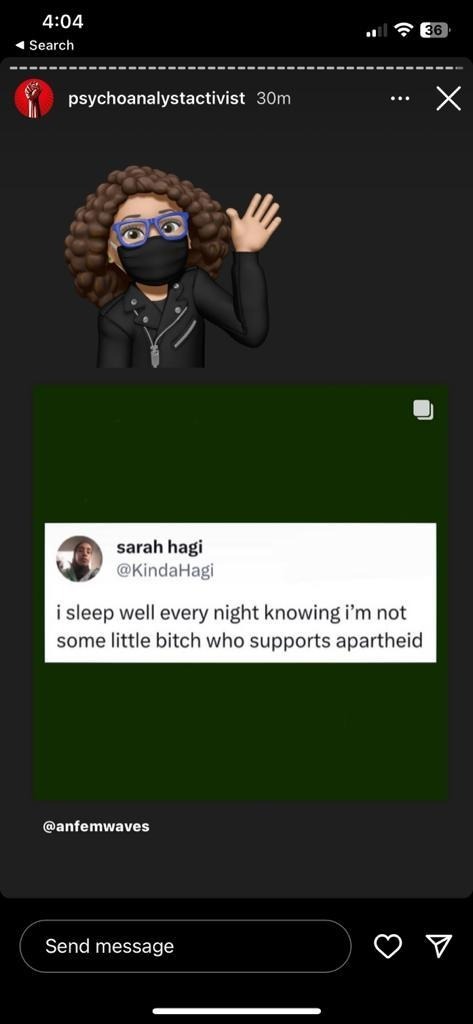 Provided with images of Sheehi's private Instagram posts, George Washington University declined to comment, pointing the Free Beacon to the school's statement on "the war in Israel and Gaza." That statement "stressed the importance of coming together and caring for one another, especially those who are Israeli, Jewish, Palestinian, Muslim, Arab, or connected to the region and this war."
Sheehi's Jewish students filed a Title VI complaint with the Department of Education earlier this year alleging that she harassed them, encouraged others to demean them, and disciplined them for speaking out. "She began to retaliate against us," one of the students told the Free Beacon in January. "She began to spread lies about us to the faculty—smearing our reputations to the people who are going to be our clinical supervisors for years to come."
In one case, students said Sheehi started an exercise aimed at "affirming" each student's identity—until one student said she was born in Israel.
"It's not your fault you were born in Israel," Sheehi replied, according to a student in attendance. The professor, who has said she wants to "destroy Zionism," also invited a speaker to campus last year who praised Palestinian terrorism and denounced "white Israeli racism."
Hundreds of academics subsequently urged George Washington University to suspend Sheehi, calling her remarks "rife with profanity and hateful rhetoric against Zionism and Israelis." The university instead tapped an outside law firm, Crowell & Moring LLP, to conduct an investigation.
In March, George Washington University touted a report from the firm that allegedly found "no evidence substantiating the allegations of discriminatory and retaliatory conduct."
But the school refused to release that full report, citing "the privacy of our students and faculty." Though it claimed Sheehi's alleged anti-Semitic classroom statements were "significantly decontextualized," it gave no evidence as to what context was missing. The university also said Sheehi's social media posts—which included comments telling supporters of Israel to "get fucked, you and your racist ass"—did not violate its policies.
Just days after George Washington University released its report allegedly clearing Sheehi, the U.S. Department of Education's Office for Civil Rights opened a full investigation into the professor, and that investigation remains ongoing.
George Washington University has excused Sheehi's anti-Semitic statements. The psychology professor has declared all Israelis "fucking racist," argued that Jewish students can inflict "violence" with their presence alone, and accused Zionists of suffering from a "settler psychosis" from which they must be "liberated." She has also denied that Hamas is a terrorist group.
"FUCK ZIONISM, ZIONISTS AND SETTLER COLONIALISM using Palestinian lives as examples of their boundless cruelty and power," Sheehi said in October 2020. "If you see this and STILL entertain for even a split second that Hamas is the terrorist entity, there is literally zero hope for you, your soul, or your general existence as an ethical human being in this world," she wrote in May 2021.
Sheehi, who did not return a request for comment, said in February that her students' complaint was part of a campaign from "right-wing trolls" who targeted her "because I am Arab."
In the string of Instagram posts sent this week, Sheehi accused those who stand with Israel of "desperately trying to cling onto anything to dismiss an anti-colonial uprising." She also posted a message saying Israelis have been "on the wrong side of every liberation struggle on this Earth."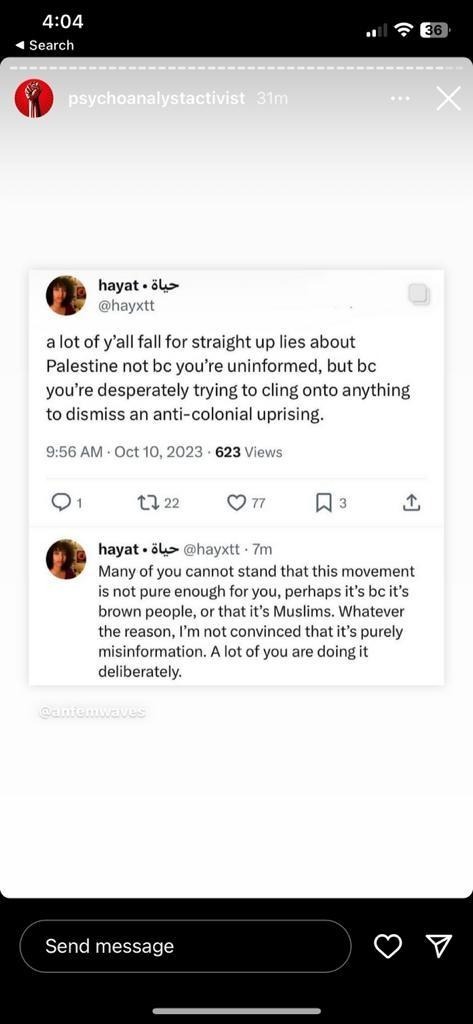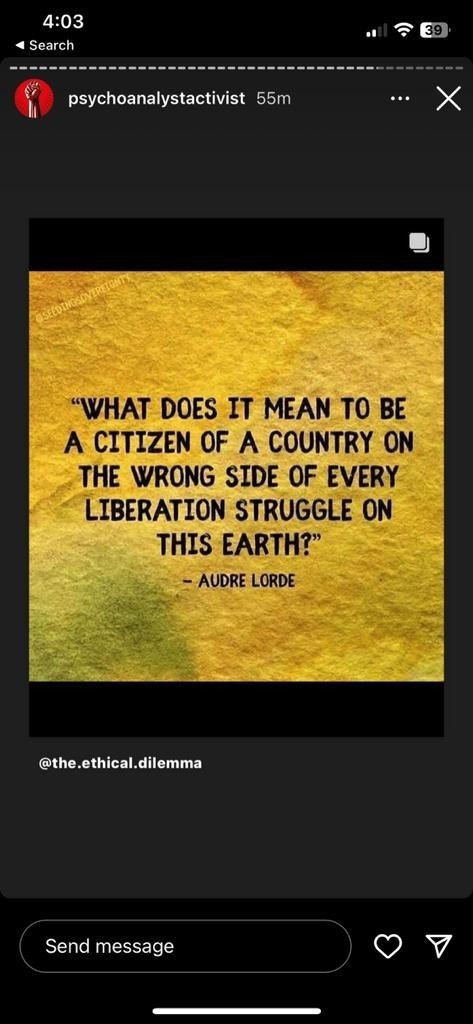 In another post, Sheehi sent a message of defiance to Israel's supporters, pledging to never back down from her views.
"Dox us, harass us, report us to employers, defame us, put us on front news and show up to our homes, attack us on social media and in the halls of Congress but trust that nothing you do will buy our silence," the post said.