A sixth-place finish in the weak Eastern Conference would be a step in the right direction for most first-year head coaches with zero prior experience. However, a second-round exit was not enough for Jason Kidd, who, true to form, weaseled his way out of Brooklyn over the weekend and forced the Nets to trade him to the Milwaukee Bucks.
Kidd's jealousy of fellow coaching neophytes Steve Kerr and Derek Fisher—who were able to negotiate better contracts only a year after he inked his—prompted him to force his way out.
Yahoo's Adrian Wojnarowski this weekend:
"The Russians (owners) are done with Kidd," one high-ranking league source told Yahoo Sports on Saturday night.
But there's a sucker born every minute.
Jason Kidd will go to the Bucks to coach for 2015 and 2019 second round picks, league source tells Yahoo Sport.s

— Adrian Wojnarowski (@WojYahooNBA) June 30, 2014
Kidd hustled financial adviser/Obama bundler/new Milwaukee Bucks co-owner Marc Lasry into giving him full control of basketball operations, a move being met with laughter and mockery among the league's other 29 teams.
Gambling with lowlifes isn't outside the norm for Lasry, who had his ambassadorship bid sunk after his ties to a Russian-mob-run poker-and-money-laundering ring was exposed.
Kidd drove the most expensive team in NBA history worse than he did his car when he was caught drunk driving last off-season, a life choice that cost him to sit out for the first two games of his coaching career.
Kidd wasn't much better in the regular season. Kidd had Nets owner Mikhail Prokhorov make lieutenant Lawrence Frank the richest assistant coach in the league, only to force Prokhorov to demote Frank later that season after  a series of behind-the-scenes cussing matches. Kidd promised to pay the difference in salary out of his own pocket, only to screw Frank out of the $6 million that was owed to him.
Kidd also was fined $50,000 last season for intentionally spilling ice on the court to stop play during a loss in November.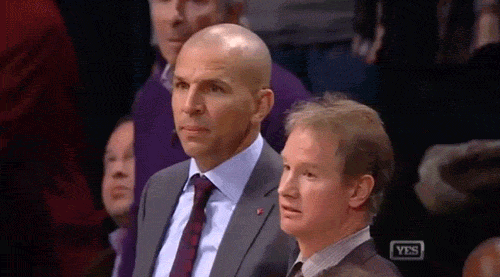 Then there's Kidd's scuzzy history of domestic abuse. Kidd pleaded guilty to domestic abuse for assaulting his wife in 2001 and filled for divorce in 2007, citing intense jealousy and paranoia.
Like Putin schooling Obama, Nets owner Prokhorov was able to clown Lasry by getting the Democratic donor to take the head case off his hands.
Lasry conducted the deal with the expected level of shadiness and decorum:
Here's what the Milwaukee owners had communicated to coach Larry Drew about negotiating a deal for his job w/ Jason Kidd: Nothing.

— Adrian Wojnarowski (@WojYahooNBA) June 30, 2014