The anti-Israel fringe group IfNotNow is under fire for throwing its support behind violent Palestinian rioters who called for Tel Aviv to be bombed and destroyed.
IfNotNow, a progressive advocacy group that claims its membership is primarily Jewish, took to Twitter on Saturday to promote video footage of violent Palestinian rioters in Jerusalem. Tensions have been high in the city as Palestinians riot in and around the Temple Mount, a holy section of the city that includes the al Aqsa and Dome of the Rock mosques.
"Incredible, inspiring images of Palestinian resistance coming out of Jerusalem tonight," IfNotNow said in a since-deleted tweet. "American Jews are with you." The tweet included video footage of Palestinians yelling in Arabic for Tel Aviv to be bombed.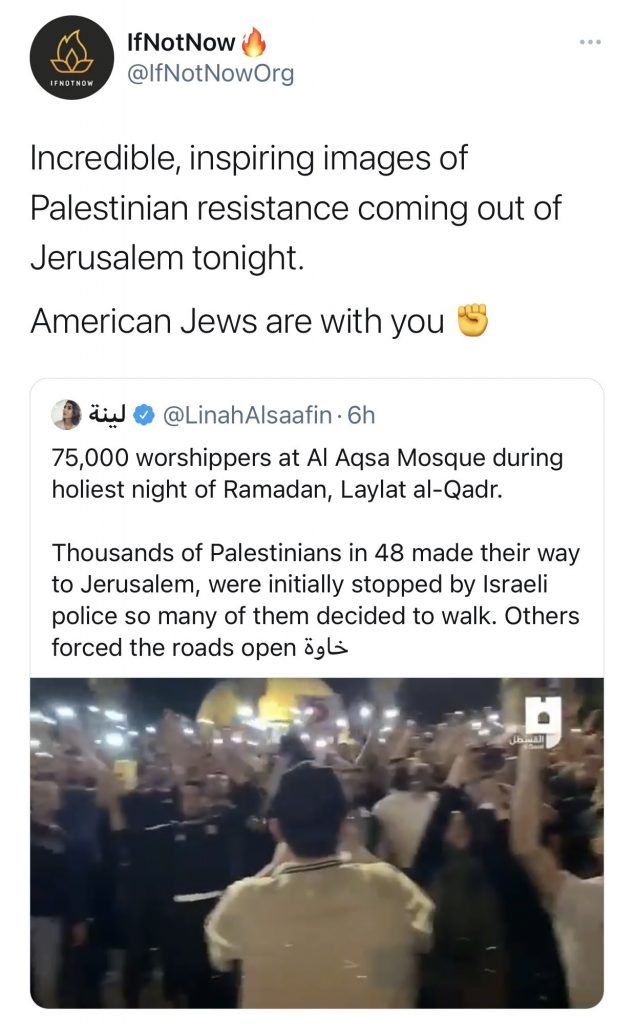 It is the latest gaffe for an organization that has eroded its credibility over the years by repeatedly smearing American Jews and promoting violence against Israel. While the group is beloved by far-left anti-Israel activists aligned with the Democratic Party, mainstream American Jews have largely shunned it.
IfNotNow's tweet drew a litany of angry responses from American Jews, who largely said the group does not represent its attitudes or interests.
"No, we (Jewish Americans) are certainly not supportive of an angry mob of Palestinians in Jerusalem," wrote Bryan Leib, a former Republican congressional candidate and executive director of Iranian Americans for Liberty, which opposes the hardline Iranian government. "I really don't know how IfNotNowOrg thinks they can speak on behalf of Jews."
"How low can IfNotNow go?" asked the organization Stop Anti-Semitism. "Miserably low to side with Hamas supporters singing, 'bomb bomb Tel Aviv.' What an embarrassment to American Jews."
A number of American Jews contacted by the Washington Free Beacon also said they do not, in fact, stand with the Arab mob calling for the destruction of Tel Aviv, as IfNotNow claimed in its posting.
IfNotNow has a history of promoting anti-Semitic and anti-Israel messages.
In 2019, one of its members publicly accused a sitting member of Congress of having dual loyalties to Israel—a type of anti-Semitic slur routinely used by neo-Nazis and other Jew-haters to imply that Americans are being controlled by Israel. In that same year, IfNotNow blamed a slain Israeli teen for his own murder in the West Bank.