With Title 42, a Trump-era immigration policy that allowed for the quick expulsion of illegal migrants, expiring at the end of last week, the U.S. southern border is embroiled in crisis. But after a week of reporting on the evolving humanitarian disaster, the corporate press is cutting the Biden administration some slack.
So what: President Joe Biden is underwater among voters on ending Title 42, and the border continues to be a polling weakness. But the media may be helping to bail him out.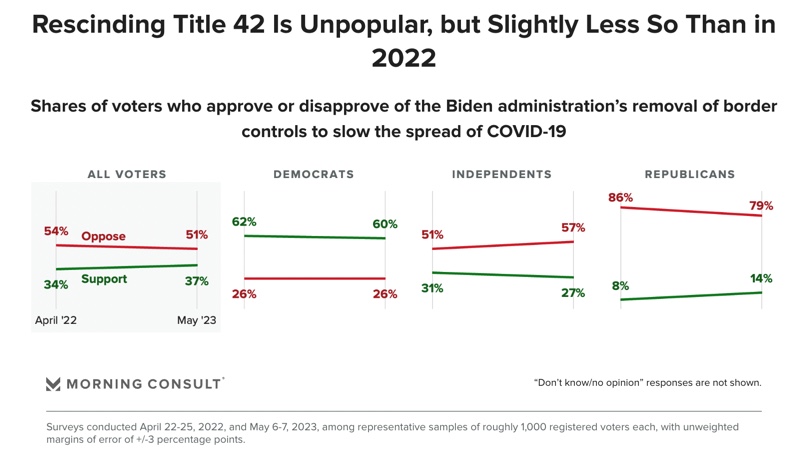 Reporters caught up with Biden about his border crisis while he was out for a weekend bike ride in Rehoboth Beach, Delaware, and he was feeling good enough to gloat.
Biden says border looks 'much better than you all expected' after Title 42 ends, has no plans to visit https://t.co/udlRQUAdnZ

— Fox News (@FoxNews) May 15, 2023
The press has largely shifted its framing of the story to fit Biden's, noting that border encounters were down to 6,300 on Friday and 4,200 on Saturday, according to Homeland Security Secretary Alejandro Mayorkas.
Despite warnings about a potential surge in migrants that sent thousands of federal personnel to the southern US border, officials said the days after the expiration of Title 42 saw fewer migrants arriving at the border than initially expected. https://t.co/JbEgvGOr9t

— CNN (@CNN) May 15, 2023
Some southern border communities have reported receiving fewer-than-expected migrant arrivals since the expiration of Title 42 https://t.co/CjpvhXd2d3

— CNN (@CNN) May 13, 2023
Relative quiet has prevailed along the southern U.S border since Title 42 expired, despite fears that ending the policy to immediately expel most migrants would set off a surge from Mexico. But forces driving people to the U.S. are unlikely to subside. https://t.co/cNXbYObkx3

— The New York Times (@nytimes) May 15, 2023
The Homeland Security secretary touted the success of policy changes, though Republicans were quick to point to overall numbers of migrants entering at the southern border.https://t.co/nN2OFcoaKD

— The Washington Post (@washingtonpost) May 14, 2023
Migrant crossings at the US-Mexico border have unexpectedly fallen, not risen, since Title 42 curbs expired. Reinstating criminal penalties for illegal entry is likely the biggest reason, the Biden administration said https://t.co/MxS5s3t2Ye

— Reuters (@Reuters) May 15, 2023
OK, but: The supposedly encouraging decline in border encounters was relative to all-time highs earlier in the week. Monday, Tuesday, and Wednesday each saw more than 10,000 migrant apprehensions, surpassing any previous day on record. Even with the downticks on Friday and Saturday, last week's numbers shattered the previous weekly high.
Border Patrol apprehends over 10,000 migrant encounters a day ahead of Title 42's end, highest ever recorded https://t.co/Vn8aqgBEP1

— Fox News Politics (@foxnewspolitics) May 10, 2023
Illegal immigration has repeatedly broken annual records on Biden's watch.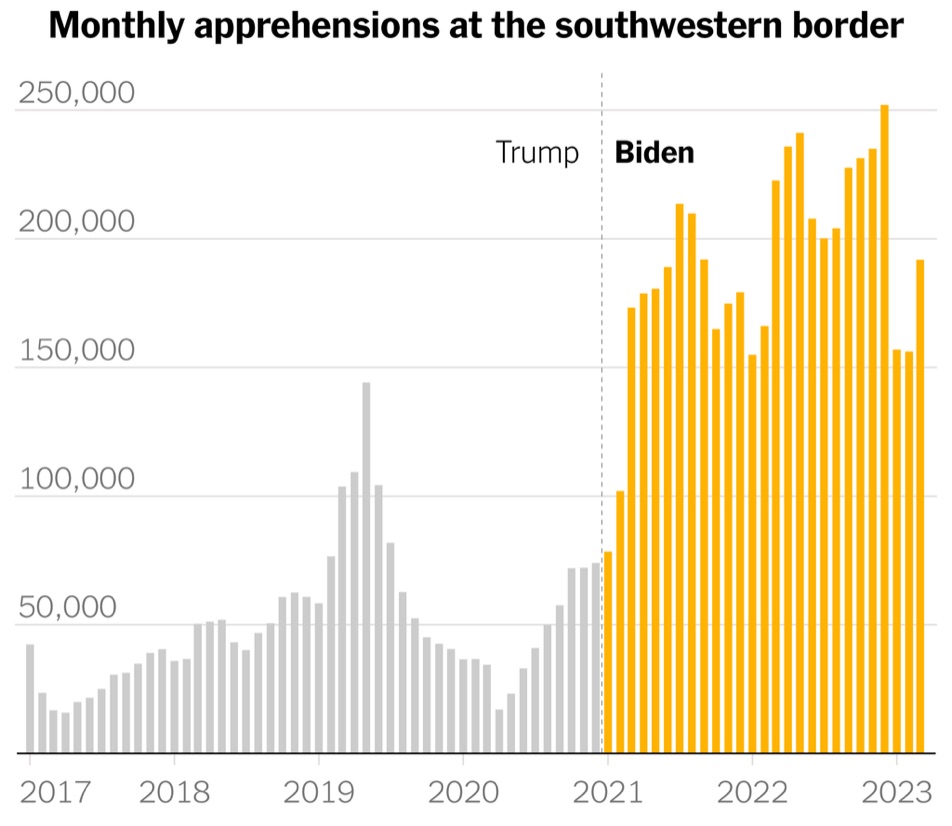 Now, border towns have thousands of people sleeping on the street, and self-proclaimed "sanctuary cities" for illegal immigrants, such as New York, Washington, D.C., and Chicago, have declared they're full up. About 24,000 migrants were reportedly held overnight Thursday in border detention facilities made for 18,000 at the most. A 17-year-old unaccompanied migrant from Honduras died Wednesday after being found unconscious in a Florida shelter, though officials haven't released information about the cause of death.
As some news outlets noted, the easing of the crisis could prove short-lived. In a court filing on Friday, Biden's deputy Border Patrol chief, Matthew Hudak, said that between 12,000 and 14,000 apprehensions are still expected per day as a result of the end of Title 42.