Then-vice president Joe Biden spared no words when he extolled the virtues of his second son, Hunter Biden, in a 2013 address to South Korean students at the elite Yonsei University.
"And as I speak, my son has just boarded—my grown son has just boarded a plane, an aircraft—he's heading to the Philippines," Biden said. "His name is Hunter Biden. He's chairman of the World Food Program USA, and he's going there out in the field, like so many of you did. I'm so incredibly proud of him and the tens of thousands of young people around the world who either went or wanted to."
But Hunter Biden wasn't exactly going "out in the fields" in the same way a naive 20-something might travel to the developing world to dig wells and build schools. What Joe Biden didn't tell the next generation of South Korean elite was that his son was visiting the Philippines with a Secret Service entourage that was costing U.S. taxpayers a fortune.
As Hunter Biden zipped across the globe for his business deals, taxpayers paid $193,696 for his Secret Service entourage, according to an official database that reports unclassified government expenditures. That amount is nearly four times the recorded security bill of the four adult Trump children—combined.
While his father Joe Biden was vice president, Hunter Biden traveled with a Secret Service entourage to at least 10 different countries, including China, Qatar, and South Africa, according to a government expenditure database. He racked up 28 separate bills, all of which involved taxpayer payments to a "miscellaneous foreign contractor" or "miscellaneous foreign awardee." Many of the bills explicitly said that the money was used to pay for accommodations for the Secret Service, but others were scant on details.
With few details about Hunter Biden's travels publicly disclosed, the database is far from a complete account of his foreign activities. The limited disclosures do shed light on the taxpayer burden of Hunter Biden's lucrative global business career, which far eclipses the Secret Service costs for other presidential and vice-presidential family members disclosed in the database. George Mesires, Hunter Biden's attorney, did not respond to a request for comment.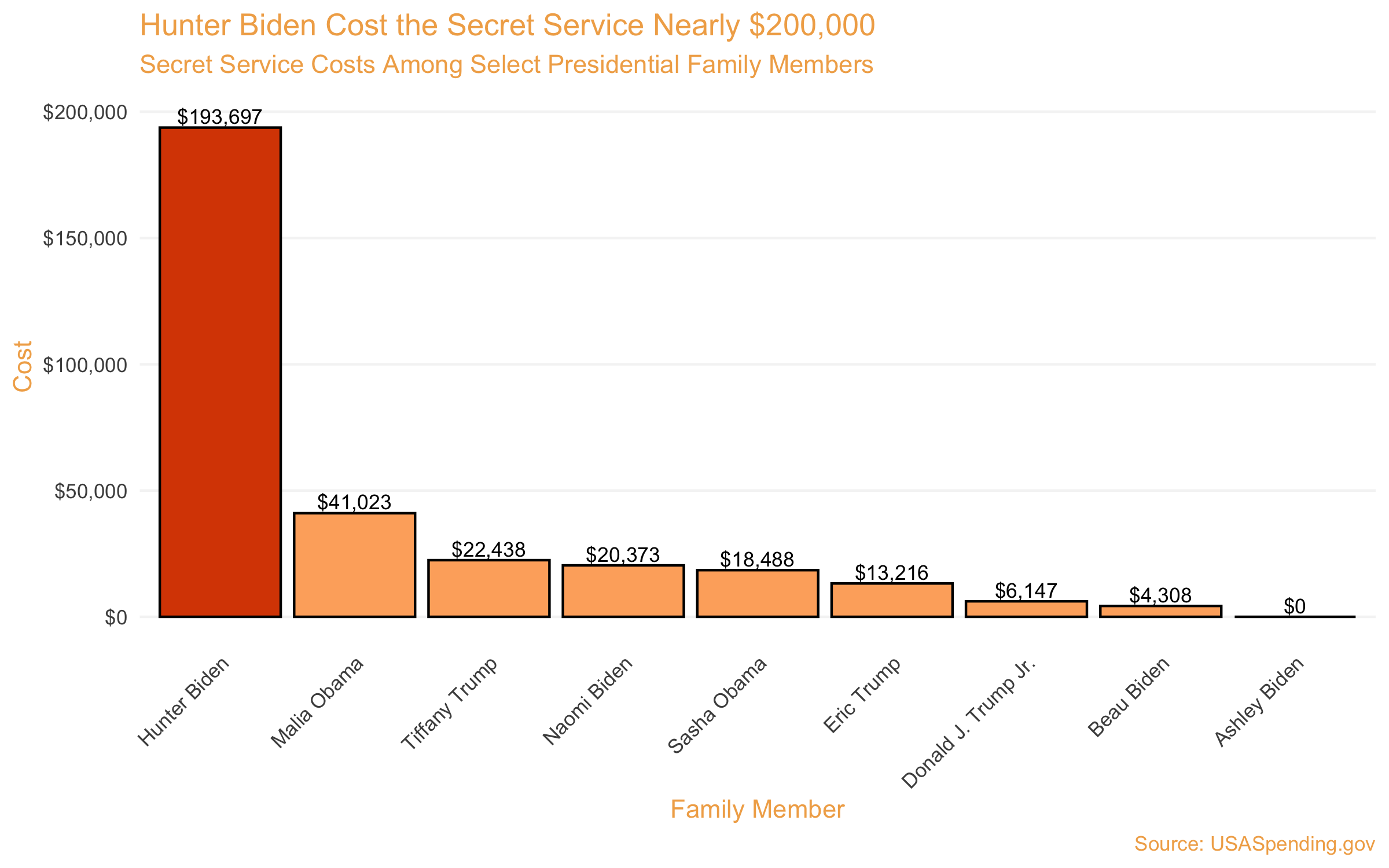 The Trump children combined, for example, are recorded to have spent about $40,000. The one exception to this rule is security costs for first ladies: Critics have denounced both Michelle Obama and Melania Trump for excessive security costs. But first ladies often, though not always, accrue those fees on official government visits, while Hunter Biden never held an official government position.
Sean Moulton, a senior policy analyst at the Project on Government Oversight, cautioned that the government database is far from complete because the Secret Service withholds much information for security reasons. He added that it is unclear why Hunter Biden's security is so expensive compared to his peers—it could be Hunter Biden traveled more frequently or in larger groups, but there is no way to know without more complete details.
The Secret Service did not return a request for comment.
As Joe Biden cements his place as the presumptive Democratic nominee, Sens. Chuck Grassley (R., Iowa) and Ron Johnson (R., Wis.) have renewed congressional scrutiny of Biden's troubled son. As part of their probe, the senators requested Hunter Biden's travel records from the Secret Service in February to unearth "potential conflicts of interest posed by the business activities of Hunter Biden and his associates."
In their letter to the Secret Service, Grassley and Johnson zeroed in on two examples of Hunter Biden's foreign entanglement, one each in Ukraine and China. Hunter Biden was a board member of Burisma, a Ukrainian energy company, while his father handled the Obama White House's Ukraine policy. He also served on the board of Chinese private equity company BHR Partners, organizing a meet-and-greet between Joe Biden and BHR CEO Jonathan Li on Dec. 4, 2013, according to the New Yorker.
The database has not disclosed details about the Secret Service protection for Hunter Biden's time in Ukraine. It does, however, show that Hunter visited China on at least two other occasions, once each before and after the December 2013 meeting. The records show that Hunter Biden stayed in China for one to two weeks in June 2013 and March 2014, costing taxpayers nearly $13,000.
Expenditures related to Hunter Biden's trips to the Phillippines are filed under "WFP," which stands for World Food Program USA, the nonprofit group that Joe Biden told the South Korean students about. But while Hunter Biden snapped pictures of himself as a man-of-the-people mingling with the disaster-struck children of the Philippines, that did not stop him and his Secret Service guards from checking into rooms at the St. Regis Doha in Qatar, a luxury hotel that cost taxpayers roughly $11,000.
The disclosed expenditures provide scant details about the exact purpose of Hunter Biden's trips. Moulton said that the categorization of all Secret Service expenditures as "miscellaneous" is a "frustrating lack of transparency."
"Sometimes there are security concerns for recipients of USA money (either contracts or aid) that require keeping them anonymous to protect them from possible reprisals from those unhappy with our country," he said in an email. "But too often the convention is used for convenience because agencies may not have all of the information required to be reported for each foreign contractor."
This is not the first time the Biden family has used the Secret Service for its personal benefit. While in the White House, Joe Biden charged rent for the Secret Service agents stationed in his Wilmington, Del., property, costing taxpayers $171,600 between 2011 and 2017. Biden's campaign did not respond to a request for comment.