A Maryland public high school is teaching students to use gender-neutral pronouns such as "ze, zir, and zirs" to address classmates rather than assuming anyone's gender.
Students in Frederick County's Brunswick High School were asked to use pronouns, including "ze, zir, and zirs" or "they, them, theirs" if they "don't know" someone's preferred pronouns, according to photos of a classroom presentation obtained by the Washington Free Beacon. Sample sentences included to show how to use the pronouns include "Zir family is nice," "That car is zirs," and "ze is calling."  Students were also required to state their pronouns in back-to-school surveys, the images show.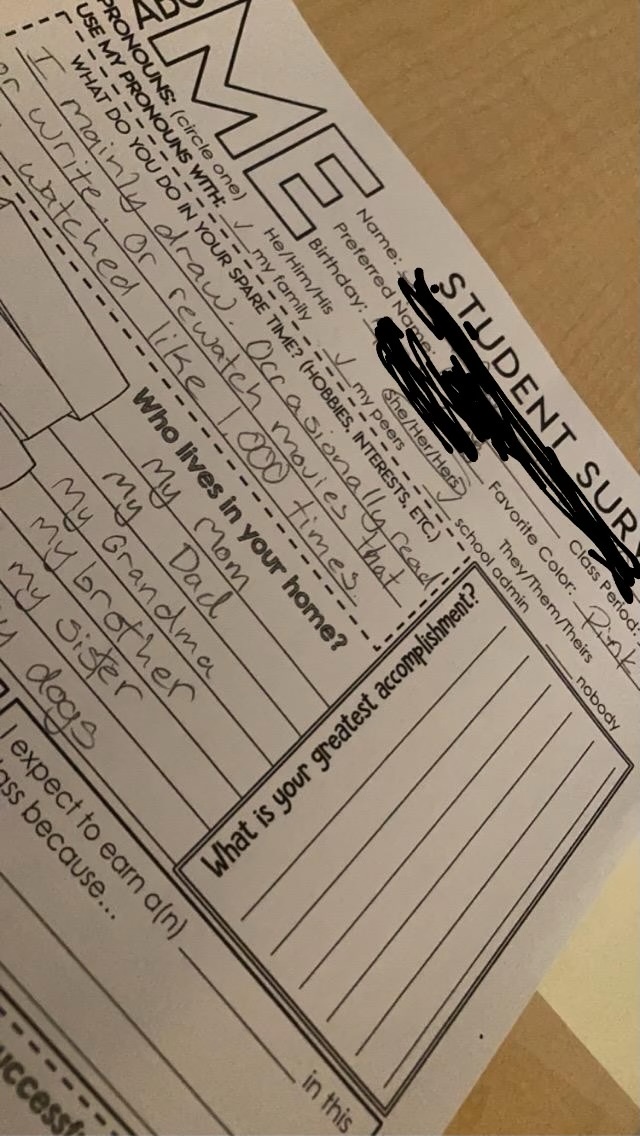 Left-wing advocacy groups have led the charge for expanded pronoun use in schools. In 2020, the Human Rights Campaign, GLSEN, and other LGBT organizations endorsed National Sex Education Standards that called for the end of pronouns based on the gender binary, among other recommendations. President Joe Biden's Education Department has similarly pushed for gender identity lessons as part of sex education.
April Montgomery, a mother of two students in Frederick County schools, said parents are "livid" over the school's decision to teach gender ideology. When Montgomery asked if her daughter could opt out of the pronoun lessons, administrators denied her request, noting the assignment was required for English class.
"I didn't even know this was going to be taking place," Montgomery told the Free Beacon. "I thought she was safe in English class."
Kevin Cuppett, executive director of curriculum, instruction, and innovation for Frederick County Public Schools, told the Free Beacon the classroom presentation was "created by one teacher and used in one classroom." He confirmed, though, that the school district uses curriculum resources from Houghton Mifflin Harcourt, an educational publishing company. A student pronoun survey similar to the one used at Brunswick is available on the company's website.
Cuppett also said the district had "addressed" the presentation with the teacher, but did not clarify further.
Many schools have adopted similar pronoun standards. Pennsylvania's Department of Education in August listed the pronouns "ne, ve, ze/zie, and xe" on its website and told teachers to ask for students' preferred pronouns this school year, Fox News reported.
In response to the sweeping LGBT mandates, parents nationwide are advocating for more public school oversight. Many parents have either opted their children out of course requirements or sued districts for implementing what they see as an aggressive LGBT agenda.
"A vocal minority is bullying students into ignoring basic grammar rules in the name of inclusivity—and ironically, anyone who dares to reject this coercion is branded an intolerant bigot," Nicole Neily, president of Parents Defending Education, told the Free Beacon. "Schools are failing our children, and plummeting literacy rates are just one indication of that."
That includes parents in Maryland's Montgomery County, who sued their school board for instructing teachers to conceal information about students' gender identities. A federal judge dismissed the case in August.
Pursuant to a 2021 executive order, the Department of Education in June unveiled proposed changes to Title IX, effectively ending sex-separate spaces in schools. The guidance defined misuse of gender pronouns as a form of sexual harassment, which could leave dissenters open to lawsuits if the rules are adopted.