The chairwoman of the Nebraska Democratic Party's Black Caucus is resisting pressure to resign after she called Republicans' reactions to the shooting of House Minority Whip Steve Scalise (R., La.) "so funny."
Chelsey Gentry-Tipton of Omaha, Neb. also wrote on Facebook that she was "having a hard time feeling bad" for Republicans, the Omaha World-Herald reported. Both comments were made Wednesday, the day of the shooting in Alexandria, Va. that injured Scalise and four others.
The chairwoman of the Nebraska Democratic Party, Jane Kleeb, has requested for Gentry-Tipton's resignation.
Gentry-Tipton said "Y is this so funny tho?" in response to a post floating the possibility that the shooter was angry about congressional Republicans' health care proposal.
The screenshots below were captured by Leavenworth St.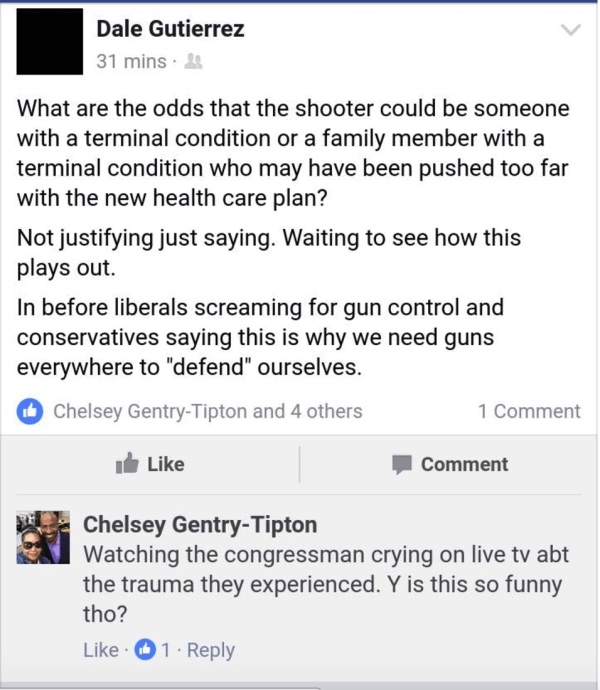 Gentry-Tipton then responded to criticism of her first comment by saying that it is "hard to feel bad" for Republicans who use the National Rifle Association to "pad their pockets with complete disregard for human life."
Nebraska Democrats confirmed from their official Twitter account that Kleeb and other officials asked Gentry-Tipton to resign.
Yes, the NDP officers have asked her to resign. As you know, I do not tolerate this type of reckless behavior.

— Nebraska Democratic Party (@NebraskaDems) June 14, 2017
Gentry-Tipton then took to Facebook again to reject calls for her resignation, saying that her comments were taken out of context and accusing her fellow Democrats of trying to undermine her. She also used the post as an opportunity to accuse Democrats of not understanding and reacting promptly to matters that affect the black community, including gun violence, wage inequality, and workplace bigotry.
The executive director of the Nebraska Republican Party, Kenny Zoeller, also denounced Gentry-Tipton's comments.
"That sort of acceptance of violence is furthering the divide in an already hyper-polarized political environment," he said.