Dr. Anthony Fauci, the federal bureaucrat who helped bungle the Trump administration's COVID-19 response, appeared to dismiss an expert's detailed warning about Chinese disinformation in the early days of the pandemic, according to emails obtained by the Washington Post.
"Too long for me to read," Fauci wrote in response to a March 2020 email from a physicist with extensive experience in China, or "tl;dr," as the kids say. The expert had reached out to express concern about "fabricated data" coming out of China and the communist country's other efforts to conceal the true extent of the virus.

Other emails show that in February 2020, Fauci was advising a colleague not to wear face masks, which he said were "not really effective in keeping out virus, which is small enough to pass through the material."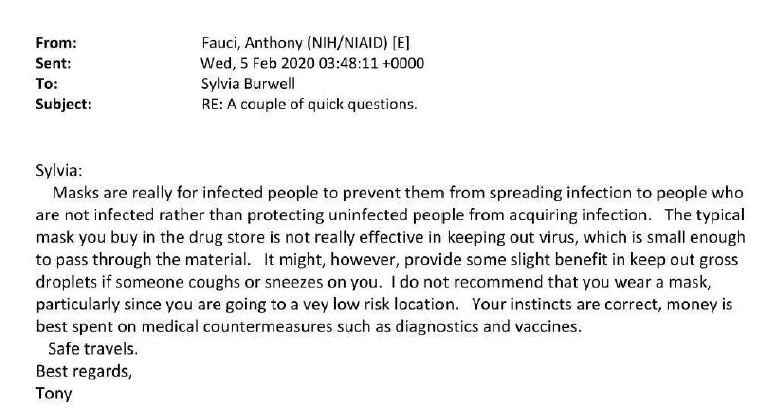 This month, Fauci suggested that continuing to wear a face mask, even after most restrictions have been lifted, could "diminish the likelihood that you'll spread these respiratory borne diseases." Fauci's credibility has been plagued by similar inconsistencies throughout the pandemic.
Few individuals in history have experienced such a rapid rise from relative obscurity to celebrity sex symbol as Fauci, whose research efforts may have played a role in causing the COVID-19 outbreak. "Our society is totally nuts," Fauci wrote in an April 2020 email in response to articles elevating him to sex symbol status.
Fauci swag probably isn't flying off the shelf these days, but the trove of emails obtained by various media outlets have put his name back in the headlines. The emails are revealing, but not everyone agrees on what they actually reveal.
CNN, for example, suggested Fauci's emails "reveal the weight that came with his role as a rare source of frank honesty within the Trump administration's COVID-19 task force." The New York Post, by contrast, found significance in the effusive praise of a nonprofit leader with ties to the Wuhan Institute of Virology who thanked Fauci for his "brave" comments casting doubt on the so-called lab leak theory, which until recently was dismissed as a right-wing conspiracy theory.
"From my perspective, your comments are brave, and coming from your trusted voice, will help dispel the myths being spun around the virus's origins," wrote Peter Daszak, a zoologist and president of the EcoHealth Alliance, which received a $3.4 million grant from Fauci's agency in 2014.
Fauci wrote back the next day, thanking Daszak for the "kind note."