China's military and defense ministry on Sunday confirmed that military forces in a border region near North Korea conducted live-fire drills amid tensions between North Korea and the United States.
The Pentagon, meanwhile, canceled a planned test launch of a Minuteman III ballistic missile to avoid further upsetting ties with North Korea.
Intelligence sources said signs continue to indicate that North Korea is planning to conduct a flight test soon of its intermediate-range Musudan missile that has enough range to reach Guam.
Two Musudan missiles have been readied and the flight test may take place around April 15, the anniversary of the birth of the late leader Kim Il Sung, grandfather of current leader Kim Jong Un.
Additionally, North Korea may conduct another underground nuclear test in the coming days, the sources said, based on intelligence indicators of increased activity at North Korea's northern nuclear testing facility.
Tensions remain high as North Korea's communist regime in recent weeks issued a string of threats to conduct nuclear missile attacks on the United States and South Korea, whose militaries are currently engaged in large-scale military exercises that include flights of B-52 and B-2 strategic nuclear bombers near the peninsula.
Regarding the Chinese troop movements, the Communist Party newspaper Global Times reported Sunday that the People's Liberation Army (PLA) carried out live fire maneuvers in Shenyang, near the North Korean border, on April 1.
The newspaper, quoting the official newspaper PLA Daily and the Chinese Defense Ministry, said tanks and armored vehicles from a Shenyang military region mechanized infantry unit took part in the drills during a snowstorm.
The forces "zigzagged through bomb craters, muddy holes, while climbing over small hills that were training items designed to constantly prepare for real combat capabilities," the report stated.
The brief item published in Global Times included photos of two weapons systems used in the exercises, including a Type 07 122 millimeter automatic cannon and a Type 59 tank painted white for camouflage during winter operations.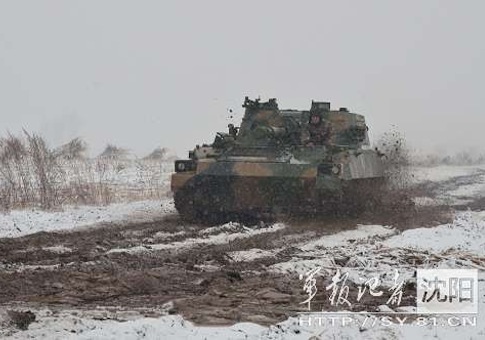 In an unusual twist that apparently sought to link the exercises to tension in Korea, the same headline for the article, "The military disclosed in the Shenyang Military Region, April 1st armored brigade combat exercises," appeared above two photos of North Korean leader Kim Jong Un, one showing him standing with soldiers in what appears to be a border observation post and a second photo of Kim standing behind a soldier firing a pistol.
The Free Beacon reported April 3 that PLA troops and tanks were mobilized in several locations in northeastern China, including in Daqing, located in northeastern Heilongjiang Province, and in the border city of Shenyang, in Liaoning Province.
U.S. officials said the movements were mainly part of 190th Mechanized Infantry Brigade based in Benxi, Liaoning Province. The brigade is believed to be part of PLA's Shenyang Military Region and is the frontline combat unit that would respond to any regional conflict or refugee flows. Troops and tank movements also were reported in Dandong, in Liaoning Province.
Regarding the U.S. missile flight test, a senior defense official confirmed that a Minuteman 3 ICBM test planned for launch at Vandenberg Air Force Base, Calif., was postponed.
"This test was long planned and was never associated with North Korea to begin with," the official said. "But given recent tensions on the Korean Peninsula, it's prudent and wise to take steps that avoid any misperception or chance of manipulation."
Defense Secretary Chuck Hagel canceled the test on Friday, the Associated Press, which first disclosed the action, reported on Sunday.
Another flight test will be conducted "soon," the official said, adding the United States "remains strongly committed to our nuclear deterrence capabilities."
White House official Daniel Pfeiffer, appearing on Fox News Sunday, denied the administration was caving in to North Korea in canceling the test.
"No, absolutely not," Pfeiffer said when asked if canceling the Minuteman 3 flight test was "caving into threats" from Kim Jong Un.
However, it is not the first time the Minuteman 3 test was postponed for political reasons. Defense officials said last year that political factors were behind several such delays.
The Air Force Global Strike Command, located at Barksdale Air Force Base, La., had planned the Minuteman 3 flight test for early 2012 and delayed the test three times.
The command blamed a faulty mechanism in the missile's self-destruct mechanism for the delays in a planned flight test of a Minuteman 3 that was put off until after the November presidential election.
Three ICBM launches were put off last year, including launches March 1, April 10, and May 16, all due to the same technical problem, officials said.
The command had planned to conduct four test launches in 2013.
Defense officials said concerns that the flight tests would upset China or Russia were behind earlier delays.
The officials said many senior policy officials in the Obama administration hold views similar to anti-nuclear weapons activists who are opposed to modernizing and testing of strategic nuclear forces.
Sen. John McCain (R., Ariz.) said the latest North Korean crisis is the result of Pyongyang's "brinksmanship." McCain criticized China for not reining in its communist client.
"China does hold the key to this problem," McCain said on CBS Face the Nation. "China could cut off their economy if they want to. Chinese behavior has been very disappointing, whether it be on cybersecurity, whether it be on confrontation in the South China Sea, or whether their failure to rein in what could be a catastrophic situation which—more than once, wars have started by accident. And this is—this is a very serious situation."
China's leader Xi Jinping issued a veiled criticism of North Korea on Sunday in a speech that "no one should be allowed to throw a region and even the whole world into chaos for selfish gain."
The Free Beacon first reported last week that Chinese military forces were mobilized in border regions near North Korea. The Free Beacon also was the first to report that North Korea was planning a test launch of the Musudan, a mobile intermediate-range ballistic missile, after movements of the mobile launchers were detected traveling from west coast areas to an expected launch location on the east coast of North Korea.
However, White House press secretary Jay Carney told reporters last week that there were no large-scale troops movements in North Korea or China. National Security Council spokeswoman Caitlin Hayden also told reporters there were no unusual troops movements last week, a comment contradicted by news reports.
Several newsletters and blogs disputed the Free Beacon's reporting on the Chinese military movement, incorrectly asserting there were no unusual troop movements.
The Nelson Report, a newsletter that reflects liberal State Department officials' views, dismissed unspecified reports of Chinese troop mobilization as "rumors." The newsletter quoted a source "up on the China-North Korea border" April 5 saying, "Chris, the only thing 'massing' up here is the news media. Hasn't been any PLA movement or reinforcement worth mentioning. The whole story is nonsense."
Nelson declined to comment.
The Foreign Policy blog "Passport" reported April 1 that Carney was "pushing back" against a report in the Free Beacon on North Korean missile movements and asserting North Korea "has not altered its military posture" amid heightened tensions.
"Despite the harsh rhetoric we are hearing from Pyongyang, we are not seeing changes to the North Korean military posture such as large-scale mobilizations and positioning of forces," Carney said April 1.
Four days later, asked about the missile movements, Carney said: "We've obviously seen the reports that North Korea may be making preparations to launch a missile, and we're monitoring this situation closely, and we would not be surprised to see them take such an action."
Commenting on the Free Beacon's report, blogger John Hudson wrote that another spokesman "reiterated that all was quiet in North Korea."
"Jay mentioned a couple examples, but his broad point was that we are not seeing changes to the North Korean military posture," National Security Council spokeswoman told Foreign Policy.
However, a day later, reports contradicted the statements indicating North Korea was moving two Musudan missiles.
The Foreign Policy report suggested the Free Beacon report was tenuous because it "did not display the satellite imagery relevant to its report."