The NFL released a marketing map that designated Taiwan as part of China, a further sign American sports leagues are more than willing to appease the hardline regime in order to pursue business opportunities.
The map, which introduced markets for 18 NFL teams in eight countries, shows Taiwan unlabeled and colored in as part of China. The erasure of Taiwan comes two months after President Xi Jinping gave a speech in October calling for the "reunification" of the island nation with China, whether in a "peaceful manner" or by "firm will."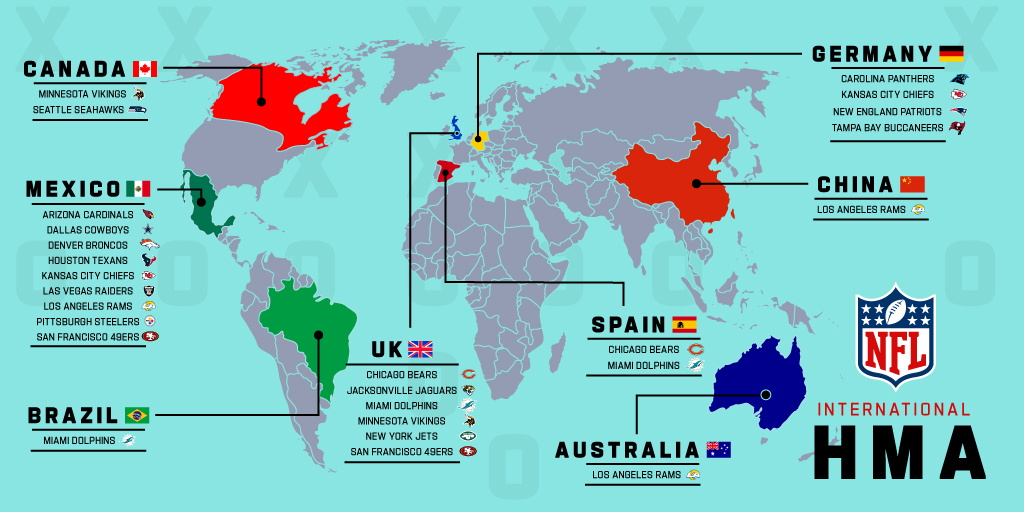 U.S. sports leagues, including the MLB and NBA, have come under scrutiny in recent years for expanding their partnerships with China while disregarding the nation's territorial aggression in the Far East and record of human rights violations. The MLB is building a "baseball ecosystem" in the country, according to the state-backed outlet China Daily, growing its number of teams and fanbase and exporting U.S. sporting goods jobs overseas. The NBA is a $5 billion industry in China. The league has signed contracts with CCP-aligned TV networks and sold products that are made in the country with slave labor.
Republicans have been particularly critical of the American sports leagues' appeasement of the regime. Sen. Marco Rubio (R., Fla.) in April excoriated MLB commissioner Robert Manfred for the league's China ties, which include a streaming deal with Tencent, a Chinese tech company accused of leading a crackdown on political freedom.
Sen. Ted Cruz (R., Texas) said the NFL's new map reveals the league "is chasing dollars from the Chinese Communist Party."
"The NFL, which is chasing dollars from the Chinese Communist Party, shows Taiwan as part of China," Cruz tweeted. "Disgraceful cowardice."
The NFL teams will be allowed to market themselves in the nations for five years through merchandise, games, and other fan events. The marketing initiative is "part of an important, longterm, strategic effort to enable clubs to build their global brands while driving NFL fan growth internationally," according to the league's press release. All teams will also play at least one game abroad over the next eight seasons.