Sen. Robert Menendez (D., N.J.) provided "sensitive" U.S. government information to foreign intelligence officials and pressured federal prosecutors to go easy on one of his friends in exchange for hundreds of thousands of dollars in cash, gold bars, and luxury items, according to a bombshell indictment released Friday.
Federal prosecutors describe Menendez's "corrupt relationship" with three New Jersey business associates in the indictment. Menendez allegedly pressured officials in the U.S. Department of Energy, State Department, and U.S. attorney's office to help his associates obtain business contracts and to "disrupt" a federal fraud investigation. The senator also "secretly edited and ghost-wrote" a letter on behalf of the Egyptian government, the indictment claims. Menendez's wife, Nadine Arslanian, was indicted along with their three associates.
According to the indictment, federal agents searched Menendez's home in June 2022 and recovered more than $100,000 in gold bars and a luxury car provided by their business associates. The indictment includes photos of gold bars and other loot found in Menendez's home. It also says Menendez and Arslanian conducted internet searches for "how much is one kilo of gold worth."
Federal agents found fingerprints of one of Menendez's associates, Fred Daibes, on cash discovered in the search of Menendez's home. Investigators found more than $480,000 "stuffed into envelopes" and hidden in Menendez's closets, a safe, and clothing, including jackets embroidered with Menendez's name.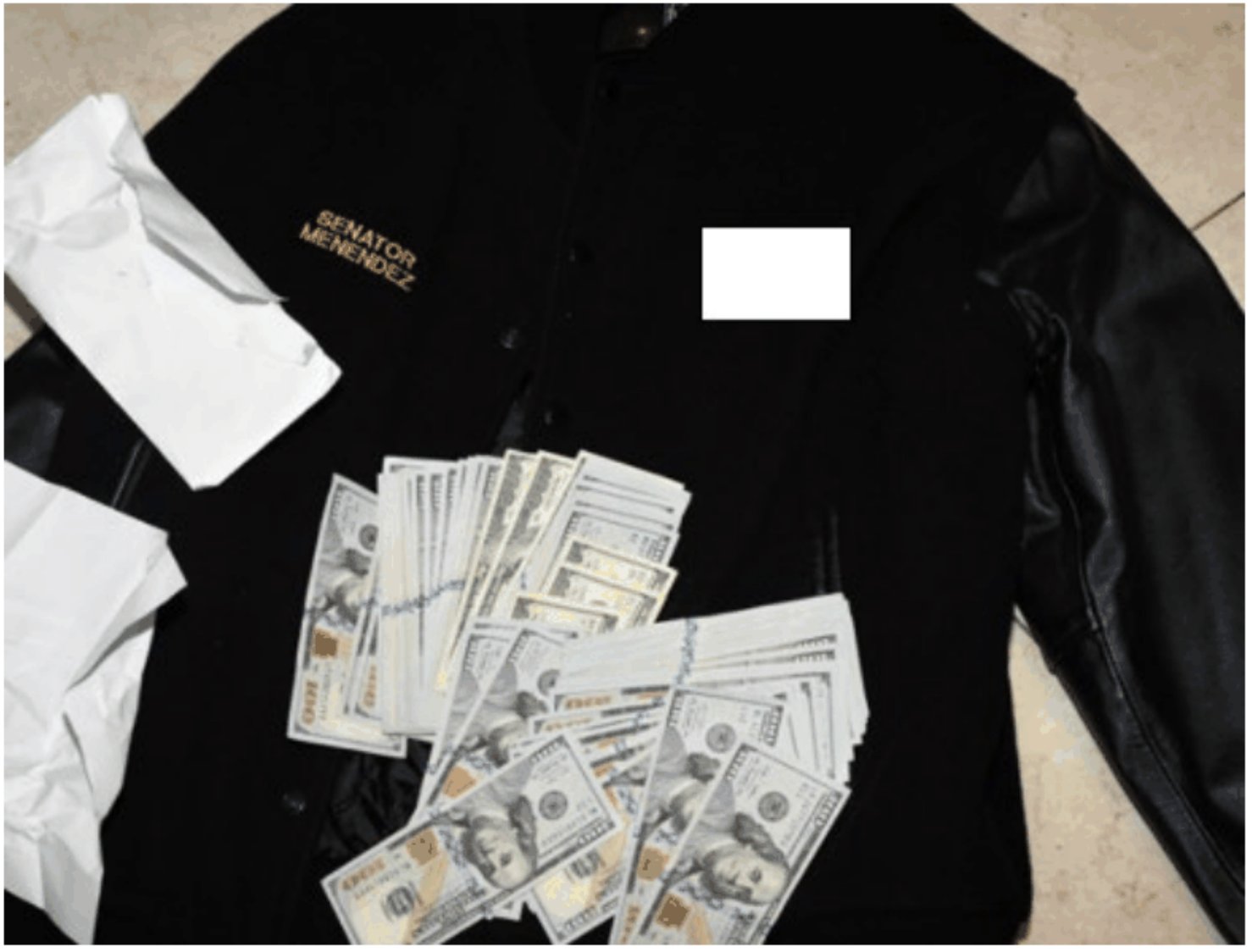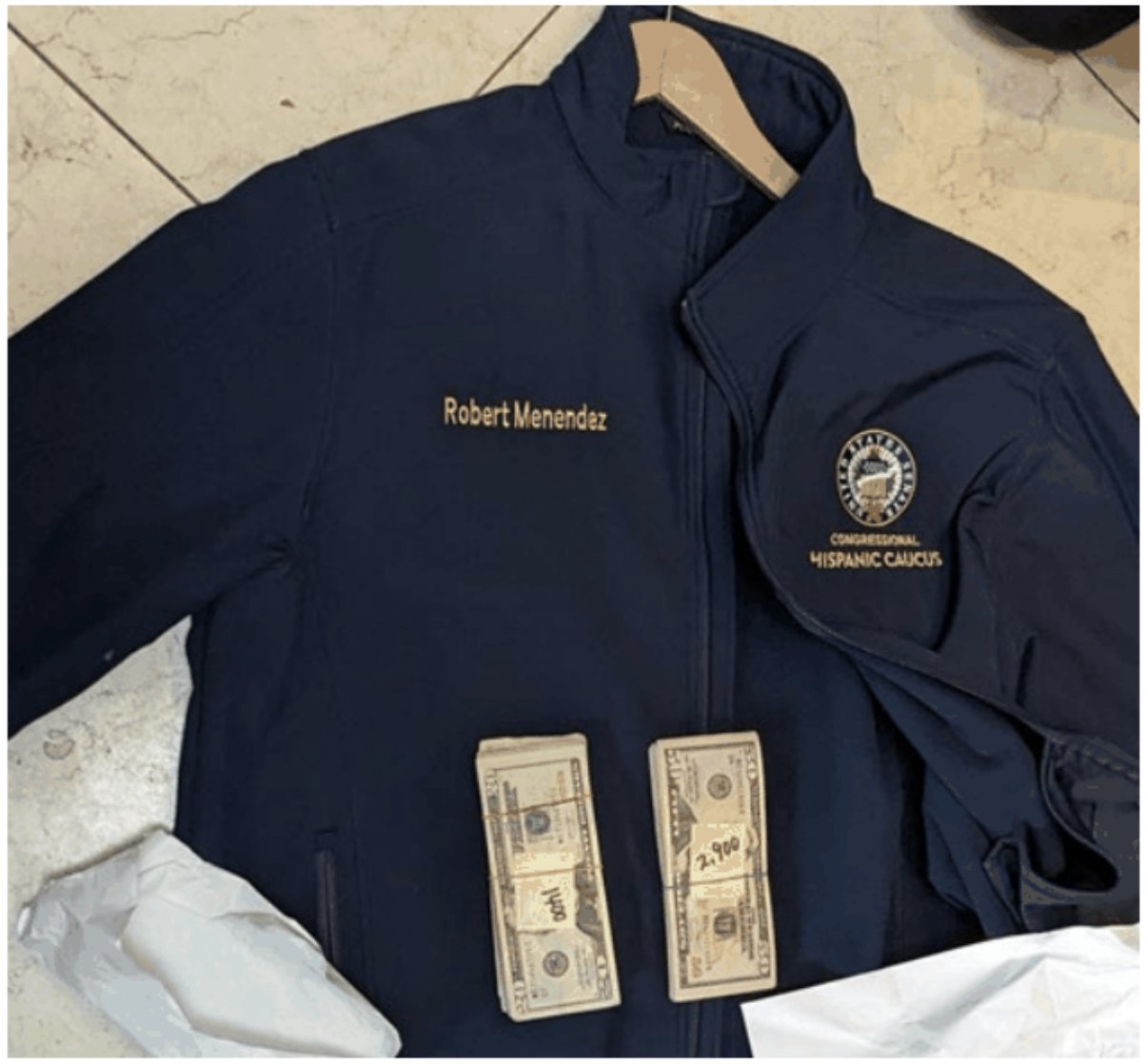 The indictment is certain to shake up the Senate. Menendez, who faces reelection next year, serves as chairman of the Senate Foreign Relations Committee. The Washington Free Beacon reported earlier this year that Menendez sold up to $400,000 in gold bullion from April to June 2022. Menendez amended his financial disclosure in March 2022 to disclose he obtained the precious metal in 2020, the Free Beacon reported.
According to prosecutors, Menendez's bribery scheme began in 2018, soon after he was acquitted on federal charges that he accepted bribes from Florida eye doctor Salomon Melgen. Arslanian allegedly arranged for Menendez, who she began dating in February 2018, to meet her friend, Wael Hana, and Egyptian government officials to discuss U.S. military aid to Egypt. In exchange for help securing the aid, Hana allegedly promised to funnel cash to Arslanian and to set up a "no-show" job for her.
The indictment describes a series of meetings between Menendez, Arslanian, Hana, and Egyptian officials in which they allegedly discussed military aid to Egypt. Menendez had sizable influence over the aid given his position on the Foreign Relations Committee, according to prosecutors.
Menendez "secretly edited and ghost-wrote" a letter on behalf of the Egyptian government that was aimed at convincing other senators to release a hold on $300 million in aid to Egypt, prosecutors say. In May 2018, Menendez allegedly texted details of U.S. embassy officials in Cairo to Arslanian. Prosecutors say that disclosure of the information "could pose significant operational security concerns if disclosed to a foreign government or if made public."
Starting in 2019, Menendez began helping Hana obtain U.S. government licenses for a halal meat company that sought business in Egypt, according to the indictment. The Democrat allegedly pressured officials at the Department of Agriculture to allow Hana's company to maintain a monopoly on the export of halal meat to Egypt. Hana used the company to fund the bribes he paid to Menendez and Arslanian, prosecutors say.
Menendez used his power and influence to disrupt investigations into two of his associates in New Jersey, businessmen Jose Uribe and Fred Daibes, according to the indictment. He allegedly interfered with the New Jersey attorney general's office in an investigation against Uribe, an associate of Hana who is also indicted in the case.
Menendez also allegedly sought to influence the New Jersey attorney's office, which handled a case involving Daibes, a Democratic donor who was indicted on bank fraud charges in 2018.
According to prosecutors, Menendez endorsed a candidate for U.S. attorney in New Jersey who he believed he could influence in the Daibes investigation. In May 2021, Menendez met with the candidate, Philip Sellinger, whom Menendez helped nominate in 2021. Sellinger gave $1,000 in gifts to Menendez at his wedding in 2020 and contributed $40,000 to Menendez's legal defense fund in a previous bribery case.
Sellinger told Menendez he did not believe he would have to recuse himself from the Daibes case, according to the indictment. Menendez then allegedly lobbied the White House in support of Sellinger, who was confirmed to the prosecutor job. Sellinger did, however, recuse himself from the Daibes case.