An Ohio state representative said she will attempt to prosecute President Donald Trump for committing "crimes against humanity" by suggesting hydroxychloroquine could be used to treat coronavirus.
"I can't take it anymore," Ohio Democrat Tavia Galonski tweeted Sunday, hours after a White House press conference. "I've been to The Hague. I'm making a referral for crimes against humanity tomorrow." Galonski was replying to a tweet saying the Trump administration should be prosecuted for touting the possible benefits of hydroxychloroquine.
I can't take it anymore. I've been to The Hague. I'm making a referral for crimes against humanity tomorrow. Today's press conference was the last straw. I know the need for a prosecution referral when I see one. https://t.co/XQin24gqY4

— Rep. Tavia Galonski (@RepGalonski) April 6, 2020
After tweeting her threat to refer Trump for charges in The Hague, Galonski retweeted Twitter accounts accusing Trump of being an asset of Russian president Vladimir Putin and congratulating the state congresswoman for "saving the country and possibly the world."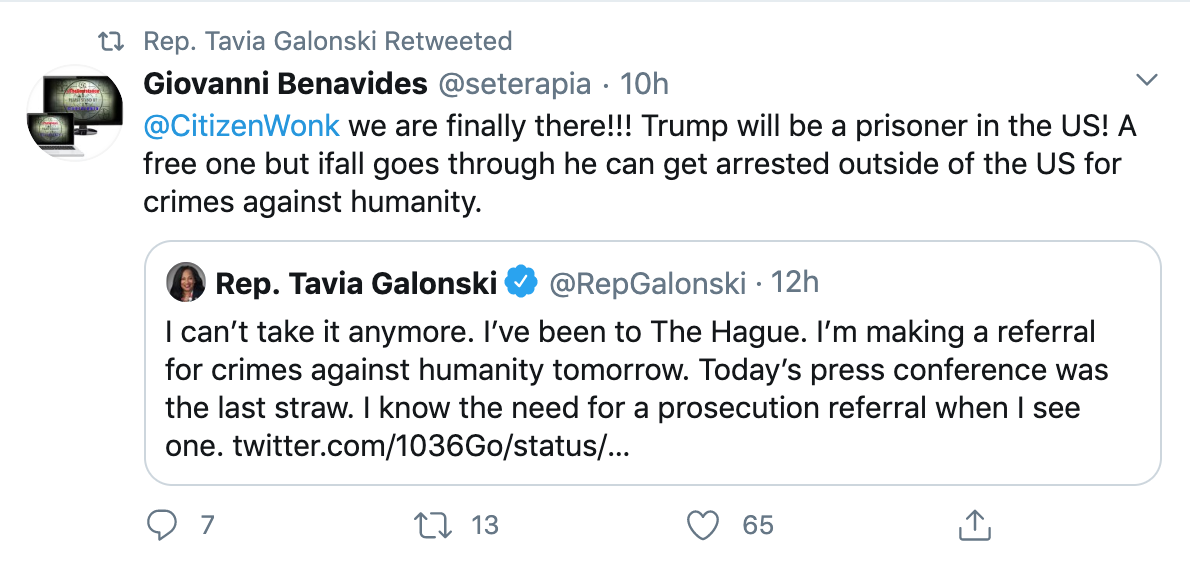 The Ohio Capital Journal interviewed Galonski shortly after her tweet, asking whether she seriously intended to follow through. Galonski immediately said, "Yes!" When pressed, she seemed uncertain how to go about it.
"I honestly have no idea," Galonski said. "But how hard can it be?"
Trump has touted the possible remedial effects of hydroxychloroquine, an antimalarial drug. Dr. Anthony Fauci, the director of the National Institute of Allergy and Infectious Diseases, has expressed caution about the effectiveness of hydroxychloroquine against coronavirus, saying reports of its success are anecdotal.
Members of the press have criticized the president for saying the drug has benefits, arguing that Trump's words contradict the advice of health experts.
White House trade adviser Peter Navarro reportedly clashed with Fauci over hydroxychloroquine's efficacy during a meeting in the White House Situation Room.
No U.S. president has ever been referred for crimes against humanity to the International Criminal Court.