I've experienced the shock of the floor suddenly dropping out from under my feet as I sat atop Disney World's 200-foot-tall Tower of Terror. I've felt the hair stand up on the back of my neck while being launched from nine miles per hour to 40 in a split second up the 105-foot first hill of Universal Studio's Incredible Hulk rollercoaster. But there's nothing that compares to feeling flames kiss your hand as they spew out of a short-barreled fully-automatic M4 assault rifle while it eats through a 30-round magazine at 900 rounds per minute inside Orlando's latest, and greatest, attraction: Machine Gun America.
Machine Gun America, located smack dab in the middle of Disney country, opened late last month billing itself as an "Automatic Adrenaline Attraction." Its 13,000-square-foot two-floor facility features 10 firing lanes, three video simulators, a VIP lounge, conference room, viewing areas, gift shop, revolvers, semi-automatic handguns, lever-rifles, shotguns, zombie and gangster mannequins, machine gun replicas, and friendly customer service reps armed with custom android tablets to greet you at the door. Oh, and, of course, actual machine guns.
Lots of machine guns.
Much of the reporting surrounding its opening has been done from the comfort of cubicles in cities hundreds of miles from those machine guns. Here at the Washington Free Beacon we believe in putting in the time and hard work required to get the full story before going to print. That's why I was tasked with visiting Machine Gun America and staying there until I fired each and every one of the fully automatic rifles they had on hand. And, for good measure, all their other guns too.
That's what good journalism is all about: Shoe leather. And gun powder.
During my research I was able to spend time reviewing the MP5, M4 carbine, AK-47, Walther PPK/S, Glock 17, HK USP, Remington R1 1911, and Taurus Raging Bull 454. Reviewing with extreme excitement.
And that little number I mentioned earlier? The short-barreled fully-automatic M4 assault rifle? They call that "The Little Ass Kicker."
It lives up to its name.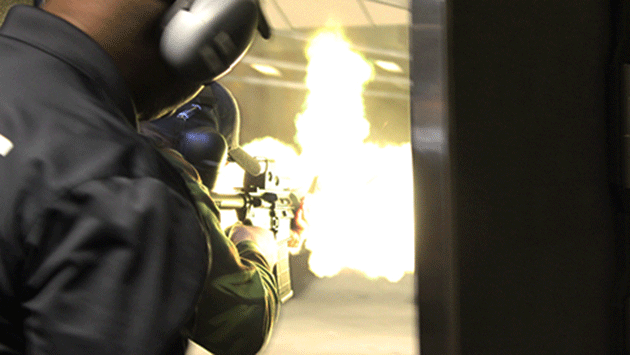 Machine Gun America, or MGA, isn't anything like your average gun range. They deal exclusively in rentals, so you can't bring your own guns or ammunition. Those rentals are packaged into special experiences that all have their own theme.
MGA even offers a shooting simulator for those who are too young or too intimidated to fire the actual guns. The technology is actually derived from law enforcement training and features a surprisingly realistic Glock replica that fires lasers. It feels kind of like a grown up Duck Hunt.
Additionally, whereas a normal range is designed, for the most part, with enthusiasts and experts in mind, MGA was clearly set up with the average person in mind. The entire experience was created from the ground up with the beginner in mind.
"We're assuming that the vast majority of people that will walk through the door have no experience," MGA safety and training director Wes Doss said. "This needs to be, and always stay, as open, warm, and friendly as we can make it."
Doss has a combined 30 years of experience in military, law enforcement, and civilian firearms training. He helped design MGA's facilities, shooting experiences, and operating procedures from the ground up with novice shooters in mind. A justified approach for any facility trying to provide the general public with a fun but safe shooting experience, even more so if there's fully automatic fire involved.
"The idea is that everybody come in and have a really positive experience," Doss said, "a fun experience." He added that MGA's operating procedures are designed so that they "never lose that grasp of safety."
The dedication to safety was plainly evident during my time at MGA. Every single customer is supervised by a NRA certified range safety officer in a one-on-one setting while they're firing any of the guns. The range safety officer is the only one who handles the gun except for the actual time the customer is firing it. And even for those moments the range safety officer is quite literally standing over their shoulder guiding them in the safe operation of the firearm. If necessary, they will even help to physically brace the customer in order to better control recoil.
As part of their training, and perhaps a perk of it, every range officer fires every machine gun available for rent so they can have an accurate impression of how difficult it is to handle. In a process that moves from smaller caliber semi-automatic firearms up to fully automatic large caliber machine guns, they gauge whether or not the customer can handle the bigger guns. Ultimately it's up to the range safety officers who gets to shoot what.
"How far it progresses is really up to the range safety officer," Doss said. "If single shots and semi-auto terrified an individual then the likelihood of us actually progressing to a full-auto is slim to none."
Assistant director of range operations Natasha Schweitzer, who oversaw my shooting, reiterated the same point. "It's up to the range safety officer's discretion if they want to run the customer on these firearms or not," she said. "If any of my range safety officers feel that they can't handle it they'll advise with the customer, try to find a firearm that fits a little bit better with their need."
"Number one priority is the safety of the customer and ourselves," Schweitzer said. "The second priority is entertainment, to have everybody walk out with a smile and feel that they were in good hands at all times."
Machine Gun America provides more than just a fun and safe experience, though. It provides a uniquely American one.
A family of Aussies happened to be visiting the range while I was there. They had stopped in to MGA after having visited NASA's Kennedy Space Center and before heading to Disney World. Shooting a machine gun was just another way for them to see exactly what it is that makes America, America.
"We're on a family holiday to America," Simon Todman said. "It was on my bucket list to take the kids to Disney World before they get too big and too old. We haven't been to Disney World yet but we've been to Machine Gun America. I don't think we need to go to Disney World anymore."
"It's a good rush."
"I can't get over it," Simon's son Rowan added. "I've got an adrenaline rush now."
The experiences MGA offers are reflective of this too. The special themed packages that range from Big Screen Legends to Gangster Land to Automatic Divas to Special Ops to Western Shootout and the guns they come packaged with all epitomize their own periods in American history or icons of American culture. It's practically an American duty to go and fire these guns and see exactly why they're so revered … and reviled.
With experiences starting at under $200 the average American can likely afford to fulfill that duty. Given that our complicated and incredibly restrictive federal gun laws have made fully automatic firearms extremely difficult to own, the pricing seems even more reasonable. And, since MGA also helps train law enforcement, they enjoy a unique legal standing that allows them to buy and rent machine guns the average civilian can't get their hands on.
They also plan to continually add to their line up of machine guns and mix up their experiences on a regular basis. For instance, they have a belt-fed Browning 1919 that I was able to see and even hold. And while that gave me a new appreciation for what Medal of Honor recipient John Basilone did at Guadalcanal and Iwo Jima, soon MGA customers will actually be able to fire the mechanical masterpiece.
So, the next time you're in Orlando make sure you stop in Machine Gun America and enjoy an uniquely American experience. Ask that punk target if it's feeling lucky before blasting it with a Smith and Wesson Model 29. Try putting some lead from an M4 assault rifle into an Osama Bin Laden target at 900 rounds per minute. Yell out "Yippee Ki Yay, Motherf***er!" after you're done eating through a 30-round magazine with an MP5. Be safe and have fun.
Don't worry about finding it, either. It's hard to miss.