Kate Upton, one of the greatest women in American history, is putting on the third annual Grand Slam Adoption Event this weekend in Florida during a Detroit Tigers spring training game.
Upton has teamed up with her fiancé Justin Verlander and the Tigers to put on the puppy adoption events for two years in a row. The Washington Free Beacon deemed both the 2015 and 2016 events to be spectacular due to how well they showcased Upton's love for dogs.
The event will benefit both the SPCA Florida and two groups—K9s for Warriors and Verlander's Wins for Warriors—that help military veterans suffering from PTSD.
"This event brings together the dedicated efforts of three extraordinary non-profit organizations designed to serve the needs of others," reads a press release for the event. "Together, they work to bring attention to the plight of the underserved and illustrate the benefits of animal-human bonds to overcome the harsh realities of life, specifically for military veterans battling PTSD and TBI."
Verlander's teammates, such as two-time league MVP Miguel Cabrera, have been known to join Upton for the festivities.
My favorite part of the event is how happy the puppies make Upton.
The #Nats are happy to welcome @KateUpton & her furry friends with the Grand Slam Adoption Event to today's game! pic.twitter.com/uV4QkMaqSE

— Washington Nationals (@Nationals) March 11, 2015
Look at her here. It's great.
She is also happy in my favorite GIF of her: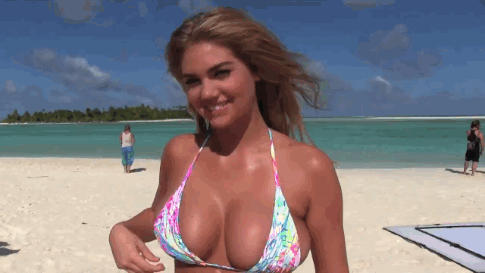 The event is open to the public, and those that can't make it can help Upton from afar by participating in a corresponding silent auction.
Here is a great video of Upton dancing for her dog Harley last week.

And here is an equally great video of Upton FaceTiming with her dog.
And here they are just being happy together.
And this is a cool picture Upton posted of herself in Fiji.
Anyway, stay tuned for more from the Free Beacon on the event. And thanks for being you, Kate.