Facebook suspended the Instagram account of the mother of a Marine killed last week in Kabul after she criticized President Joe Biden for his Afghanistan policy and behavior at the transfer of her son's remains.
Shana Chappell took to social media after her son, Lance Corporal Kareem Nikoui, was killed by an ISIS-K suicide bomb outside Hamid Karzai International Airport last Thursday. On Monday, Chappell wrote several posts criticizing Biden. One of those posts began to trend on Facebook and was removed Monday night. Chappell's Instagram account was also disabled, though it has since been restored.
Nikoui, 20, was one of 13 American troops caught in the bomb blast at the airport entrance where U.S. Marines and Afghan refugees were clustered. He had been deployed to help evacuate American citizens and Afghan allies as the United States retreated from Afghanistan. Hundreds of American citizens remain in Afghanistan after the U.S. military completed its evacuation Monday.
Chappell said that after posting about her son, Instagram began pulling her old posts and warned her that her account would be deleted if she continued posting.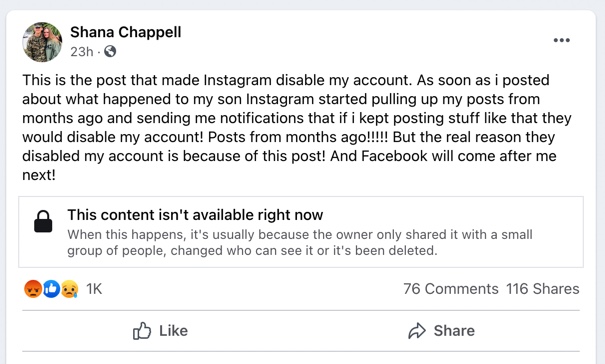 In a post deleted by Facebook, Chappell claims that Biden interrupted her as she tried to speak to him about her son at Dover Air Force Base in Delaware, where the dignified transfer of the service members' remains took place on Sunday. "You then rolled your fucking eyes in your head like you were annoyed with me," Chappell wrote, "and you threw your hand up behind you as you walked away from me like you were saying 'ok whatever.'" That post was restored by Facebook, but another remains restricted.
Chappell also criticized Biden for being distracted during the ceremony, saying she watched the president "disrespect us all five different times" by checking his watch.
A Facebook spokeswoman told the Washington Free Beacon that Chappell's posts did not violate the site's policies and that her account was "incorrectly deleted."
Facebook has come under fire for not doing enough to limit the reach of the Taliban on its platforms. While Taliban posts on Facebook have been removed, the jihadist group has used Facebook-owned messaging app WhatsApp to establish control over Kabul. Facebook removed a major Taliban messaging group after sustained media outcry.
Other relatives of the dead troops have expressed their frustration with Biden's response. The sister of one fallen soldier said his remarks at Dover Air Force Base were "scripted and shallow."