Sally Buzbee, the executive editor of the Washington Post, sent an email to staff members on Wednesday night acknowledging their "many deep concerns and conversations" about a cartoon criticizing Hamas that the newspaper earlier in the day published and then deleted.
In the email, obtained by the Washington Free Beacon, Buzbee wrote:
Dear colleagues,

Given the many deep concerns and conversations today in our newsroom, I wanted to ensure everyone saw the notes sent out tonight by The Post's opinions editor, David Shipley, to Post readers and to his staff in opinions.

My best, Sally
Buzbee forwarded an email that Shipley had sent opinions staff in which he said he had personally "taken down" the cartoon. Shipley included the full text of an editor's note in which he publicly expressed "regret" that he had "missed something profound, and divisive" in publishing the image.
"A cartoon published by Michael Ramirez on the war in Gaza, a cartoon whose publication I approved, was seen by many readers as racist. This was not my intent. I saw the drawing as a caricature of a specific individual, the Hamas spokesperson, who celebrated the attacks on unarmed civilians in Israel," Shipley wrote.
The cartoon depicted an individual, labeled "Hamas," with children, a baby, and a woman strapped to his body. "How dare Israel attack civilians...," the man said in a speech bubble.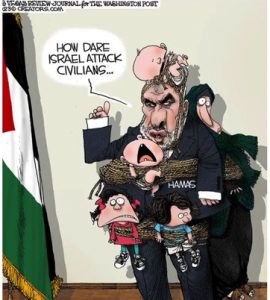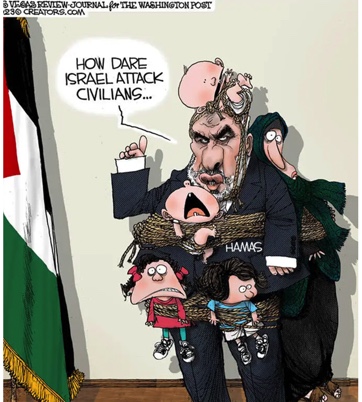 Along with Shipley's editor's note, the Post published letters to the editor that variously called the cartoon "deeply malicious," "deeply racist," and "full of bias and prejudice."
The Post also reported on Wednesday evening about its removal of the cartoon by Ramirez, who twice won the Pulitzer Prize at the Las Vegas Review-Journal before joining the Post in May. The report said "the drawing was criticized as racist and dehumanizing toward Palestinians" and described the Hamas caricature as having a "large nose and snarling mouth."
Hamas has a history of using civilians as "human shields." The Biden administration has repeatedly said the Palestinian terrorist group is doing so in its ongoing war with Israel. The Post's own reporting has noted accusations that Hamas seeks to avoid Israeli strikes by operating from densely populated areas in the Gaza Strip, including under hospitals and preventing civilians from evacuating.
As is standard for political cartoonists, Ramirez has often exaggerated the facial features of his subjects of all races, including Senate Minority Leader Mitch McConnell (R., Ky.) and Sen. John Fetterman (D., Pa.). During the 2014 Gaza war, the Post published a cartoon showing Israeli prime minister Benjamin Netanyahu punching a Palestinian infant.
Neither Ramirez nor Buzbee responded to requests for comment.