A swing-district Wisconsin Democrat fundraised on Wednesday with failed congressional candidate Valerie Plame, who has blamed Jews for America's wars.
Deb McGrath, who is running for Congress in the state's Third Congressional District, hosted the virtual fundraiser with Plame. The event's invitation, obtained by the Washington Free Beacon, shows that supporters were charged up to $1,000.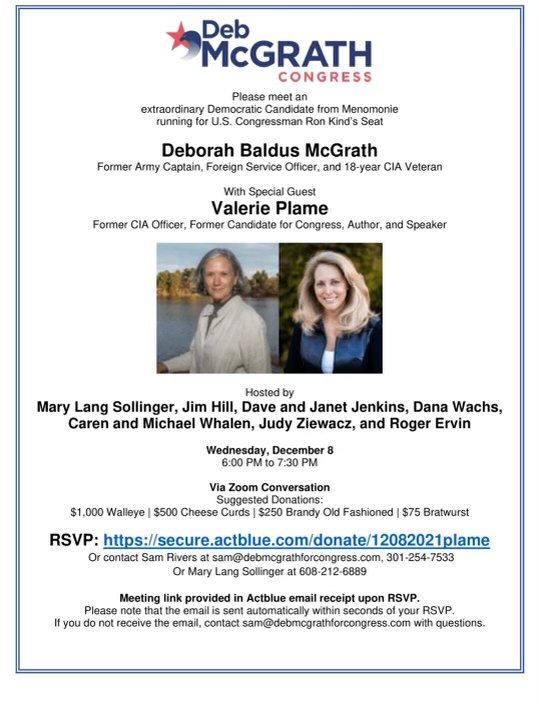 Plame, a former CIA operative, faced criticism in 2017 when she tweeted an article titled, "America's Jews Are Driving America's Wars," which suggested Jews who appear on television should have a "warning label," "kind of like a warning label on a bottle of rat poison." In since-deleted tweets, she defended the post, saying "many neocon hawks ARE Jewish." Plame eventually apologized, however, blaming the tweet on "multitasking."
Despite Plame's problematic rhetoric, in 2020 she received 25 percent of the Democratic primary vote in New Mexico's Third Congressional District. VoteVets, a progressive group funded by the Schumer-aligned Senate Majority PAC, spent tens of thousands of dollars backing Plame's candidacy. Her campaign also received multiple contributions from prominent Holocaust denier Pete McCloskey, a former California congressman.
McGrath's campaign did not respond to a request for comment.
Republican Derrick Van Orden narrowly lost to Rep. Ron Kind (D.) last cycle and is considered a favorite to flip the seat for Republicans in 2022. Kind in August announced he will retire amid reports that a property he rents out is tied to human trafficking and prostitution.