Attorneys at the law firm defending an alleged "rub-and-tug" massage parlor operating on property owned by Rep. Ron Kind include the Wisconsin Democrat's campaign treasurer as well as multiple campaign donors, financial disclosures show.
After reports emerged Wednesday that Asian Sunny Massage—a La Crosse-based parlor that rents office space from Kind—advertised on "RubMaps" and other sex marketplace sites, attorney Joe Veenstra of Johns, Flaherty & Collins released a statement defending the business. But the law firm's interest in clearing Asian Sunny Massage's name may go beyond its role as counsel for the establishment.
The firm's managing partner, Brent Smith, has served as Kind's campaign treasurer since August 2020, according to campaign finance disclosures. The campaign's website also lists Smith as treasurer, and Kind's most recent statement of organization includes the address of Johns, Flaherty & Collins. Smith has contributed roughly $7,600 to Kind's campaign since the Democrat's inaugural run in 1997.
Veenstra, the attorney specifically tasked with defending Asian Sunny Massage, has also donated repeatedly to Democratic candidates over the last decade, including $250 to Kind, his single largest contribution. Other attorneys at Johns, Flaherty & Collins, meanwhile, have combined to contribute $900 to Kind's campaign since 1999.
Veenstra's statement alluded to Kind's relationship with Asian Sunny Massage, which the attorney called a "perfectly legitimate business" subject to "political hit pieces." Veenstra went on to threaten "serious legal action" toward "anyone in the press or politics saying otherwise." Kind also attributed the ongoing scrutiny facing Asian Sunny Massage to his Republican opponent, retired Navy SEAL Derrick Van Orden, whom he accused of pushing a "baseless smear rooted in racism."
Veenstra, however, did not address Asian Sunny Massage's numerous advertisements on websites that connect users with "happy ending" massages. The business featured a posting on RubMaps—described by USA Today as "Yelp for sex spas"—shortly after opening in 2018. Asian Sunny Massage also ran a 2018 ad on BodyRubsMap, which describes itself as "the best alternative to Backpage," an online sex trafficking marketplace shut down by U.S. authorities. The ad features photos of young Asian women and is still live today, amassing thousands of views.
Veenstra, Smith, and Kind did not return requests for comment on whether Kind steered Asian Sunny Massage to employ Johns, Flaherty & Collins.
During a Friday interview, Kind blamed the suggestive advertisements on Google, saying that "because of Google's algorithms, [the ads] get attached to various sites that the small business has no control over." But a Google spokesman told the Washington Free Beacon such suggestive ads "are not Google-placed ads." He said the company specifically "does not run Google ads" on any of the illicit massage sites in question and said its publisher policies "prohibit content that promotes compensated sex acts."
In addition to the sex marketplace spots, Asian Sunny Massage ran since-deleted Facebook posts obtained by the Washington Free Beacon that touted a "new young massager" and "beautiful young ladies" offering to "relieve work stress." The posts also contained suggestive photos of Asian women.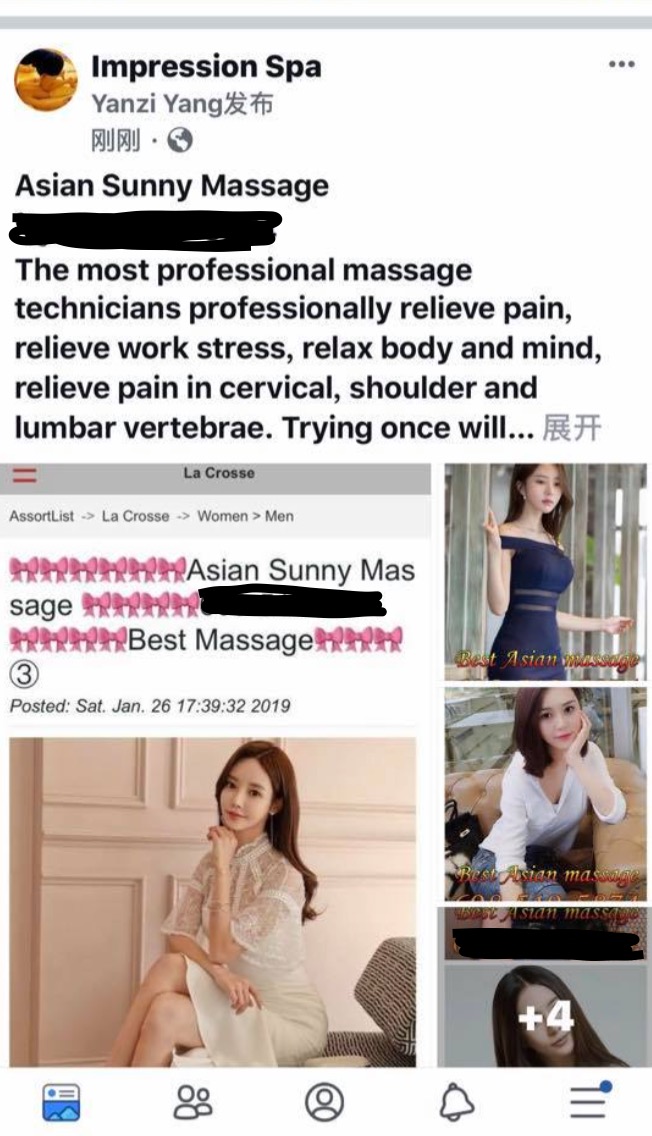 Both Veenstra and Kind invoked the March Atlanta spa shootings to denounce questions over Asian Sunny Massage's business practices.
"In today's political climate in which Asians and Asian-run businesses have been the subject of bullying, harassment, and mass shootings," Veenstra said, "targeting an Asian business with these false assertions in a weak attempt to make some political point is really despicable."
Kind echoed his political donor's rhetoric, calling the scrutiny "irresponsible, dangerous, and despicable." The Democrat also claimed that the reports would "put law enforcement in harm's way."
Asian Sunny Massage's owner told Fox News that the parlor does not perform sexual "services" but refused to share his advertising manager's contact information, adding that he would only speak to police. Kind reported earning up to $50,000 in 2018 and 2019 rental income from the building that includes Asian Sunny Massage.
Kind was first elected to serve Wisconsin's Third Congressional District in 1997. He has faced criticism over campaign contributions in the past—in 2010, a pair of Wisconsin doctors claimed that Kind requested up to $25,000 for a personal meeting. One of the doctors sent a memo asking hospital staff to contribute to Kind's campaign before the meeting, and the Democrat later received $6,600 from more than two dozen doctors after touring the hospital. Kind denied the alleged pay-to-play scheme.