A Democratic congressman whose district offices remain closed to the public hosted a maskless fundraising party on Monday at his mansion in suburban Maryland. President Joe Biden and Sen. Ben Cardin (D., Md.) attended the evening soirée at the residence of Rep. David Trone (D., Md.), the multimillionaire owner of Total Wine who is one of the wealthiest members of Congress.
Photos from the event show guests mingling without masks and posing for selfies with the president. Social distancing guidelines were ignored. The Democratic fundraiser took place less than two weeks after the White House Correspondents' Dinner, another mask-free gathering of elites that resulted in a number of journalists and Biden administration officials testing positive for COVID-19.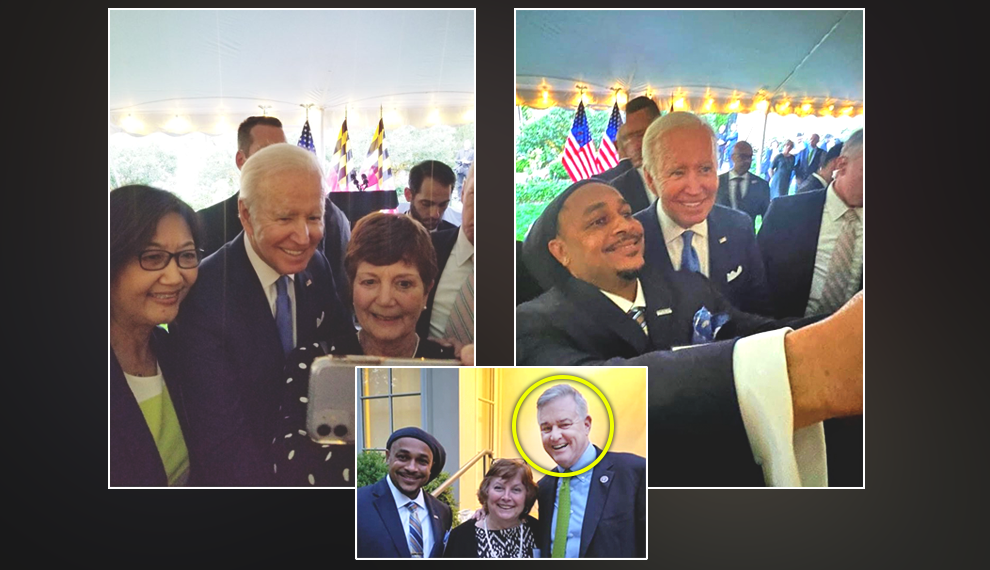 The site of the maskless fundraiser, Trone's mansion in Potomac, Md., is not even located in the state's Sixth Congressional District, which Trone represents. His estate is part of the Eighth Congressional District represented by Rep. Jamie Raskin (D., Md.) since 2017. Tickets to an upcoming Democratic fundraiser in Illinois, where Biden is scheduled to appear alongside billionaire governor J.B. Pritzker (D., Ill.), will cost as much as $365,000 each.
Trone is one of many Democrats throughout the country who have shunned health and safety guidelines at private events while keeping their taxpayer-funded offices closed to the public, ostensibly due to the COVID-19 pandemic. Multiple calls to Trone's office on Capitol Hill went unanswered. His office in the Longworth building was among those that remained closed as of March despite Biden's insistence in his State of the Union address that "people working from home can feel safe to begin to return to the office."
The Maryland Sixth is a "lean Democratic" district that could be competitive in the upcoming midterm elections, according to the Cook Political Report. Reports suggest Democrats are out of touch with the concerns of ordinary Americans and are struggling to address voter anxiety about key issues such as soaring gas prices and record inflation under Biden.
Trone could find himself in a close race against Matthew Foldi, the former Washington Free Beacon reporter running in the district's Republican primary, which takes place on July 19.
"All of David Trone's district offices are closed because Western Maryland doesn't matter to Democrats," Foldi told the Free Beacon. "Now we see that Trone has the gall to host an in-person, mask-free fundraiser with President Joe Biden at his mansion in Potomac, because David Trone can't be bothered to actually do the job we pay him for."