Leaders from Boeing reportedly traveled to Tehran recently to meet and sign a deal with a top former Iranian Revolutionary Guards Corps (IRGC) member who threatened to blow up U.S. forces in the Persian Gulf region, raising new questions about the U.S. aerospace company's continued efforts to ink multi-billion dollar deals with the Iranian regime.
Representatives from Boeing traveled to Iran last month to meet with Hossein Alaei, CEO of Aseman Airlines, which is owned and controlled by the state. Boeing is moving forward with a $3 billion dollar deal to sell new planes to Aseman despite fierce opposition on Capitol Hill and direct evidence Iran has used commercial aircraft to ferry weapons and fighters across the region.
A photograph from the meeting shows a Boeing representative shaking hands with Alaei, who has been identified by Congress as a "prominent and longtime member of Iran's Islamic Revolutionary Guard Corps," which is responsible for killing and wounding scores of U.S. troops. The Boeing representative was not named in reports from the Iranian-controlled press or in information provided by U.S. foreign policy insiders.
Alaei, who was a senior figure in the IRGC before being installed as CEO of Aseman Airlines, served as commander of the IRGC Navy until 1990. He joined the IRGC shortly after the Iranian revolution and quickly rose through the ranks, according to the Foundation for Defense of Democracies. While there, Alaei oversaw the harassment of U.S. forces in the Persian Gulf and efforts by the IRGC Navy to plant mines in international waters.
Alaei was quoted during this time as threatening to "destroy" U.S. Navy assets in the region.
"We have drawn up plans whereby we will utilize all our military capability to destroy the U.S. fleet and solve the Persian Gulf issue once and forever," Alaei was quoted as saying in 1987. "The Americans are here to fight us."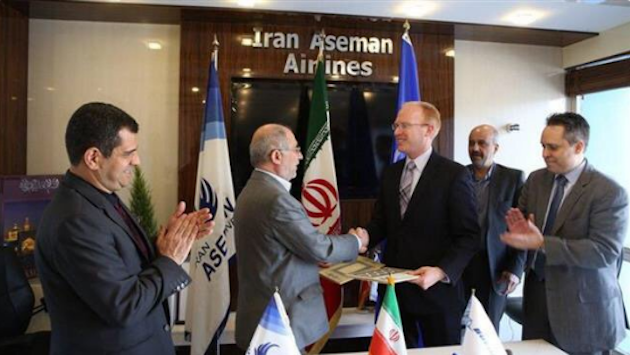 Boeing's efforts to ink multi-billion dollar deals with Iran, the world's foremost state sponsor of terror, has prompted outrage on Capitol Hill and currently is being reviewed by the Trump administration, which will have the final say on whether Boeing is granted licenses to sell new planes to Iran.
Boeing's deals with Iran are reported to be worth more than $16 billion.
The aerospace company has lobbied Congress aggressively to back the deal and was a key supporter of the Obama administration's efforts to forge the landmark nuclear deal with Iran, which provided Tehran with billions in economic relief and cash windfalls.
"According to the U.S. Department of Commerce, an aerospace sale of this magnitude creates or sustains approximately 18,000 jobs in the United States," Boeing said in a statement carried in Iran's state-controlled media. "Boeing continues to follow the lead of the U.S. government with regards to working with Iran's airlines, and any and all contracts with Iran's airlines are contingent upon U.S. government approval."
Senior sources on Capitol Hill who are working to stop the deal told the Washington Free Beacon that Boeing's reported meeting with Alaei crosses the line. Representatives of major U.S. corporations should not be posing for pictures with senior IRGC members who have explicitly committed to killing U.S. soldiers, these sources said.
"If Boeing is trying to convince us they are doing their due diligence, they're not doing a very good job," said one senior congressional source working on the matter. "These photos of Boeing executives smiling and glad-handing with a prominent member of the Islamic Revolutionary Guard Corps are truly sickening. No self-respecting American should shake Hossein Alaei's hands. They have American blood on them."
Sen. Marco Rubio (R., Fla.) and Rep. Peter Roskam (R., Ill.) recently petitioned President Donald Trump to shut down these sales, citing Alaei's role in the IRGC and Iran's use of commercial planes to facilitate terrorism.
"Iran, the world's leading state sponsor of terrorism, has systematically used commercial aircraft for illicit military purposes, including to transport troops, weapons, and cash to rogue regimes and terrorist groups around the world," the lawmakers wrote. "The possibility that U.S.-manufactured aircraft could be used as tools of terror is absolutely unacceptable and should not be condoned by the U.S. government."