Kentucky Democrat Amy McGrath deleted a tweet praising a jobs initiative that her opponent, Sen. Mitch McConnell, has championed for years—the second time she has unwittingly lauded the GOP majority leader's effort to help struggling Kentucky residents.
McGrath on Tuesday tweeted in support of a McConnell-backed program that helps recovering opioid addicts learn job skills, calling it "innovative" and "promising." The tweet was deleted minutes later.
"Kentucky communities are supporting innovative programs to assist in addiction recovery… and the results are promising," McGrath wrote.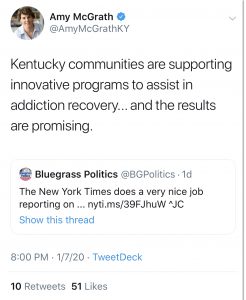 The now-deleted tweet linked to a New York Times article profiling an eastern Kentucky guitar factory that employs recovering drug addicts. McConnell has been instrumental in securing funding for the factory, steering hundreds of millions of dollars into local agencies that helped launch it. McGrath praised the program in October, calling it a "great initiative" that she would "fight" to replicate—that tweet remains active on her official account.
In 2019, the factory received an $867,000 grant from the Appalachian Regional Commission (ARC), an agency aiming to strengthen economic growth in distressed Kentucky counties. McConnell has helped steer nearly $618 million to the commission since 2015, according to press releases from the Republican senator's office. The factory was also boosted by a $220,000 investment from the Eastern Kentucky Concentrated Employment Program (EKCEP). McConnell steered $11 million to the program in 2017 and an additional $1.75 million two years later.
Both the ARC and EKCEP have thanked McConnell directly for his support. ARC co-chairman Tim Thomas credited McConnell and Rep. Hal Rogers (R., Ky.) with "helping transform the region," and EKCEP executive director Jeff Whitehead called McConnell's support essential to "help[ing] our displaced workers get back on their feet."
"Sen. McConnell's support for the work EKCEP is doing in Eastern Kentucky can't be overstated," Whitehead said. "We're working every day not only to help our displaced workers get back on their feet, but also to provide our employers the support they need to find. This is work we could not do without the support of our leaders at the federal level."
While McConnell's support of the ARC has helped struggling coal miners in Kentucky, McGrath stirred controversy in September when two coal miners suffering from black lung accused her of exploiting their plight for political gain. After traveling to Washington, D.C., last summer to raise awareness about the disease, miners Randy Robbins and Albrow Hall were asked to participate in a reenactment they believed would be used for a Black Lung Association documentary. When the footage appeared in a McGrath attack ad against McConnell, the miners' lawyer asked the McGrath campaign to pull the ad from the air.
The Kentucky Democrat went on to release a new ad in which the miners' faces are obscured.
A failed House candidate in 2018, McGrath has faced significant criticism since announcing her Senate bid in July. Just days after her campaign launch, the Kentucky Democrat said she "probably" would have voted to confirm Brett Kavanaugh to the Supreme Court, a position she retracted hours later. The flip-flop attracted bipartisan criticism, with Washington Post reporter and CNN political analyst Rachael Bade admitting McGrath "probably can't recover from this."