Michigan Democratic attorney general Dana Nessel took a lavish island vacation with a prominent campaign donor who owns a law firm in the state, emails and photos obtained by the Washington Free Beacon show.
Nessel in late March flew to Turks and Caicos to vacation alongside Michigan lawyer Kelly Neumann, who in 2021 contributed more than $7,000 to Nessel's reelection campaign. Internal emails obtained by the Free Beacon via a public record request confirm Nessel's departure to the Caribbean island. In a March 24 message, the Democrat's executive assistant, Robin Novak, wrote that Nessel "is traveling to Turks and Caicos as we speak and will arrive around 11:00 a.m." Nessel's calendar, meanwhile, shows the Democrat was "out of office" from March 24 to March 28.
While Nessel has portrayed herself as a "normal" Michigander who spends her time "complaining about the Lions," her island vacation with Neumann was anything but ordinary. The pair stayed in the penthouse of the luxurious Ritz-Carlton resort in Providenciales, accommodations that cost nearly $8,700 a night, according to the hotel. Deleted Instagram photos of the trip obtained by the Free Beacon show Nessel's wife, fellow attorney Alanna Maguire, enjoying a glass of champagne and rubbing Nessel's shoulders in the penthouse's private pool, which overlooks the world-renowned Grace Bay Beach. Neumann also reserved the Ritz-Carlton's "exclusive sailing yacht" for the trip, photos show—a 90-minute sunset sail on the yacht costs nearly $10,000.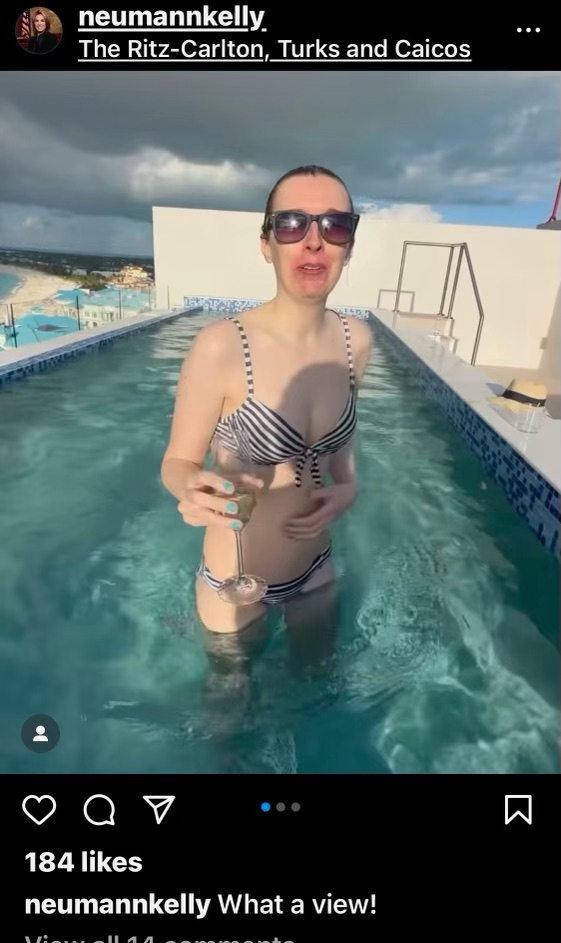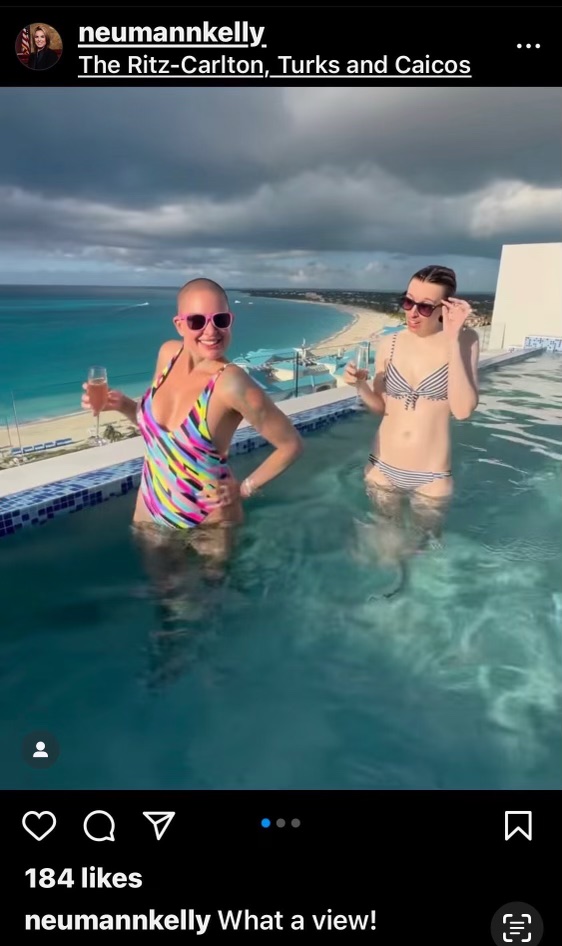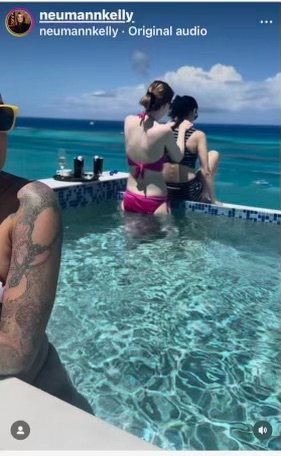 Nessel's vacation with Neumann comes as Supreme Court justice Clarence Thomas faces criticism over luxury trips he took with GOP donor Harlan Crow. Both House and Senate Democrats have used those trips to demand Thomas's resignation, with Massachusetts Democratic senator Ed Markey arguing that Thomas's travel with Crow proves the justice "cannot judge right from wrong." Nessel, by contrast, has largely avoided criticism for her four-day soirée with Neumann, even as evidence that Neumann's law firm paid for the vacation emerges.
The Detroit News on May 2 cited hotel records showing Neumann Law Group footed the bill for the Ritz-Carlton penthouse, and Neumann in a March 19 Facebook post confirmed she organized the trip. Still, both local and national media outlets have ignored Nessel's vacation, which could land the Democrat in hot water just months after she secured a second term as attorney general.
Nessel, whose office did not return multiple requests for comment, has yet to acknowledge she took the island vacation. The Democrat on May 3 issued a vague statement that generally referenced "personal vacations" but did not mention Neumann or the Turks and Caicos trip. "On the rare occasion my family takes personal vacations, we pay for it ourselves," Nessel said. "We also do not vacation with those who do business with or have cases against the state of Michigan."
It's unclear, however, if Nessel could afford on her own what Neumann called the Ritz-Carlton's "best digs." Nessel in 2019 released her 2017 and 2018 tax returns, which showed the Democrat and her wife combined to earn $133,034 in 2017 and $75,943 in 2018—income levels that are hardly associated with private Caribbean island penthouses. While staying in the Ritz-Carlton "triplex penthouse," Nessel and Neumann enjoyed "a rooftop infinity pool and terrace, a spacious living room, a powder room and a full kitchen where guests, or their chef, can prepare meals to enjoy in the separate dining room," according to the hotel.
Nessel's office disclosed the Turks and Caicos trip in internal communications because the Democrat needed to submit an "out of country device form" to access state resources while abroad. Nessel's staff forgot to submit that form before the Democrat's departure, prompting Novak, Nessel's executive assistant, to send an "urgent" request to "expedite" the form on the morning of Nessel's Turks and Caicos flight. Michigan's Department of Technology, Management, and Budget approved the expedited request within three hours, giving Nessel the green light to access official materials while on vacation with her campaign donor.
"It's all set the phone should work for both accessing State resources and … voice and data with the phone when out-of-country," Nessel's IT manager wrote on March 24. Should Nessel lose her state device while in Turks and Caicos, the manager later advised, she must "communicate it as soon as possible. Even on weekends."
Neumann went on to obsessively document the Turks and Caicos vacation on Instagram. The lawyer and Nessel campaign donor posted more than 30 photos and videos from the trip, many of which showed off the Ritz-Carlton's spacious penthouse and opulent sailing yacht. While most of those posts remain active, Neumann did delete two videos from the vacation—one featuring Nessel's wife and another featuring Nessel herself. Neumann's fiancée, TV personality Amanda Giese, also attended the trip. Giese last May contributed $1,500 to Nessel's campaign.
The Turks and Caicos trip was not the first time Nessel and Neumann interacted. The pair had dinner in February at the upscale steak and seafood chain Ocean Prime, a get-together that Neumann also promoted on social media. "Dinner with one and only Attorney General Dana Nessel [and] her amazing wife," Neumann wrote in a Facebook post.
"We had a lovely time. Thanks so much!" Nessel's wife commented.
Nessel is not the only prominent Michigan Democrat to receive political support from Neumann. Just days after the pair's Turks and Caicos vacation, Neumann hosted a "special reception" with Transportation Secretary Pete Buttigieg and Michigan Democratic senator Debbie Stabenow. Neumann, who did not return multiple requests for comment, said the reception raised more than $70,000 for Democrats.