Dallas—"Get 'er done." I adopted this mantra (after reading it on a woman's lower back tattoo) to bolster myself as I embarked on a culinary mission: to sample 10 fried things at the Texas State Fair—as a service to our readers, of course. And I'd need all the strength and mettle to, well, get 'er done.
At some point in life, you really should visit the State Fair of Texas—the largest one in the country. (The current fair runs between September 28 and October 21.) Besides the classic theme park rides and test-your-skill games on the midway, there are livestock displays, pig races, and the Texas Auto Show. The day of my visit coincided with the Texas-Oklahoma game, which is played at the Cotton Bowl, also located on the fair grounds.
But let's not kid ourselves. The real reason to visit the Texas State Fair is to sample all the fried food. I was also determined to test the notion that anything deep-fried is good. Deep-fried Snickers, sure. But what about pizza? Or butter? With all this in mind, here are the 10 fried things I ate at the Texas State Fair, ranked from best to worst.
1. Texas Fried Hill Country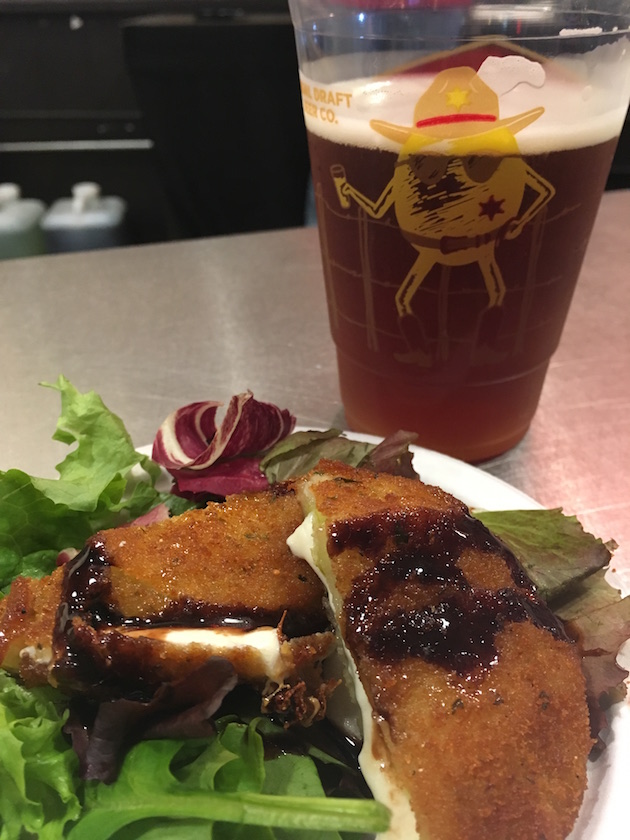 This dish was a Big Tex Choice Award finalist and for good reason: Green tomatoes, fried mozzarella, and basil hand-breaded and flash fried strike the perfect blend of sweet and tangy, juicy and savory—definitely a standout at the fair. Kudos to Rudy and Justin Martinez for this heavenly creation.
2. Fletcher's Corny Dog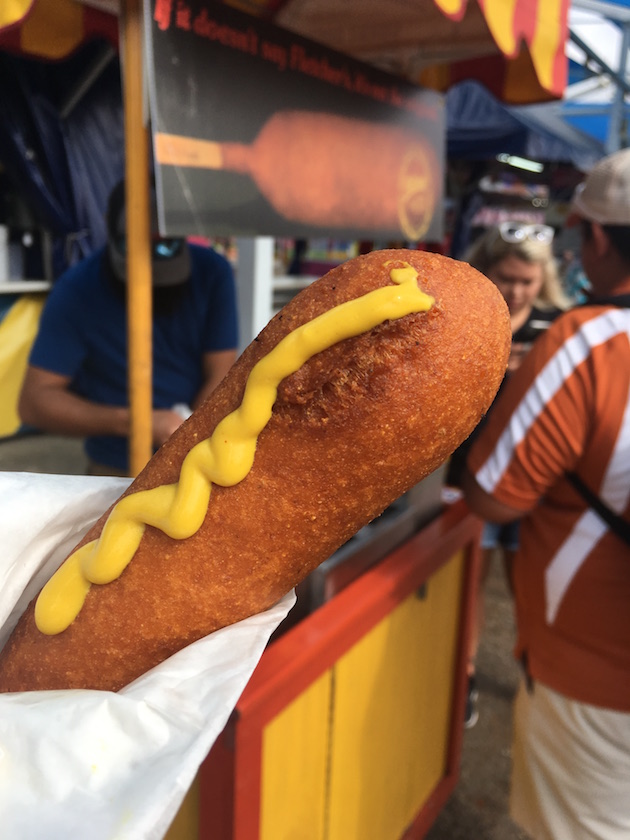 Since 1942, Fletcher's corny dogs have been a staple of the Texas fair—last year Fletcher's sold about 600,000 of these cornmeal-battered hot dogs on a stick. "We're fresh, hand-picked," says G.G. Fletcher, whose husband Skip was known as the Corny Dog King. "We are never frozen. We have our meat professionally made for us based on a recipe we have. And of course our mix, our secret family recipe." They also change their oil every day and it shows—the batter is crisp, the wiener is juicy, and you can actually taste the corn. How many corny dogs should I have? "Oh, as many as you want," G.G, assures me, "because it's just one day."
3. Tornado Taters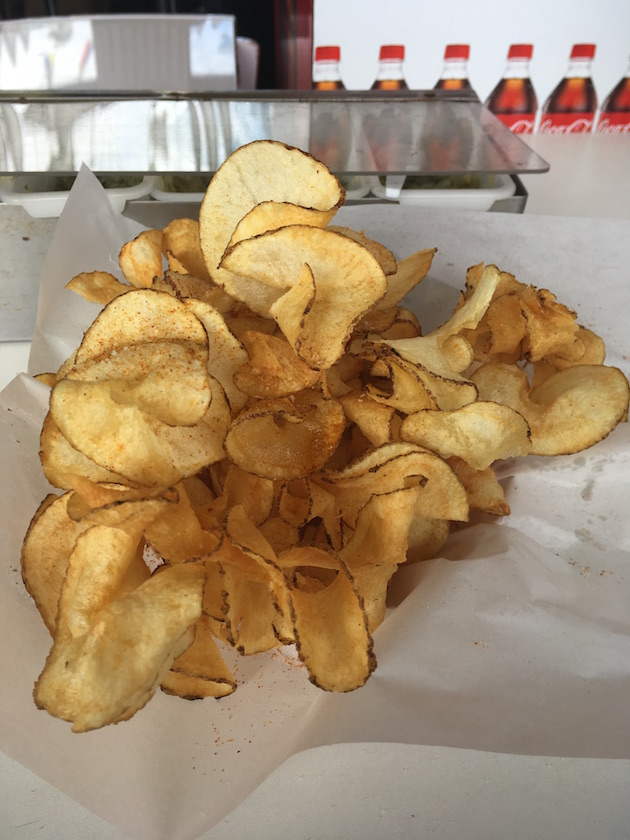 You never want to start eating at the first stand you see. But basically that happened here. There's just something about potato chips fresh out of the fryer, hot, crispy, and glistening in peanut oil. Plus it's important to lay a solid foundation upon which to build.
4/5. Fried Snickers/Fried Twinkie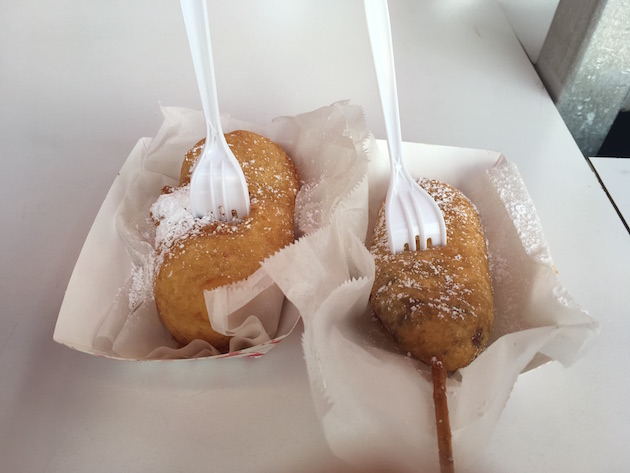 You can't go to a fair and not eat one of these treats, so why not both, at the same time, while watching a pig race? To be honest, neither of these are particularly Texan in nature. The fried Twinkie was invented in 2002 by Chris Sell of the Chip Shop in Brooklyn. Fried Snickers evolved from the fried Mars bar in Scotland. My recommendation: Go with the Snickers. The bar itself is a melted mess but the mixture of peanuts, caramel, and chocolate coat the spongy batter quite nicely.
6. Fried bacon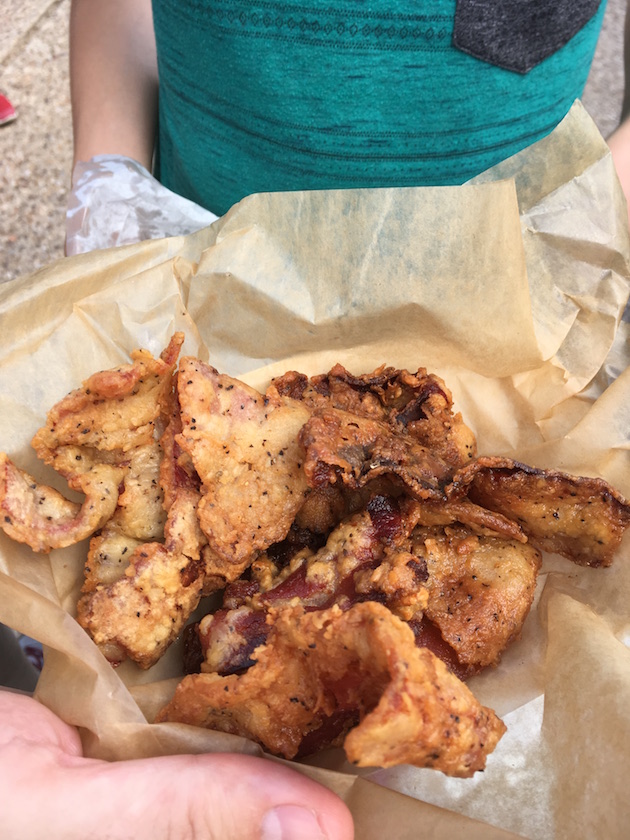 You don't need a batter to make bacon crispy. And you don't need bacon to be any saltier than it already is. One bite in, I knew this was a mistake. Five bites in, I realized I was addicted to fried bacon.
7. Tater Twister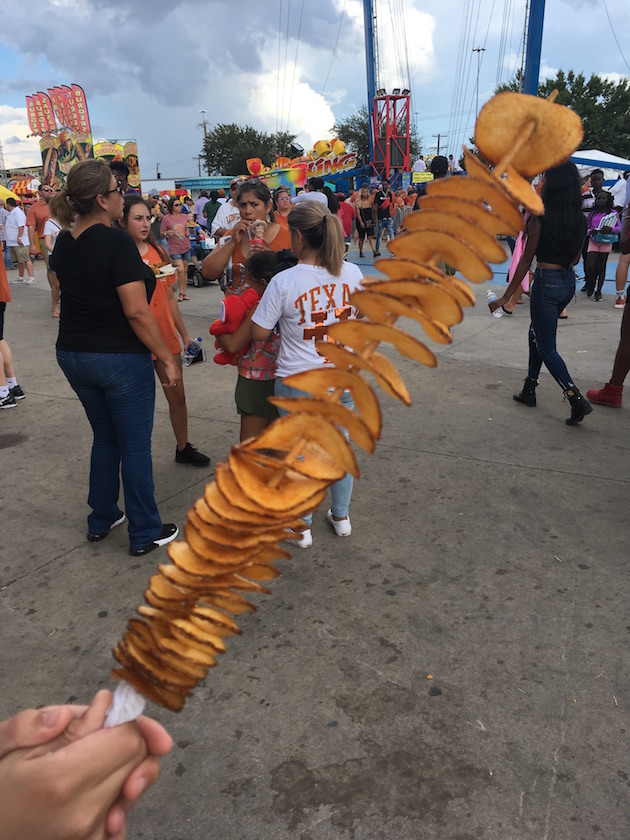 More potato chips, this time elaborately arrayed on a stick. These were way saltier than the tornado taters I had at the start of my day. Or perhaps my sense of taste is completely off and I'm about to stroke out. Either way, it was a hit with the kids—you just tear them off!
8. Fried pepperoni pizza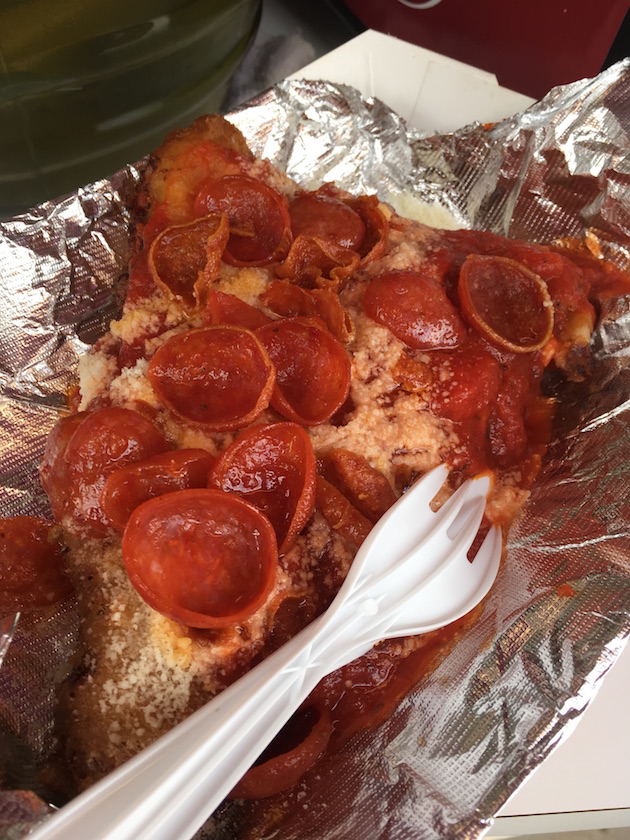 We love pizza for what it is, not what it should be. And it definitely should not be fried, unless you're the type of person who thinks, "Man, that pizza wasn't nearly oily enough."
9. Fried butter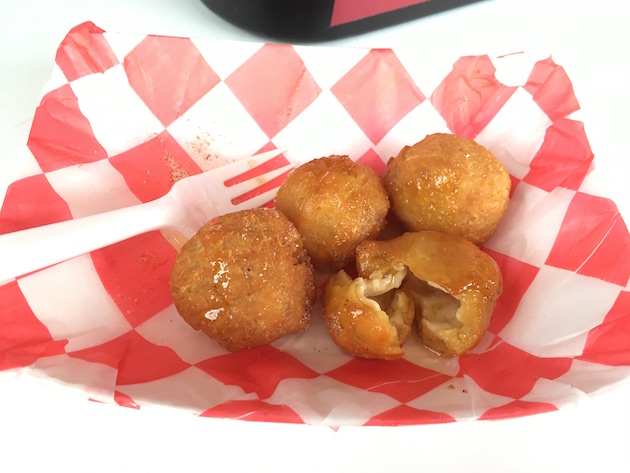 I've hit rock bottom. But somebody had to find out if fried butter really is a terrible idea. In fact, I was quite surprised how good that first bite was—sort of like a forbidden pleasure. But like all forbidden pleasures, deep down inside you know it's wrong. May my arteries have mercy on me.
10. Fried Frito Pie Bites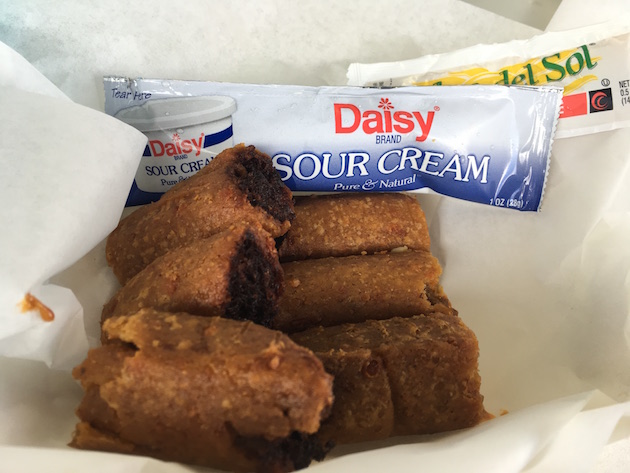 Actually, now I've hit rock bottom. It's late in the day, which means that oil is getting old. Look how dark these bites are. Still, frito pies are a southwestern classic made from chili, cheese, and fritos. How could I not give them a try? Unfortunately I couldn't help but be reminded of Anthony Bourdain's description of the frito pie: "warm crap in a bag."
There were plenty more fried things I'd been meaning to try: fried Oreos, Deep Fried Shepherd's Pie, and the winner of the Big Tex Choice Award, Fernie's Hoppin' John Cake with Jackpot Sauce. But as the throngs of Texas and Oklahoma fans flooded out of the Cotton Bowl, movement around the park ground to a halt.
But there's always next year. And I'll aim to start earlier so I can get 'er done.