Everyone loves Ken Bone not because Ken Bone is a high-minded philosopher or an everyman struggling to get by, but because Ken Bone rocks a red quarter-zip like nobody's business. Ken Bone is great because Ken Bone reminds us that the best season is autumn, when one can really work on one's layering game.
In the spirit of Ken Bone, then, allow me to offer the following ranking of sweaters/sweater-like apparel. All sweaters are great, but some are greater than others.
1. V-Neck Sweater
The v-neck sweater is the optimal item for any gentleman looking to layer. It fits nicely over a button-down oxford and goes well with a blazer. The best thing about fall is merino-wool v-neck sweaters. I will not bother arguing about this.
2. Shawl-Collar Cardigan
On a cold fall day—the wind whipping about as the leaves tumble down—there's nothing quite as nice as having a nice, chunky, shawl-collar cardigan to bundle up in. Autumn Man's Official Autumn Gear.
3. Cardigan, Other
The only problem with shawl-collar cardigans is that they make proper layering a bit too difficult. Your average cardigan is a bit thinner, creating a slightly more academic look when paired with, say, a tweed blazer.
4. Quarter-Zip Sweater
A bit preppy for my taste; I always feel like these are designed for people with names like Thad and Buffy who has schooners up at The Vineyard. Don't get me wrong: I still own like two of them.
5. The Tactleneck Sweater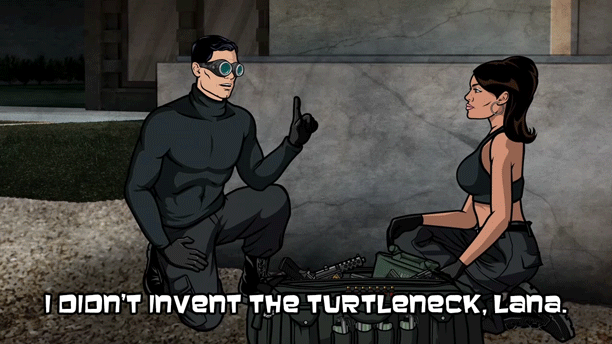 I can't really pull this off. But if I could, I would wear it all the time.
6. Crew-Neck Sweater
I don't much care for crew necks, to be quite honest. I need a more open throat area. Crew neck sweaters are like lazy turtleneck sweaters. If I had to give up any one kind of sweater, it would probably be the crew neck.