Female empowerment through athletics is a consistent theme of this here Blog. Whether it's Victoria's Secret-inspired football or lassoing catfish with their bare hands, time and time again, women provide healthy role models for the next generation.
Beauty queens are also positive role models. Annually, beauty queens representing all 46 states and the four commonwealths compete for the crown of "Miss America." While Miss Alabama 2013 Chandler Champion is looking to add another banner to the rafters for Rammer Jammer, my pick for Miss America 2013 is Miss Kansas Theresa Vail.
The dynamo Kansas State senior double majoring in Chinese and chemistry is just the second active duty military personal to compete in the pageant.
"Nobody expects a soldier to be a beauty queen, but I'm all about breaking stereotypes," Vail said to People.
Her bold spirit keeps her resolute on scary rides with fellow Miss America contestants.
Vail has dedicated her life to smashing sterotypes. She's actually moonlighting as a beauty queen, only starting because her commanding officier said she'd be good at it.
Vail is a real life Katniss Everdeen.
She's an expert M16 marksman, a bow hunter, a skydiver, a boxer, a mechanic, can skin a deer, and stews great squirrel.
4:30 am workout…adapt and overcome! #ThereSheIs #MissAmerica #ArmyStrong pic.twitter.com/wLJfCP3jGJ

— Theresa Vail (@MissKansas2013) August 9, 2013
For Sunday's pageant, Vail is swatting away the stereotype in the swimsuit portion by revealing her two tattoos.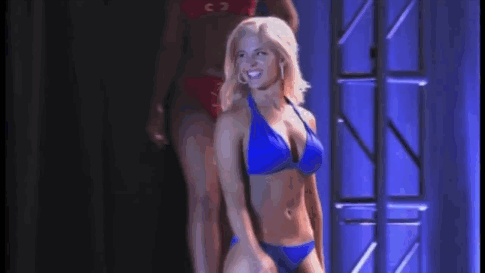 "Why am I choosing to bear my tattoos? My whole platform is empowering women to overcome stereotypes and break barriers. What a hypocrite I would be if I covered my ink. How can I tell other women to be fearless and true to themselves if I can't do the same? I am who I am, tattoos and all," said Vail on her blog, MissOutdoorGirl.com.
In a video, Vail related being Miss America to being a Marine/sailor/soldier/airman, in that both positions make sacrifices in order to serve others.

As a fellow military brat, Vail has my vote. She should have yours too. #CrowntheCamo
Anything boys can do, Vail can do better.