BY: Lachlan Markay and Brent Scher

Nashua, N.H.—The sun hadn't even risen on Monday when eight would-be volunteers for an innovative new grassroots polling operation had their flights to New Hampshire canceled.
They were flying in from around the country—from Baltimore to Seattle—to stand outside polling places in freezing temperatures and linger in hotel conference rooms watching New Hampshire presidential primary results trickle in.
Within two hours, though, all eight were on new flights to Boston and Manchester, N.H. They all arrived in time to join the Decision Desk HQ, a fledgling political polling and data operation crafted by a trio of conservative bloggers.
For the news business, election predictions are just that: a business. For the Decision Desk, its volunteers, and its founder—California-based truck dispatcher and Ace of Spades HQ blogger Brandon Finnigan—passion, pride, and sheer nerdiness were the driving factors.
By Tuesday night, the Decision Desk had nearly four dozen volunteers in the field. About a third of them did what Finnigan's team has been doing for a few years now: gathering returns from polling locations and plugging them into a constantly updating spreadsheet, which fed results posted online in real time.
The other two thirds of the volunteers were engaged in something new for the group. They stood outside New Hampshire polling sites surveying voters as they exited. This was the Decision Desk's first foray into exit polling, and Finnigan and his team were jubilant about it. They had already made a name for themselves by beating news organizations to major election calls by diving deep into local election data. Now they were on the ground, gathering that data themselves.
As the dust settled in New Hampshire, it was clear that the Decision Desk was doing something remarkable. It was challenging the Associated Press and other established news organizations for primacy in the election returns and prediction market. And it was doing this on a shoestring budget: no salary or compensation was offered beyond the satisfaction of having changed how election night news is reported.
"We aren't political operatives. We aren't professionals. We aren't statisticians. We aren't pundits," says Finnigan. "We're the Decision Desk. If we are going to try something, we are going to give it our fucking all, snow, servers, and doubts be damned."
The Decision Desk has been around in some form since 2012. Originally an outgrowth of Ace of Spades HQ, a popular and acerbic blog focused on conservative politics, culture, and military issues, Finnigan's project was initially branded as the Ace of Spades HQ Decision Desk.
He has since dropped the reference to the site, dubbing it Decision Desk HQ and creating an email newsletter and stand-alone website devoted to its election night data-mining. And he has dramatically expanded the operation.
Finnigan has no interest in the media-bashing that often consumes conservative lamentations about the state of the political press. The issue is not the quality of the information that news organizations provide, but simply that there is so little of it. As he discusses the Decision Desk's mission, he constantly comes back to the Associated Press.
"I have no beef with the AP, really. They provide a service, they have a good record at it, they've done it for years," Finnigan says. "My problem is with media consolidation. Every major outlet just uses the same damn information."
"The American people deserve to know who won the political contests they engaged in, that night, as often as possible. And they should know what is reported is accurate. 99.9 percent of the time, it has been. But for that 0.1 percent, where it can really, really matter, isn't it worth it to provide the public with another set of eyes?"
In that sense Finnigan and fellow Ace of Spades bloggers Joel Fagin and John Ekdahl, co-creators of the Decision Desk, see the project as providing a service not just to voters and news junkies, but to the AP and other established media organizations as well.
"If the Decision Desk gets something wrong, the worst thing is that I'll get a lot of hate mail and angry tweets," Finnigan says. "If they get something wrong, you have Florida 2000."
New Hampshire's small size made this an ideal state for the Decision Desk to try their hand at exit polling—and making calls independent of data from the AP.
Finnigan and his team started planning "Project X" months ago. The first step was
making sure that they would be able to match the effectiveness of an AP operation with far more money and more people on the ground.
With limited resources, Finnigan had to make sure that he placed his team in bellwether precincts—those that were chosen had been carried by the statewide primary winners in at least 19 of the 20 primaries held in the past 36 years.
Most of them could have been used to correctly predict who would get second and third place too, Finnigan said as exit polls started to come in.
The small team, holed up in a conference room at the Nashua Homewood Suites—"the greatest hotel on the face of the earth," Finnigan tweeted on Wednesday—excitedly watched throughout the afternoon as their sample of voters that agreed to exit surveys continued to skyrocket. Finnigan was especially giddy once it became clear that their sample could exceed 1,000 voters, far larger than he or any member of his team had expected.
The operation was not without snags. Though many of the volunteers had managed to catch flights despite the weather, some were stranded in states ranging from Illinois to Nevada. The rest were forced to work longer shifts and travel to multiple polling places to make up for the lost manpower.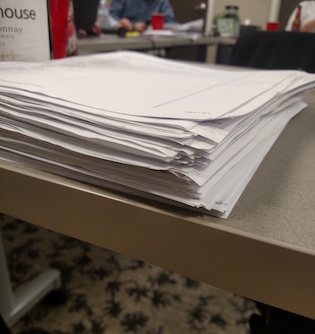 They also dealt with technology issues. A number of the tablets used to gather exit polling data froze up, forcing volunteers to record results by paper. One pair of volunteers working in Jaffrey, New Hampshire, collected data from 205 people, about 10 percent of the total voters in the precinct, by hand. They had to call in each individual result to headquarters to get the data recorded.
As the night progressed, Finnigan grew increasingly confident that the exit poll collected by his team would be an accurate portrayal of the actual results.
He made the raw data collected by the ragtag team of first-time pollsters open to the public immediately at 7:00 when most of the polls closed, opening the curtains to the exit poll experiment that had been closely monitored by the whole Ace of Spades family since early that morning.
DDHQ bellwether results:
Clinton 36.52%
Sanders 61.98%

Trump 35.84%
Cruz 15.12%
Kasich 14.94%
Rubio 10.72%
Bush 9.62%#DDNHbellwether #NH

— Decision Desk HQ (@DecisionDeskHQ) February 10, 2016
Though some were still conducting exit polls, Finnigan swiftly repurposed most of his team to go collect the actual results. While this was the first time Finnigan had run such an operation, he deployed his volunteer staff around the state like he had done this before.
How did he move people around the state so seamlessly? Experience. Finnigan basically does the same thing everyday during his full-time job as a truck dispatcher in Rancho Cucamonga, California.
Members of Finnigan's small volunteer army were waiting at precincts to snag results as soon as they were made available so that they could be uploaded onto the shared spreadsheet. The precincts that weren't reached by the team in person were continually badgered by both email and phone until they sent in their numbers.
The constant goal for Finnigan, as was made clear in a series of Periscope broadcasts, was to have a higher vote count than the AP.
"Hey, how much does the AP have right now with their million dollar operation," Finnigan asked at about 7:40 when the AP tally sat at 1,200. "We have 7,426 tabulated—by a group of people with almost no money and very little support. We don't need the AP to cover elections anymore."
It is not that Finnigan has anything against the AP, but rather that he thinks it needs competition.
"It's not about doing it faster than the AP," Finnigan explained earlier in the day during a visit to a polling place in Manchester. "It's just another voice out there. By having us there, they'll do better. Competition is a good thing."
The goal was not just to compete with the AP, but also to prove that Decision Desk HQ could operate completely independent from it.
Once the AP started to get results from precincts that hadn't yet been received, Finnigan refused to enter their numbers into the Decision Desk HQ spreadsheet despite arguments from some on the team that they should.
"We don't need the AP," insisted Finnigan to those that disagreed. Instead of using AP results, Finnigan dispatched members of his team that were still trickling in from their exit polling locations back out into the cold to track down results that were missing.
"If we're going to stay ahead of the AP we got to be good with our reporting," he said to his team, as they frantically recorded results coming in from around the state.
As the Decision Desk reported its results, the world of political punditry took notice. "Really good job by @DecisionDeskHQ tonight," tweeted New York Times writer Nate Silver, widely considered the dean of data journalism. Finnigan whooped when he saw the tweet and read it aloud to his volunteers.
The Decision Desk kept pace with the AP on election returns, and its exit polls predicted the vote shares of both parties' winners within two percentage points.
The results impressed Republican pollster Kristen Soltis Anderson.
"The art and science of exit polling is no simple thing," she said in an email. "That Decision Desk is able to pull this off, and get results that were as accurate, is a testament to two things: first, the power of well-trained volunteers who have a passion for this stuff, and two, the power of really being thoughtful about where to conduct your interviews."
She echoed Finnigan's thoughts on the inherent value of additional information and competition in the election news space.
"I've always thought the network exit polls are a valuable tool after-the-fact to see how an election played out, but I'm also a believer in having multiple pieces of information to work with, never trusting just one source as gospel," she said. "Decision Desk has enabled folks like me to get a second opinion on what happened, and I'm incredibly grateful."
Finnigan said on Wednesday that he is "extremely proud of my hare-brained idea." But he added that the future of the Decision Desk depends on his ability to secure the resources necessary to support an operation big and sophisticated enough to be a player in states that are larger and more diverse than New Hampshire.
"We don't have the benefit of a lot of upstarts: no deep pocketed benefactors are standing by," Finnigan laments. "We used [crowdfunding service] GoFundMe and travel points to get everyone to New Hampshire. Volunteers kicked in cash for copy paper."
It also took a toll on him personally. "A lot of where this goes depends on whether or not I am still pulling 60+ hours at a trucking office and trying to commit my spare time to this project. I was a zombie by Monday evening."
That hard work showed in the Decision Desk's product. For her part, Soltis Anderson said she was chipping in in the hope of seeing more from Finnigan and his team going forward. "I definitely need to kick them a few bucks—I feel like a total mooch getting this stuff for free," she admitted.
The original GoFundMe page raised just over $6,000. For what's shaping up to be a long, drawn out primary battle, the Decision Desk will likely need many times that sum to keep up its dogged polling and data work.
"This project will thrive beyond anything you've already seen, or, frankly, it'll probably kill me," he said.
Update 2:36 p.m.: A previous version of this story misidentified Jeff Blehar as a cofounder of Decision Desk HQ. Blehar is a volunteer, while Joel Fagin is a cofounder.