Russian officials this week carried out a secret inspection of the U.S. strategic missile defense base in California as part of the New START arms treaty, according to Obama administration officials.
The inspection of five missile defense interceptors is allowed under the 2010 arms accord. The treaty requires cuts of U.S. and Russian deployed strategic warheads to 1,550.
A defense official said the visit was a treaty verification visit hosted by the Defense Threat Reduction Agency.
A State Department official declined to comment on the inspection but confirmed it was related to New START. "Implementation activities under New START are confidential," the official said.
However, Thomas Moore, a former Senate Foreign Relations Committee professional staff member, said the inspection of the base was a controversial part of U.S. and Russian arms talks leading up to New START that was ratified by the Senate in December 2010.
The United States had opposed including the five Ground-Based Interceptor (GBI) silos in the treaty inspection terms, said Moore, a specialist on arms control issues.
The Russians refused, and because the five silos had been converted from offensive intercontinental ballistic missile (ICBM) silos, negotiators settled on a single inspection, Moore said, adding that he believed this week's Russian review was that inspection.
Russia had demanded including the five silos in New START inspection provisions to monitor the conversion of long-range launch tubes into missile defense shooters.
"Russia gets one exhibition visit in the first three years of New START and one more if it ever wants to look at them again, for a total of two inspections," Moore said. "But this first one has to be the only one where they get to confirm the distinguishing features that set these five silos apart from a launcher of an ICBM."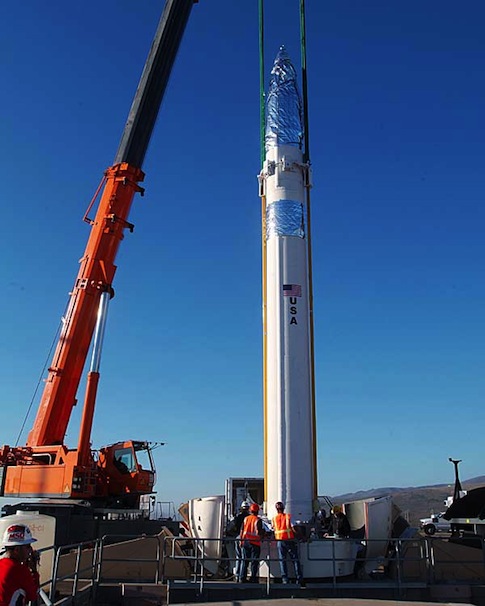 The treaty prohibits converting any additional ICBM silos at Vandenberg to missile defense silos, and the five current GBI silos, built prior to the treaty, were "grandfathered" into the accord.
"The administration agreed with Russia to provide assurances to Russia that the converted ICBM silos 'remain incapable' of launching strategic offensive arms [and] record the distinguishing features that set a GBI-converted intercontinental silo apart from a pure intercontinental silo," Moore said.
The Russian visit from Aug. 18 to Aug. 23 is the only time the Russians will be allowed to look at the GBI silos to confirm that they have not been converted back into ICBMs.
Moore said the visit does not appear to be part of the Obama administration's effort to show more transparency toward Moscow as a way to placate Russian opposition to missile defenses, especially in Europe.
"Even if this administration was contemplating some more transparency measures for our missile defenses, these five silos at Vandenberg are a settled matter," he said. "Moscow gets to confirm what we think makes these silos distinct launchers of GBIs, nothing more, nothing less, and only one time."
Russia issued a unilateral statement in April 2010 saying that its adherence to the New START treaty would be based on "no qualitative or quantitative buildup in the missile defense system capabilities of the United States.
The Senate conditioned its approval of New START in a resolution that specifically rejected the Russian statement on missile defense. It also said the treaty would not impose limits on missile defense deployments beyond the curb on converting additional ICBM or submarine-launched missiles into missile defense launchers, not including the five at Vandenberg.
The Pentagon currently operates two long-range missile defense interceptor bases at Vandenberg and Fort Greely, Alaska. A third base, for the East Coast, is being studied in response to intelligence assessments that Iran will have a missile capable of hitting the United States by 2015.
The missile defense system, which includes satellite and ground- and sea-based radar and sensors, has been activated several times in recent years in response to North Korean long-range missile tests.
The two western-oriented missile defense bases are focused on countering long-range missiles from North Korea.
The Pentagon in March announced that it will add 14 additional long-range interceptors in Alaska following reports that North Korea has fielded at least six road-mobile ICBMs that can hit the United States.
The 14 new interceptors would be added to the 26 currently deployed in Alaska.
The visit by the Russians is likely to prompt concerns on Capitol Hill from Republicans opposed to the administration's efforts to share missile defense technology with the Russians.
Rep. Mo Brooks (R., Ala.) revealed in May during congressional testimony from Vice Adm. James D. Syring, director of the Pentagon's Missile Defense Agency, that the administration has sought to declassify sensitive missile defense technology that could be shared with Moscow.
As a result, Brooks drafted legislation that would prohibit the Pentagon from releasing classified missile defense know-how to the Russians, specifically advanced hit-to-kill missile defense interceptor technology.
Brooks said at the time that the admiral's comments were "confirmation that the administration is actively discussing the declassification of our life-saving missile defense technology [and] further affirms the importance of enacting legislation to prevent our critical weapons technology from falling into unreliable hands."