TEL AVIV–Hundreds of thousands of young Israeli men have traded T-shirts for fatigues as the Jewish state ramps up its war against Hamas—and the country's women are here for it.
With the most eligible bachelors living mostly on military bases, Israeli women on the home front have flocked to social media to keep tabs on them. The women have showered the reservists with attention, gifts, and offers of more.
"I will not thwart any invasion," read a note on one of the countless homemade meals sent to bases across the country. "Our hotties, we know that you know how to fight better than Hamas. (And we're sexy too)," said a message on another heart-adorned box of food, followed by a list of young women's names, ages, and phone numbers.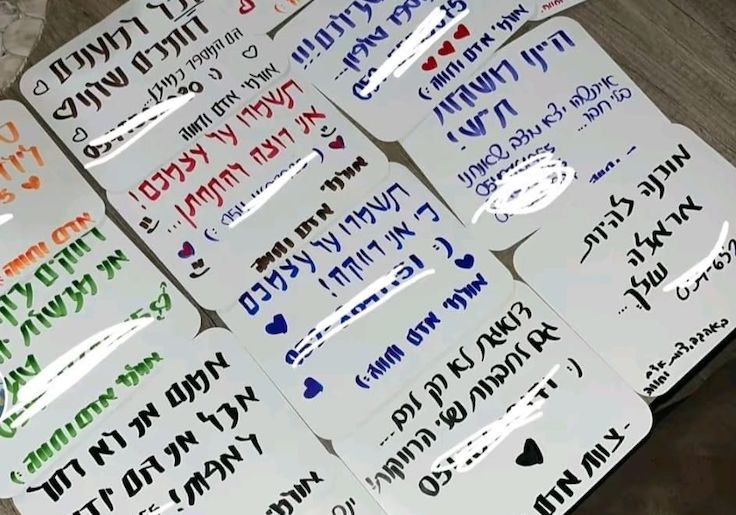 The love goes both ways. Many male reservists who were putting off commitment have suddenly taken a knee or taken the plunge after a few weeks away from home. Dor Zimel, 26, a university student serving as a captain in the north, rushed to Even Yehuda in central Israel during a daylong leave on Tuesday to propose to his girlfriend of five years.
"I realized it may be now or never," Zimel told the Washington Free Beacon.
Israel's mania for courting and coupling reservists in its conscripted army comes as the nation anxiously awaits a full-scale ground invasion of the Gaza Strip. In the wake of Hamas's Oct. 7 massacre of more than 1,300 Israelis, the Jewish state is united in determination to eliminate the terrorist group from Gaza and the earth. But conquering the densely populated enclave would involve brutal urban fighting and could trigger a devastating regional war with Iran and its proxies.
It's not the first time Israel has responded to a perceived existential threat with both sex and violence. Major Israeli wars, including the 2006 Lebanon War, the 1973 Yom Kippur War, and the 1967 Six Day War triggered national baby booms. Israel has the highest birth rate and one of the highest marriage rates in the developed world.
"Whenever the Jewish people are threatened like this, we unite and fight back," Zimel said. "Part of that is war, but part of it is also bringing family and kids."
Elia Naim, a 26-year-old Tel Aviv social media marketer turned military commander, has become an overnight sex symbol as a result of his TikTok videos documenting reserve duty: He tells dad jokes, celebrates the arrival of cigarettes, and makes light of the glut of gifts and food his unit is receiving from the public.
"Men in the reserves, an atmosphere of war—you would expect the nation of Israel to unite around something else," Naim quipped to Israel's Channel 12 news on Tuesday, referring to his female fandom. "Then, all of a sudden, you realize it's possible Israeli women attack harder than Hamas."
The segment was one of several this week in which anchors quizzed male reservists who had gone viral online about their dating lives and marriage prospects.
Last weekend, a culture magazine gushed about local celebrity Maya Wertheimer's Instagram campaign to match women with "hot singles" on reserve duty.
"In the midst of all the horrors of the war, moments occasionally flash by that warm our hearts," wrote AT magazine. "Maya Wertheimer is responsible for one of them. The host, model, actress and TV star came up with a crazy initiative amid all this painful chaos to bring hearts closer together, and not for nothing."
"The men in these uniforms just make all the women go crazy," Shani Mizrahi, a 25-year-old university student in Ma'ale Adumim told the Free Beacon.
Mizrahi recently shared a photo on Facebook in which Naim labeled members of his unit according to their relationship status: "I think at a time like this it's important and even necessary to pursue a law that all Israeli men (in uniform) who post photos with their friends must identify and tag the single men."
On a more serious note, Mizrahi told the Free Beacon: "This is a dark and stressful time, and a lot of us are looking for someone to come through the situation with. There's a feeling of wanting to be protected but more than that of wanting to be the person a soldier can come home to."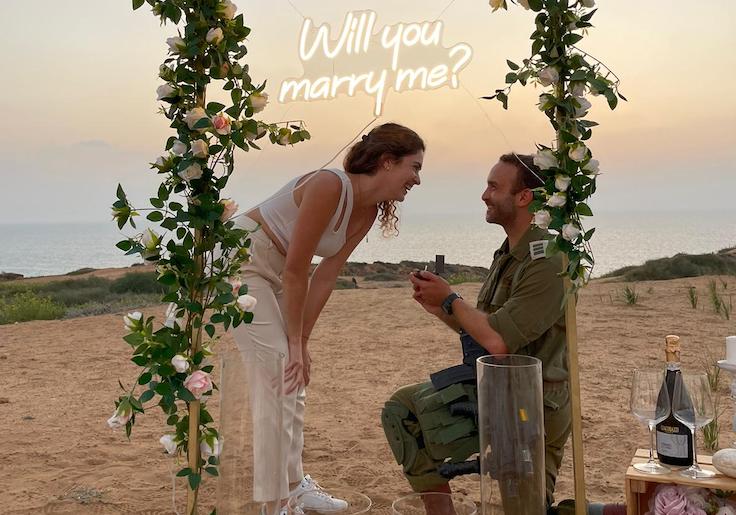 Images of Israeli reservists in combat gear proposing to or marrying their partners have also flooded social media and the news. At least one soldier reportedly scrawled his proposal on a missile headed for Gaza.
In Zimel's brigade alone, three men have been married in the past three weeks. After word went out that Zimel wanted to propose, family, friends, and strangers scrambled to make it happen in a few hours at no cost to him. An event planner set up a canopy, flowers, candles, and wine on the beach. Zimel's coworkers in a local political office deployed a drone to take photos. Alon Mesika, a jeweler in Tel Aviv, donated a diamond ring in honor of his son who was murdered by Hamas terrorists on Oct. 7.
"These days, we're doing things that are good for the heart," Mesika told Channel 13 news on Friday. Then, he broke down in tears.