George Alexander Louis Mountbatten-Windsor is many things: a lineal descendent of Queen Victoria and a future successor of King Richard the Lionheart; a trend-setting international fashion icon; the inspiration for a series of commemorative coins from the British, Australian, and Canadian Royal Mints; the namesake of a bilby born in 2014 at the Taronga Zoo in Sydney; an ordinary three-year-old boy whose interests include playing with toy trains and rocking horses—but he is also something more: a stiff-upper-lipped Englishman with the courage to defy vainglorious liberal ninnies where lesser fellows 20 times his age would simply bend the knee.
The young prince's git-defying exploits began in April, when soon to be ex-President Barack Obama had the audacity to visit him in his royal chambers. George greeted the barmy ingrate who once returned a magnificent bust of one of his noblest countrymen with righteous royal haughteur by refusing to change out of his monogrammed dressing gown into something more formal.
"Last week Prince George showed up to our meeting in his bath robe," the president whined at the time, complaining that it was "a slap in the face."
During their brief meeting the third in line to the British throne looked aghast as this commoner dared to shake the royal hand that he had almost surely proffered for the purpose of a deferential kiss and soon returned to riding his favorite noble (wooden) steed.
Flummoxed but clearly defeated, Obama later described the boy destined to be King by the Grace of God of Great Britain, Ireland and the British Dominions beyond the Seas and Defender of the Faith as "adorable."
Months later, in September, the Supreme Governor-to be of the Church of England and one-day Lord High Admiral of the Royal Navy put one of his own smarmy subjects in his place when he refused both a "low-five" and a handshake from Prime Minister Justin Trudeau during a visit to Canada.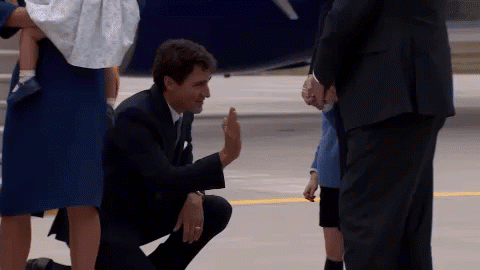 Rather than touch the filthy hand of this twit temporarily entrusted with the care of one of the numerous dominions that are his birthright, the prince shook his head and waved majestically to several of his more deserving subjects.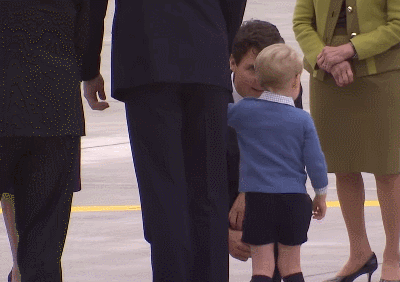 One day this young bairn will be King George VII, Vunivalu of Fiji and Commander-in-Chief of the Canadian Royal Air Force. Today he is the world's most famous Beatrix Potter aficianado and, in recognition of his high-born contempt for two of freedom's most devoted enemies, a Washington Free Beacon Man of the Year.