A Harris Poll this weekend reaffirming pro football's overwhelming popularity didn't tell us anything we didn't already know. People love football and want more of it.
One reason: In the run-up to pro football's championship game, the country is treated to not one but two undercard bowl games. I am speaking of the Pro Bowl and the Puppy Bowl. What's the difference between the flaccid reception for the NFL All-Star game and the voracious appetite for the Puppy Bowl?
Recent Stories in Culture
Because, unlike the Pro Bowl, the Puppy Bowl matters.
These little rascals, with grit in their hearts and a hunger for doggy treats, put it all out on the field, hoping to be adopted after being exposed to millions of dog fans, football fans, and fans of both dogs and football. It's an American dream.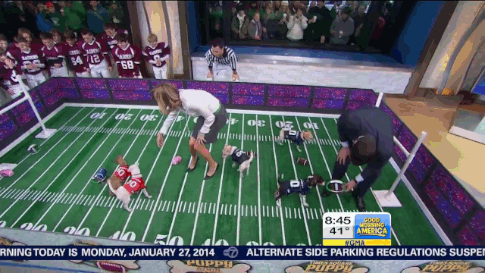 For its tenth iteration, the Puppy Bowl is allowing fans to draft a fantasy team. You can select three totes adorbs pups for completely arbitrary reasons. (You'll need a Facebook account to draft a team for yourself. Zuckerberg strikes again!) You can expect Vegas to start collecting action on these games for Puppy Bowl XI. Only in 'Murica.
For posterity's sake, here's my team:

Below is my reasoning. And I invite you to judge and/or throw invective at my taste in puppies on the Twitters. As always, I'm found at @_Charette_!
Name: Loren
Breed(s): Brittany Spaniel Mix
Sex: Male
Age: 14 weeks
Fun Fact: Prefers NCAA 14 to Madden 25
Adoption Organization: Colorado Animal Welfare League
Loren, like myself, prefers the college game to the professional one.
I foresee Loren taking it to the house!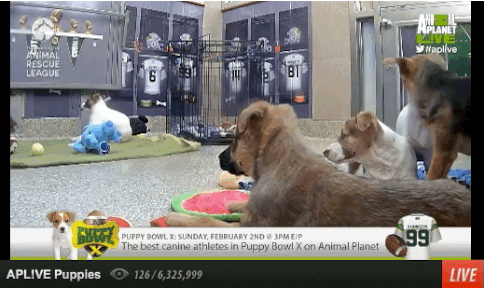 Name: Mandy
Breed(s): Dachshund/Hound Mix
Sex: Female
Age: 17 weeks
Fun Fact: Thinks long legs are overrated
Adoption Organization: Furever Dachshund Rescue
Mandy is a grinder, eschewing more athletic legs for a fast motor. I'd rather have a scrapper on my team than a pup who expects the game to be just handed to her. #Opportunityforall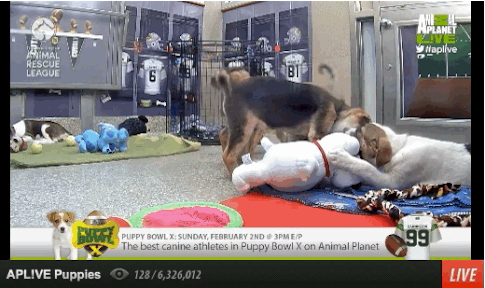 Name: Sparky
Breed(s): Yorkshire Terrier
Sex: Male
Age: 16 weeks
Fun Fact: Hopes to spend his summers playing volleyball on Manhattan Beach
Adoption Organization: 1 Love Dog Rescue
I love how Sparky is a dual-sport athlete. Playing multiple sports improves one's athleticism.
Since Animal Planet limits you to only three puppies for your fantasy team, I've selected some sleepers. Let's hope they don't actually fall asleep on game day. You never know with puppies.
Name: Tyga
Breed(s): Pit Bull
Sex: Male
Age: 12 weeks
Fun Fact: Knows what the Fox says
Adoption Organization: Greene Street Animal Rescue
Tyga is cerebral: He knows what the Fox says.
Name: Suri
Breed(s): Siberian Husky
Sex: Female
Age: 14 weeks
Fun Fact: Thinks they should cut Miley Cyrus some slack
Adoption Organization: Last Hope Animal Rescue
While I don't agree with Suri's stance on the whole "she's being Miley" thing, I appreciate her good sportsmanship.
Name: Parker
Breed(s): Labrador Retriever/Husky Mix
Sex: Male
Age: 13 weeks
Fun Fact: Has an autograph from Uga, the University of Georgia mascot
Adoption Organization: Scottsville, NY Animal Shelter
Parker's association with Uga proves he has a strong relation with tradition. Dawgs on Top.
Good luck, pups!