Big news today, as BuzzFeed announced it won't accept money from the Republican National Committee because Donald Trump is terrible. Lots of outrage on the right, but I appreciate the bold stance: more media companies should admit their biases and be done with it. At least BuzzFeed is putting its money where its mouth is and foregoing the revenue altogether.
I found something else BuzzFeed's founder said to be far more offensive:
we don't run cigarette ads because they are hazardous to our health, and we won't accept Trump ads for the exact same reason.
Whoa! Hey now! That's crossing a line, man.
Then again, uppity yuppie millennial tech-head garbage people are an interesting business opportunity for the Washington Free Beacon. We are more than happy to take all of your evil dollars, guys. And here are some more organizations that the Free Beacon is glad to accept advertising revenue from:
Tobacco Companies
Cigarette companies are among the most unfairly maligned of producers in our maker-taker economy. Creating a perfectly legal product, facilitating conversation amongst strangers, and employing thousands of people all over the country, cigarette manufacturers are truly the unsung hero of American life.
Native advertising opportunity: Each writer will take a headshot with a cig in between their lips for their masthead portrait. This is easily accomplished since half of our writers smoke already. We'll even photoshop cancer sticks into the lips of freelancers for a small fee!
Payday Lenders
There's nothing more annoying than haughty upper-middle-class social justice dorks getting on their high horses about a company used by the poors despite the fact that their betters have decided it's "not good for them." See, for instance, Google's recent decision to ban payday lenders from their advertising software.
The Free Beacon is more than happy to accept money from payday lenders, however. Hell, I already write this sort of thing for free; we might as well get paid for it.
Native advertising opportunity: We cut one of our writers' salaries for two months and ruin their credit without telling them, forcing them to partake in a cycle of payday loans. They write about the friendly service, clear and simple terms, and relatively* cheap rates for the loan. Everybody wins!
Weyland-Yutani
Some people think that the corporation in the Alien series is "evil" or "hopelessly corrupt." What I see is a bunch of go-getters trying to pad the bottom line and increase human understanding of the crazy universe in which we live. Sure, they cut some corners, but we'll be more than happy to take some of that sweet sweet bioweapons cash in exchange for ad space.
Native advertising opportunity: We put a facehugger on one of our writers and document what happens via a Facebook Live stream! (We'll give you a discount if you let us choose the writer. And by us, I mean "me." And by "the writer," I mean Adam Kredo.)
LecterCorp
Not to be confused with LexCorp (who we would also accept advertising revenue from, btw; Lex Luthor, have your people call my people), LecterCorp is the "evil" corporation from the 2001 Louis C.K. masterpiece Pootie Tang that uses the eponymous hero's face to sell fast food to impressionable inner city youths. I for one dig LecterCorp's style and would be more than happy to hock everything from burgers to malt liquor at the Washington Free Beacon.
Native advertising opportunity: We feed LesterCorp's Pootie Tang-branded Bad Time Burgers to a group of impoverished first graders for the first time and tape their reactions. You'll never believe what these little scamps have to say about their delicious 2,000 calorie lunch!
Omni Consumer Products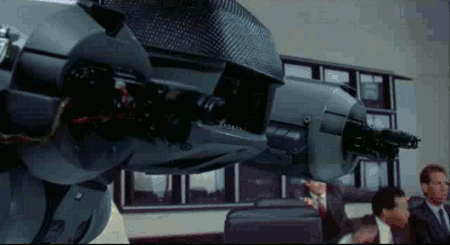 OCP gets a bad rap because they "tried to bankrupt a city" and "their products have a tendency to go haywire and murder people." Meh. What product launches haven't had a few glitches on day one? Sounds to me like Omni Consumer Products just needs to do some PR work. And I can think of few better ways to rebuild their image than by advertising with the Washington Free Beacon!
Native advertising opportunity: We send one of our writers out on patrol with the ED 209 as she tries to maintain order on the tough streets of Chicago. If our writer survives the weekend, she'll write a glowing, 2,000 word piece about the remarkable piece of technology that OCP has put together. And if she doesn't, well, we need the desk space anyway.
*Compared to, say, bouncing a check.