NBA great Bill Walton, formerly a paid spokesman for one of the country's largest renewable energy companies, has been using his platform as an ESPN announcer to bash coal and promote "sustainability."
Walton announces Pac-12 Conference games for the "Worldwide Leader in Sports," and has become known for his non-basketball-related tangents during broadcasts. This week's Pac-12 tournament was no exception, as Walton went on a tangent about the evils of coal that stretched across multiple games and an appearance on SportsCenter.
The Washington Free Beacon's David Rutz compiled some of Walton's comments about coal in the video below.
Throughout the week's games, Walton labeled his broadcast partner Dave Pasch a fan of coal. He even brought a large poster with him to highlight Pasch's seemingly fictional love for coal and contrast it with a beautiful scene full of solar panels and windmills.
"Live green or die!" the poster read. "Sustainability! Don't take away our children's day!!"
When Pasch attempted to talk about basketball, Walton brought the conversation back around to coal.
For example, when Pasch praised a pass made by the UCLA Bruins, Walton's response was: "I love the team game. You love coal and you love selfishness."
"I'm normally an optimistic person, and I think that everybody can be saved, but this is a guy who loves coal," Walton said about Pasch during an appearance on SportsCenter. "I'm all about the future."
At no point did Walton mention that his hatred of coal has fattened his wallet. In 2014, NRG Energy, one of the country's largest solar energy companies, brought on Walton as a paid spokesman for the company's "Home Solar team."
"I am honored to be joining the NRG Home Solar team as we work to spread the exciting and important message about the benefits of solar power," Walton said in a press release announcing the partnership. "Residential solar represents an incredible opportunity for consumers, and NRG Home Solar is leading the charge."
@NRGHomeSolar Thank you NRG Home Solar for EVERYTHING... Keep shinning the light!

— Bill Walton (@BillWalton) April 30, 2015
Walton did media interviews for NRG, stating that he was "all in" for solar technology.
"We have a responsibility to the next generation," Walton said, adding that solar technology is the "biggest no-brainer in the history of the world."
A spokesman for NRG Energy said that Walton no longer worked for the company, but said he was a "terrific partner."
"Mr. Walton was a terrific partner for us in spreading the word about solar energy," the spokesman said. "Our contract with Bill has run its course and we wish him the best."
Walton wrote for the company as an "NRG spokesperson" as recently as February 2015.
"Much of my world orbits around basketball, which is very similar to solar," Walton wrote on NRG's website. "Basketball epitomizes the ongoing struggle to incorporate solar into our ethos, culture and everyday world."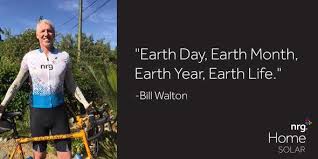 "The sun, like the ball, is out there, up for grabs," he wrote. "Just think: enough solar energy strikes our Earth every hour to power the entire planet's needs for a whole year. But, like basketball, are we willing to commit and discipline ourselves to harness that awesome power?"
Walton also described himself as a "human solar panel."
"Make no mistake: this is about our survival," he wrote. "Our job as human solar panels, gleaming in the golden light of day, is to educate, illuminate and advocate for things that seem so perfect, and so right, and are quite simply common sense."
NRG would not share details about when Walton's contract expired and how much he was paid.
ESPN told the Washington Free Beacon that it was "looking into the matter further."
"Bill informed us he is no longer being paid by them, and we are looking into the matter further," an ESPN spokesman said.
March Madness fans will not be subjected to the polarizing announcer because that tournament is carried by CBS and Turner Sports. ESPN, however, has the broadcast rights for both the NIT and the women's NCAA tournament.