Last night could be summed up in one tweet:
UPDATE: pic.twitter.com/isMsjuiM9j

— SB Nation (@SBNation) June 11, 2014
No, that's not the state of the House GOP leadership. That was when the San Antonio Spurs made 19-21 from the field,  6-6 from three-point range, and 11-13 free throws on their way to boatracing the Miami Heat 111-92.
San Antonio didn't miss a shot until 10 minutes into the game, on their way to making 19 of their first 21 shots and finishing 25 for 33 in the first half. You couldn't tell who was more dumbfounded at their post-game presser.
LeBron?

Or the (Former) House Majority Leader?

Like Dave Brat's campaign, the Spurs caught Miami napping. And like Cantor's last minute rush, the Heat made too late of a run to mount a proper comeback.
In Game 1, we had "LeBroning." In Game 2, there was "LeBron Strikes Back." After Game 3, we're left with "Kawhi Leonard Hacked the Matrix": the Spur scored 29 points for the first time since high school and happens to be younger than Brat's 23-year-old campaign manager.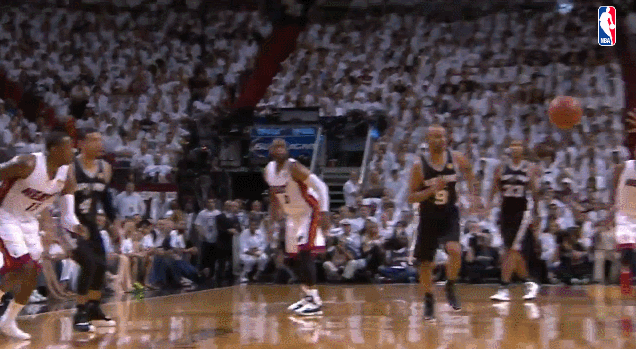 Cute game-by-game narratives are fun, but they don't tell us anything substantial. LeBron is just as likely to pop off for 45 points on Thursday as Tim Duncan pounding Miami into submission with a 25 point 11 rebound effort.
Of the series's opening frames, I have been most struck by the Heat bench, or rather by the lack thereof. When San Antonio decides to throw out Tony Parker for open lay-ups and kick outs to Boris Diaw, the Heat have no one to stop him. According to ESPN, in the last 30 seasons, Heat point guard Mario Chalmers stands alone as the only starter to play 50 minutes or more and score a total of 10 points or fewer on 25 percent or less from the field in the Finals. Woof.
LeBron can't do everything—even if he's done everything in the past.