Facebook removed an advertisement from a conservative interest group without citing any factual errors, sparking renewed accusations of liberal bias at the social network.
Facebook removed the ad after attaching a "Missing Context" notice to an American Principles Project advertisement that spotlights Democrats' support for the Equality Act. The ad accused Michigan senator Gary Peters and Joe Biden of trying to "destroy girls' sports" by supporting the legislation.
"All female athletes want is a fair shot at competition," a voiceover in the advertisement says. "At a scholarship, at a title, at victory. And what if that shot was taken away by a competitor who claims to be a girl, but was born a boy? Senator Gary Peters and Joe Biden support legislation that would destroy girls' sports. They call it equality. Really? That's not fair, not fair at all. Vote against Gary Peters and Joe Biden. They are too extreme for Michigan."
PolitiFact labeled the claims as potentially misleading, though it did not actually dispute the facts contained in the ad. Instead, it took issue with the idea that biological boys have an innate physical advantage over their female counterparts. The ad's "specific criticism is that allowing transgender girls and women to compete on the basis of their gender identity would create an uneven playing field for student athletes and ultimately end girls' and women's sports," the fact check said. "That's a prediction we can't fact-check."
Terry Schilling, executive director of the APP, said the social network's actions amount to "censorship."
"[G]iven the way this has been handled, we are highly concerned that Facebook is simply using the 'missing context' label as an arbitrary means to remove speech it disagrees with," Schilling said. "Do we now need pre-approval from Democrats before we run ads critical of their policies? This is an absurd standard—one which Facebook obviously doesn't hold the other side to."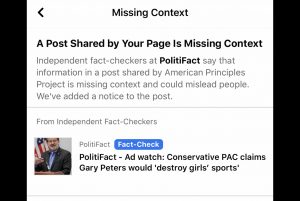 Peters cosponsored the act and Biden's campaign website states that the Democratic presidential nominee will make the Equality Act's passage a top priority during the first 100 days of his administration. The House of Representatives passed the act in May of last year. The bill prohibits discrimination based on sexual orientation and gender identity but met criticism for potentially allowing biological males to compete in female sports.
Peters did not respond to a request for comment. His press secretary told PolitiFact that the advertisement was a blatant attempt to mislead voters and distort the Equality Act.
A Facebook spokesperson said that PolitiFact's fact check means that the video can't be run as an advertisement and that APP must go through its appeals process. Facebook did not respond to additional requests for clarification on why the advertisement was completely removed from the site.
Schilling said the "missing context" standard could be used as a catch-all to censor any political claim.
"Just about any political ad could be found to be 'missing context.' It is simply impossible to provide all possible context on every issue in any media, never mind in a 30-second spot," Schilling said.
The APP said it is in the process of appealing the decision.