Madden NFL football games are often more important to real live NFL players than the dweebs who buy the game. Imagine having a video game arbitrarily rate your skills that you've spent hundreds of hours to master.
For example:
ROBERT CHARETTE
WASHINGTON FREE BEACON
56 WRITING
42 PUNS
91 KATE UPTON GIF ENGINEERING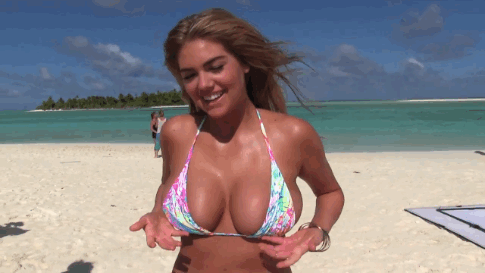 Madden NFL 2015 released their rankings of the top five quarterbacks for this year's game. The results are … mixed. The list goes from top signal caller and so forth.
PEYTON MANNING
DENVER BRONCOS
98 OVR

Moore on Manning: Peyton's arm strength may be trending down (86 THP), but everything else about him is still legendary. The five-time NFL MVP boasts 99 AWR (ranked first in NFL), 99 Short Accuracy (first), 96 Medium Throw Accuracy (first), 88 Deep Accuracy (fourth), and 98 Play Action (first).
I've been discounting Manning ever since Denver brought him in and by the looks of this year's Super Bowl, my skepticism was vindicated.
Peyton's off-field skill at talent recruiting is appropriate for a man who spends 14 hours of the day locked in a film room.
AARON RODGERS
GREEN BAY PACKERS
98 OVR

Moore on Rodgers: Some people are surprised to see Rodgers tied with Peyton at 98 OVR after an injury-plagued 2013 season. But he still maintains 80 SPD and 94 THP, which helps him overall. He's not as accurate as Peyton, however, with 92 Short/88 Medium/90 Deep (ranked first in NFL).
Madden is being generous with Rodgers, considering his injuries and meek wide receiving corps are huge liabilities. I hope he got his off-season conditioning in.
I'm positive his off-season acquisition, Olivia Munn, helped him with his wind sprints.
DREW BREES
NEW ORLEANS SAINTS
96 OVR

Moore on Brees: Brees is ranked second in Short and Medium Accuracy ratings. He falls to 81 Deep Accuracy (ranked 17th in NFL) after a rough 2013 season where he hit only 40.3% of deep passes according to Pro Football Focus.
I'd either have Brees or Rodgers take home Madden's top QB rating since both seem to pull massive passing seasons out of their asses. Madden is unfair for knocking Brees for his deep ball since you don't need to chuck it long for Saints tight end Jimmy Graham to score touchdowns.
Brees' skill as a talent evaluator is steady like his 4,000+ yard passing seasons.
RUSSELL WILSON
SEATTLE SEAHAWKS
93 OVR

Moore on Wilson: Being 5'11" doesn't hurt Russell Wilson one bit in the Madden NFL 15 ratings. He is the ultimate dual threat with his 86 SPD (ranked eighth in NFL for QBs), 90 AGI (seventh), 92 ACC (second), and 93 Throw Power. Don't be afraid to throw it deep (89 Deep Accuracy, ranked third) and on the run (fifth) with Wilson as well, he can do it all.
You lead your team to a Super Bowl in your second season and you should be considered one of the game's best. Wilson has a fairly low ceiling as a stats machine as, aside from porcelain Percy Harvin, Seattle is fairly pedestrian at wide receiver. Even so, he's still trending upward.
If Rodgers wasn't associated with Olivia Munn, I'd say Wilson had the best off-season. Wilson became a free agent in May making himself, as a Super Bowl-winning quarterback at 25 due for a nine-figure payday, available to evaluate new talent as he sees fit.
This is how the tastefully named ex-Mrs. Wilson reacted on draft day. There's enthusiasm and there's that. Good luck to both parties.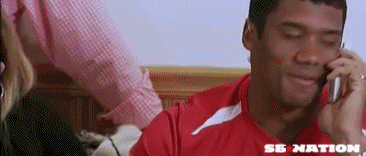 TOM BRADY
NEW ENGLAND PATRIOTS
93 OVR

Moore on Brady: Brady still has it. His 99 AWR is tied with Peyton for best in the NFL, and his 94 Short Accuracy (third), Medium Accuracy (fourth), and 93 Throw Power are all elite. There are plenty of reasons to NOT give up on Touchdown Tom quite yet.
Wilson getting ranked over Brady got the Interwebs all in a tizzy, but the reasoning is clear. New England coaching and a soft AFC East can only cover up Brady's decline for so long, while Wilson won convincingly in the toughest division in football. The NFL's quarterback class is too thin at the top for a younger player to muscle Brady out of its upper echelon.
I blame it on off-field distractions.