Sen. Brian Schatz (D., Hawaii) responded to news that Border Patrol used tear gas on people attempting to cross the border illegally by wondering if the use was a violation of the Convention on Chemical Weapons. Schatz has since deleted his tweet.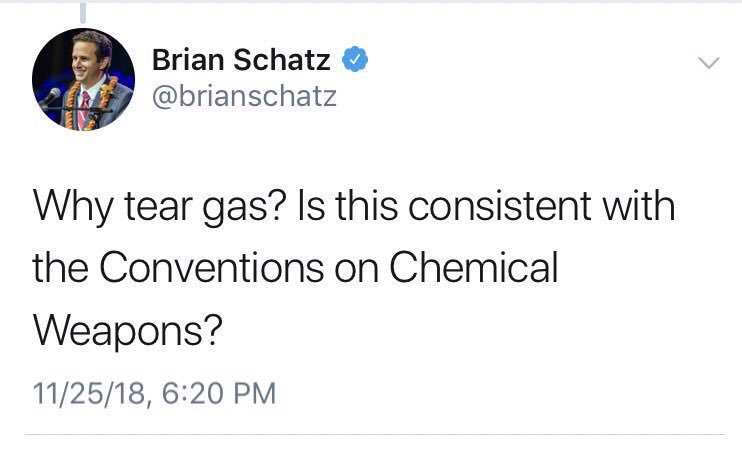 The use of tear is gas is not a violation of the convention, which only covers use in warfare and has never been applied to riot control operations. Schatz has since deleted his tweet.
The Conventions on Chemical Weapons, which Schatz referenced, does not prohibit the use of tear gas for "law enforcement including domestic riot control purposes."
Over the weekend, approximately 500 migrants stormed Mexican blockades in an attempt to enter the United States at the border between Tijuana, Mexico and San Diego, California. Border patrol agents used tear gas after some migrants threw rocks and other projectiles.
Secretary of Homeland Security Kirstjen Nielsen responded in a statement, saying, "[a]s I have continually stated, D.H.S. will not tolerate this type of lawlessness and will not hesitate to shut down ports of entry for security and public safety reasons."
President Donald Trump tweeted his concerns about the migrants attempting to cross the border, even threatening to close the border permanently.
"Mexico should move the flag waving Migrants, many of whom are stone cold criminals, back to their countries. Do it by plane, do it by bus, do it anyway you want, but they are NOT coming into the U.S.A. We will close the Border permanently if need be. Congress, fund the WALL!" he tweeted on Monday morning
https://twitter.com/realDonaldTrump/status/1067015026995879937