Sports Illustrated swim smokes taking the ice bucket challenge was going to happen eventually. It just was surprising that out of all of the remote locales SI editors could have set the challenge, they chose the least exotic place on the planet: a minor league ball park in Brooklyn.
I'm quite familiar with Ariel Meredith. That's her on the right, and she is well known throughout the world  for her love of goats and disdain for breast augmentation. But I wasn't as familiar with her friend on the left, Jess Perez.
Get ready for your close-up, Jess.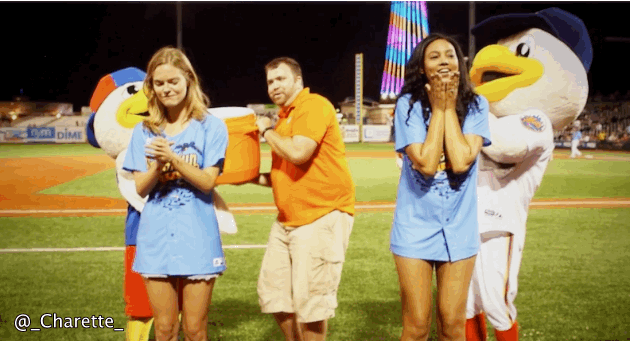 She didn't seem too comfortable during the challenge. This is more like it:
It's a shock because Jess is a professional. She has experience modeling near/in water. Was her discomfort due to having to wear clothes?
Or was it because the water was so cold? Here's Jess in a more temperate climate. You can see she's completely at home in the water, despite being a Virgo.
While no one can rain on her parade, she could have used an umbrella. Or a hoodie.
The ice bucket challenge: It's not just for a good cause. It's educational. It alerts us to models we might otherwise have overlooked.
Problem solved.