We know we're midway through the preseason now that Cleveland picked a starting quarterback, even if the Browns could use another three or seven practice games to decide between Brian Hoyer and Johnny $12K.
To celebrate the occasion, I'm going to borrow SI's construct of highlighting compelling story lines. Because imitation is the highest form of flattery.
AFC East
Buffalo Bills WR Sammy Watkins
The Bills are very bullish on Watkins, having mortgaged a large part of their future on the dynamic wide-out. Watkins has been strong in training camp, but he's already being plagued by injuries. Between the team's impending sale and Watkins's rookie season, Western New York is on pins and needles. Pray for Luke Russert. Wish him a Happy Birthday while you're at it.
AFC North
Cincinnati Bengals QB Andy Dalton
We're about to see whether Dalton is worth all that money or if the "Bungles" are just subsidizing another dud. At least Bengals fans know Dalton will be limber.

AFC South
Houston Texans DL Jadeveon Clowney
Clowney's hit in the preseason game against Atlanta reminded everyone of this 2013 hit, when Clowney was seen as a franchise changer. With the division so watered down, Clowney bookended on a defensive line with J.J. Watt could win the AFC South.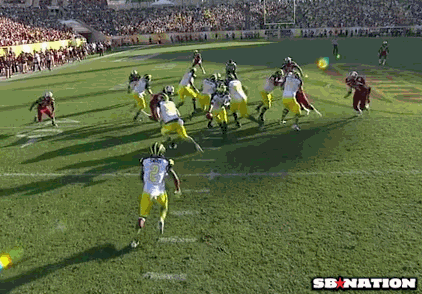 AFC West
Denver Broncos QB Peyton Manning
I've been skeptical of Manning's age and neck injury ever since he landed in Denver, and the bastard has proven me wrong for two straight seasons. After his latest playoff disaster, which was his most spectacular, 2014 is the season to see if the bottom falls out from under Denver.
NFC East
Philadelphia Eagles QB Nick Foles
With coach Chip Kelly, Foles's stellar 2013 season could have been mistaken for a gimmicky offense being helmed by a gimmicky quarterback. If the 2014 preseason is any indication, Foles is as legit as they come in a division so bad at quarterback (Hai Redskins fans!!!).
NFC North
Detroit Lions RBs Reggie Bush/Joique Bell
The Lions' 2013 season fell apart after the Bush/Bell tandem slowed down due to injuries. If the duo can stay on the field, Detroit will remain in the division hunt.
NFC South
Carolina Panthers LB Luke Kuechly
Kuechly's Ray Lewis impression last season won the Panthers their division, and with the NFC South likely coming down again to Carolina and the Saints, a lot depends on Kuechly's health. If Kuechly doesn't wear out from hitting people so hard, I'll stick with the Panthers defense over the division's other offerings.
NFC West
Seattle Seahawks QB Russell Wilson
His chief rival got paid, and in the preseason he looks like he's playing for his 2011 Wisconsin team that ran roughshod over all comers. Wilson is headed toward a 2014 season where he's headed toward scoring Bill Gates/Jeff Bezos-level money in his next contract.
It's also worth noting that he doesn't have to share any of it.