A senior official with the human rights organization Amnesty International has been reprimanded for making an anti-Semitic joke about several British lawmakers.
Kristyan Benedict, campaigns manager for Amnesty's United Kingdom affiliate, drew widespread criticism from Jewish leaders and others after making an offensive joke about several British lawmakers who are Jewish.
Benedict has a history of taking controversial stances against the Jewish state and once threatened to "smack" a pro-Israel writer on his "little bald head."
His most recent comments took aim at Jewish members of Parliament for their support of Israel during its most recent conflict with Palestinian terrorists in the Gaza Strip.
"Louise Ellman, Robert Halfon and Luciana Berger walk into a bar….each orders a round of B52s," Benedict stated in a since-deleted tweet last week as the violence in Gaza raged.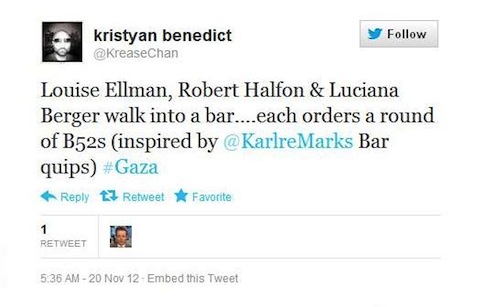 Ellman, Halfon, and Berger are all Jewish members of Britain's Parliament.
The joke was immediately condemned by Jewish leaders in Britain and led Amnesty to admonish Benedict.
Benedict "should apologise [sic] properly for his antisemitic [sic] joke about 3 Jewish MPs, or Amnesty must act," Jeremy Newmark, CEO of Britain's Jewish Leadership Council, tweeted on Tuesday.
Amnesty's campaigns director Tim Hancock criticized Benedict for making light of the situation in Israel.
"We do not believe that humour is appropriate in the current circumstances, particularly from our own members of staff," the Jewish Chronicle quoted Hancock as saying.
Hancock confirmed to the Chronicle that an "internal and confidential process" to review Benedict's behavior is taking place, though he did not elaborate. Amnesty officials in its U.K. branch did not respond to a Free Beacon request for comment.
John Mann, a British lawmaker known for his work to fight anti-Semitism, told the Chronicle that Benedict's joke "crossed the line between legitimate criticism and anti-Semitism."
Benedict has had multiple run-ins with the pro-Israel community and is known to associate with Israel's most notable critics, including Ali Abunimah, the co-founder of Electronic Intifada, a website often criticized for its anti-Israel and anti-Semitic viewpoints.
Benedict was formally disciplined by Amnesty in April 2011 when he threatened to smack the pro-Israel blogger Richard Millett during an official Amnesty event on Israeli "discrimination."
"I will smack you in your little bald head," Benedict said to Millet, according to audio of the incident. "You've got that on record? I could do if I wanted to, couldn't I? Put it on your website."
Benedict subsequently apologized for his threats.
Benedict has also been criticized for organizing what critics describe as one-sided events held under Amnesty's official banner that demonize Israel.
One such event in October drew condemnation from NGO Monitor, a nonprofit that tracks human rights groups.
The event featured speakers from the Israeli Committee Against House Demolitions (ICAHD), a fringe organization that regularly adopts anti-Zionist rhetoric.
"Amnesty UK and ICAHD share a history of exploiting human rights principles for discrimination and political warfare against Israel," NGO Monitor president Gerald Steinberg said in a statement released at the time.
"Deviating far from its claimed human rights agenda, Amnesty-UK has often hosted events and given platforms to supporters of BDS (boycotts, divestment, and sanctions) campaigns, as well as 'one-state' advocates, including ICAHD officials, who deny the legitimacy of Jewish self-determination," Steinberg said.
Amnesty itself has come under fire for anti-Israel bias and for associating with self-declared Islamist Moazzam Begg, a one-time detainee at Guantanamo Bay prison.