The most explosive and critical front in the Obamacare war is over the "young invincibles" who must enroll if the law is to succeed. For as much as liberals brag about how they own the coalition of the ascendant, they sure as hell don't know what young people respond to. Millennials laugh at weak outreach attempts using photoshop and a handful of half-naked Abercrombie models.
As evidenced by Ken Cuccinelli winning the youth vote in the Virginia governor's race, and by the Generation Opportunity tailgate at the Miami/Virginia Tech football game last Saturday, young people find signing up for federally mandated health insurance as sketchy as the creeper asking if you're on Facebook while trying to grind up on you. (But really, though—you on Facebook?)
The occasion called for a cameo by "Creepy Uncle Sam," who was ready to hammer home the yuck factor.
Gen Op knows the best way to reach young people is through free pizza, due to diminishing wages in the Obama economy.
The only thing young people like better than canceled class and no finals is free beer. A clued-in local student group supplied the suds.
It took Got Insurance a month to get wise and hire a couple girls for their enrollment ads. Gen Op knew from the jump that they need to reach women to make their message reverberate around campus.
It's that simple: Free beer–> girls–> guys–>the toppling of the president's signature law.
There were more people at this tailgate than enrolled in D.C.'s exchange.
This is what educating people about opting out looks like:

And this is what getting people to enroll looks like: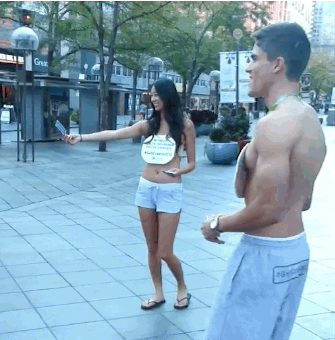 One gives young people the power to make their own decisions. The other gives them more paperwork.
Which one would you pick?