David Zucker, the director behind Airplane! and the Naked Gun series, was sitting at home watching TV when he realized that the Obama administration's presentation of the Iran deal is the same as every prescription drug commercial.
"Every prescription drug ad follows the same basic pattern—5 seconds of how amazing and wonderful the drug would be, and then 25 seconds of all the miserable side effects," Zucker said in an interview with the Washington Free Beacon.
Born out of the realization that the Iran deal similarly does little good and has countless lasting side-effects was Zucker's latest ad, which mirrors most closely the commercials for erectile dysfunction pill Cialis and portrays President Barack Obama, Secretary of State John Kerry, and Hillary Clinton negotiating with Iran's "death to America"-shouting Mullahs.
The soothing music and calm voice, hallmarks of any drug commercial, are indicative of the message from the administration that there is no need to panic over news that Iran will get $150 billion in sanctions relief and that U.S. inspectors won't be able to access Iranian nuclear sites.
"We had the announcer read the ad in a very soothing fashion, just like in the ads," said Zucker. "The salesmen of this Iran deal, just like prescription drugs, want to make sure that nobody is panicking. But I am panicking."
Zucker compared Obama to Leslie Nielsen's Frank Drebin character in Naked Gun, who famously waved his hands telling onlookers that there was "nothing to see here" even as explosives burst into the sky behind him.
"The polls show that just 21 percent of Americans support the deal. At any point in time, 12 percent of Americans think that Elvis is alive," said Zucker. "Yet Obama announces that he had the support of the American people."
"He really is Frank Drebin."
One of the main takeaways from the ad is that Zucker, who was a Democrat until he saw the party's response to September 11, 2001, terrorist attacks, thinks that Obama "is an idiot."
"Obama is clearly the worst president in 200 years," Zucker said. "When I was growing up we were being led by very smart grown-ups. Now we have this kid pretending to be president. He has done far more damage than even is imaginable."
One of Zucker's favorite moments in his ad pokes fun at Obama's habit of giving deep bows to every foreign dignitary he meets. In the ad, Obama even bows to the guy mopping the deck of the ship.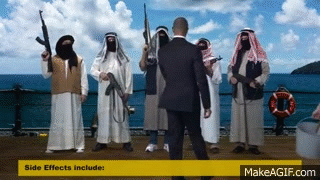 While Zucker thinks Obama is an idiot, he pointed out that he was still able to "outsmart" the Republicans "who are so stupid that they passed the Corker Bill."
Zucker says that his political work is not done. He plans to release more ads leading into the 2016 election to "go after Hillary or whoever else the Democrats put up."
"I've been doing these ads for 10 years, and I want to do more of them going forward," said Zucker. "The Democrats are so bad for the country. You'd have to be a zombie to march into the polls and vote for Hillary Clinton."
One idea already rattling around Zucker's head will target Clinton's "What difference at this point does it make?" during her Benghazi testimony.