The worst summer box office season in eight years will sputter along for another weekend with the release of the year's second movie about Hercules. Hercules should be the coming out party for the Rock's co-star, WAG and swim smoke Irina Shayk. However, her debut role is cut short right there in the trailer.
Like a true Russian, Irina will put on a happy face as she marches out to become cannon fodder.
Irina did the Full Ginsberg yesterday in promoting a film that she'll be in for 15 minutes. She started her day with Good Day LA.
She snapped a selfie on Extra! with AC Slater. Better him than Ronaldo I guess.
She hopped on E!, the preferred news outlet for Gregg Reinisch, a hard-working American profiled in the Onion last week.
Irina wrapped up her long day with Craig Ferguson, which is a befuddling promotional choice on the part of the movie studio.

Why book the Rock on Jimmy Fallon when there was an opportunity for swim smoke flip cup? Paramount deserves to lose its money for that error.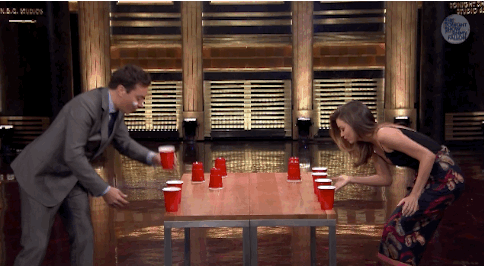 Personally, I believe a Twitter promotional campaign would have sufficed. Irina is good at hashtags.
In a summer that brought us turds like The Purge 2 and Amazing Spider Man 2, Hercules is trending toward being the biggest bomb in a summer full of them. It looks like the Rock won't be getting that solo career just yet. Perhaps he'll use the $52 million he made last year to dab away all of those tears.