Of all the sideline reporters, aspiring politicians, and Wonder Women I've documented on this here blog, the beauty queen who's stood out the most in my mind is last year's Miss Kansas, Theresa Vail. The Army mechanic sought to overturn the stereotype that a tatted-up soldier couldn't become a beauty queen. But with Miss United States 2012 Whitney Miller attempting to see if a beauty queen can become a mixed-martial artist, I may need to make some space next to Miss Kansas.
Miller is currently training to earn her black belt in Brazilian jiu jitsu, a fighting discipline known for its grappling. I tried BJJ once. Fighting from rear guard is as high-pressured as a beauty pageant's Q&A segment. Trust me, I've done both.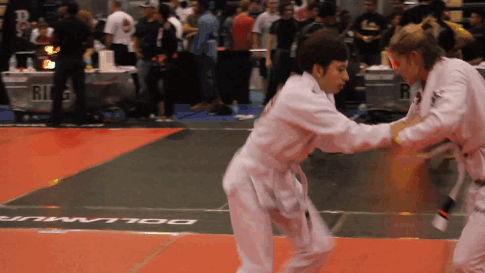 Whitney is one tough cookie. She cried more tears in her Miss United States send-off than she ever did in the Octagon.

Aside from trading her manicures for calluses, Whitney's greatest feat is educating the public that there even is a "Miss United States." America has so many smokes, we keep inventing beauty pageants to recognize them all.
She became Miss United States after being crowned Miss Texas. Now you really can't mess with Texas. You risk getting your shin kicked out from under you.
Whitney used to be a wakeboarder.
She's no stranger in high-pressure situations involving various states of undress.
But we all have to accept that Whitney won't be in a two-piece anytime soon. In her first BJJ tournament, she medaled gold fighting without a gi, and came in second in one. A gi is whole different type of formal wear.
But if Whitney was able to transition from wakeboarder to beauty queen, there's no doubt she'll be successful in MMA.
Whitney even makes me want to get back into the Octagon. Good thing they don't allow guys and girls to fight.
She'd kick my ass.